Our West Hollywood Accident Lawyers Believes That Winning Is the Only Thing That Matters.
Do you have a case?

Did you sustain a personal bodily injury?

Were injuries caused by negligence of a person?

Do you have recoverable damages or losses?

IF YES,
You may be able to recover financial compensation.
TELL US MORE: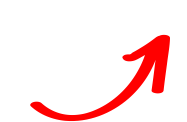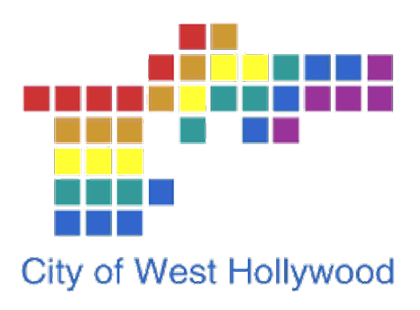 Arash Law is widely regarded as one of West Hollywood's best personal injury law firms, with a singular focus on automobile accidents and all other types of personal injuries. With a success rate of 98 percent, we are unrivaled in assisting accident-related injury victims. You will owe us nothing if we cannot recover any money for you!
Our experienced legal team's mission is to obtain the best possible settlement for you. Call (888) 488-1391 today to speak with one of the best accident injury law firms in WeHo. Telephone and in-person consultations are always completely free!
Avoid being taken advantage of by other local West Hollywood accident law firms that make lofty promises but lack the qualifications needed to fight for you and take your case to trial. When you call our West Hollywood office, you will be connected with a specific injury accident attorney who will guide you through the entire process.
If you live in West Hollywood, California, your search for "The Best Accident Law Firm Near Me" is over.
All of our cases are handled on a contingency fee basis, meaning we are not paid unless and until you are paid! That's the only thing there is to it. Our esteemed West Hollywood personal injury law firm focuses on car accidents, truck accidents, motorcycle accidents, Uber accidents, pedestrian accidents, bicycle accidents, hit-and-run accidents, animal-injury accidents, and commercial vehicle accidents. If it caused you pain, suffering, or a loss of wages, you are entitled to compensation!
If you or a loved one has been injured in a car or workplace accident, contact Arash Law in West Hollywood to speak with a winning team! Our well-known accident lawyers represent people who have been seriously injured in West Hollywood. Whether they were a pedestrian hit by a vehicle and suffered a severe spinal cord injury or were the victim of a DUI accident that resulted in wrongful death, you can rely on us.
Arash Law – Accident Law Firms in West Hollywood – Offers Personalized Service
Traffic safety is a frequently overlooked but critical aspect of living in a community that promotes convenient and safe modes of transportation such as driving, bicycling, public transportation, and walking. Despite this, thousands of people are killed or injured in traffic collisions in California each year. Many of which could have been avoided.
Traffic Injuries in WeHo have been on the rise. If you are in an accident involving a road rage driver a rear-end collision, you need the most experienced accident lawyers in West Hollywood to handle your case and obtain the compensation you deserve. Arash Law's expert legal counsel has decades of combined and individual experience practicing California personal injury law.
We have successfully handled cases involving road rage drivers, rear-end collisions, whiplash injuries, catastrophic injury, dismemberment, and wrongful death, to name a few. Thousands of people are seriously injured or killed in car accidents in West Hollywood each year.
Anyone seeking compensation due to a car accident may be unsure of the proper procedure to follow. Consultation with a knowledgeable automobile accident lawyers in West Hollywood should be at the top of your priority list. You do not want to be on your own when it comes to paying for medical bills and other incidental expenses following a car accident. Finally, our legal experts will examine the evidence and work with you to obtain the compensation you and your family truly deserve.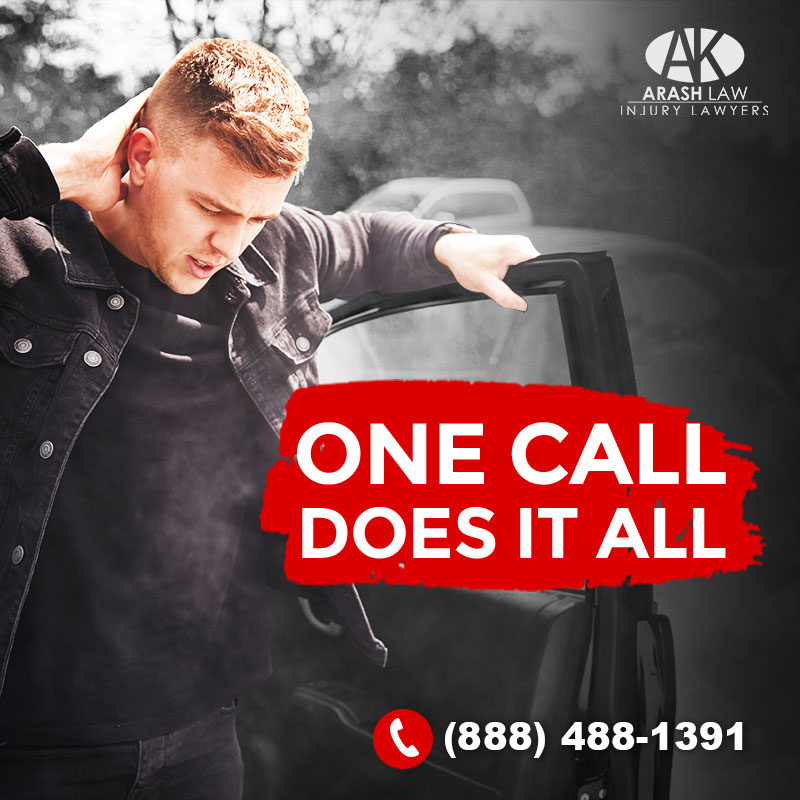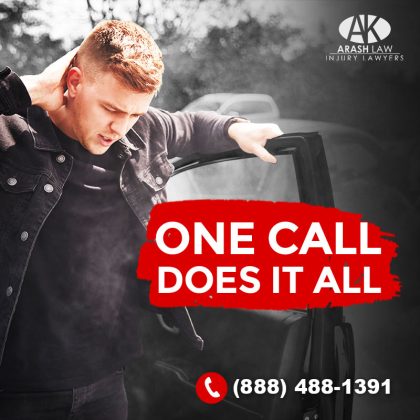 Regardless of the circumstances surrounding your car accident, you have more options than you may realize. Consultation with an experienced West Hollywood accident lawyers before speaking with the opposing party's insurance claims adjuster can provide you with the information and confidence you need during this trying time.
Personal Injury Accidents and damages that cause personal injury are included in the definition of personal injury. If you have been injured, regardless of the severity of your injury, you may be entitled to just compensation. If you have incurred financial losses, the aggregated spectrum may also be used to determine your reimbursement.
If you are the victim of another party's negligence, you have the legal right to seek full and fair compensation for your injuries. It is not uncommon in civil lawsuits to obtain the following types of legal remedies:
Costs associated with medical care, including future long-term care, such as physical therapy.
Suffering from psychological or emotional trauma as a result of the accident.
Wages were lost due to income missed while you were unable to perform your regular work duties.
Future income loss if you cannot work for an extended period due to the severity of your injuries.
Medical bills incurred as a result of your injuries and financial losses incurred as a result of ongoing health problems caused by the accident.
Car Crashes in West Hollywood
Automobile accidents are far too common in California and throughout the United States. Every 60 seconds, at least one person is injured somewhere in the United States. This terrifying statistic is one of the reasons we are dedicated to assisting vehicle accident victims in West Hollywood.
West Hollywood Motorcycle Accidents
Motorcycle accidents can cause extreme anxiety in their victims. Motorcycle accident victims may sustain permanently disabling injuries that prevent them from returning to work. As a result of a severe brain or spinal cord injury, they may live with chronic pain or impairment for the rest of their lives. In addition, some victims may have lost a loved one in a motorcycle accident.
Bicycle Accidents
When a bicycle and a motor vehicle collide, bicyclists are always at risk of serious injury, whereas occupants of enclosed vehicles frequently suffer only minor to no injuries. This is because bicyclists are legally defined as "vulnerable road users." Even when wearing a helmet, bikers are at risk of suffering serious, if not fatal, injuries if involved in a collision with a motor vehicle (even at low speeds).
Broken bones, road rash, head, and brain injuries, crush injuries, and organ damage are all common after a bicycle accident. If you or someone you know has recently been injured in a bicycle accident in California, we can help. Our team has handled numerous similar cases in the past and has developed an understanding of the factors contributing to our clients' favorable outcomes.
Accidents involving pedestrians in West Hollywood County
As previously stated, pedestrians and cyclists accounted for 5% of all traffic fatalities in West Hollywood County in 2019. Pedestrian injuries and deaths have reached a new high of 710 since 2009. Walking in West Hollywood County can be hazardous. Pedestrian accidents can result in some of the most severe injuries sustained in any motor vehicle accident.
Because a car's speed and weight are exponentially greater than a pedestrian's, low-speed collisions can result in life-threatening injuries, many of which cause medical complications for the victim for years. Due to the complexities of these situations, it is critical to consult with an experienced West Hollywood pedestrian accident law firm that can explain the law and fight for the victim's rights.
Accidents in West Hollywood Construction Zones
Construction zones are extremely dangerous places. According to the Occupational Safety and Health Administration, approximately 21% of workers die due to workplace injuries. Because this is a well-known hazard, construction companies are required by law to exercise extreme caution. They must take precautions to make construction zones as safe as possible.
They are in charge of ensuring that all applicable federal, state and local safety regulations are followed on the job. They are required to post signs and warnings to keep the public safe. Construction companies that fail to meet this requirement may be found negligent. A negligent construction company is legally obligated to compensate victims who suffer personal injuries on or near their job site.
While this is true for the general public, construction companies have a duty of care to their employees. Precautions must be taken to ensure the safety of construction workers. A West Hollywood construction injury law firm will be aware of the company's obligation to establish its negligence.
Workplace Accidents in West Hollywood
Accidents do not only happen on construction sites. All employers owe a duty of care to their employees. This requires the employer to take reasonable steps to ensure the workplace is reasonably safe for employees. Certain jobs are more dangerous than others.
Warehouses, mines, chemical laboratories, and locations with heavy machinery increase employee injury risk. Employers who operate such facilities must take reasonable precautions to protect employees from these known hazards. In some cases, workplace safety laws specify what precautions must be taken. In other cases, the actions taken must be "reasonable." A jury is frequently called upon to determine whether an employer was "reasonable."
Abuse and Neglect in Nursing Homes
Nursing homes, assisted living facilities, daycare centers, and other types of care facilities are all for-profit businesses that make the explicit promise of caring for your loved ones. As a result, the law imposes a higher standard of care on these facilities. When a company is compensated for protecting your loved ones, there are strict guidelines for what constitutes "reasonable." Numerous federal, state and local regulations specify the steps a facility must take to comply with the law.
However, simply meeting the minimum legal requirements is insufficient to protect a care facility from liability. Several cases of abuse or neglect in a care facility go to trial. This is because juries despise it when these businesses fail to care for their customers. The possibility that a juror's family members were abused or neglected is persuasive.
Premises Liability Cases
Whether you are in a boutique shop in WeHo or an AirBnB blocks from the Santa Monica Boulevard, property owners and managers are responsible for ensuring the property is secure. This includes securing and decontaminating floors and stairwells and installing fire alarms. If you have been injured due to the negligence of a property owner or manager, you almost certainly have a legal case that we can help you with.
Catastrophic Injuries
Certain injuries can have far-reaching life-altering consequences. Traumatic brain injuries (TBI), spinal cord injuries, and amputations are examples of catastrophic injuries. A personal injury law firm in West Hollywood County can frequently assist victims of catastrophic injuries and their families in obtaining compensation. You will not be charged unless we win your case!
If we cannot obtain compensation for you, you will owe us nothing. That's all there is to it. We are extremely focused on car accident cases. If you or someone you know has been injured in a West Hollywood car accident, don't hesitate to get in touch with us to speak with a West Hollywood car accident law firm. We represent people who have suffered serious injuries, whether in a pedestrian accident that resulted in a spinal injury or in a major truck accident that resulted in death.
We serve California from our headquarters in West Hollywood, with additional offices in Alameda, Bakersfield, Berkeley, Contra Costa, Fresno, Irvine, Kern County, Long Beach, Los Angeles, Marin County, Merced, Modesto, Monterey, Newport Beach, Oakland, Orange County, Pasadena, Placer, Riverside, Sacramento, San Bernardino, San Diego, San Francisco, San Joaquin, San Jose, San Luis Obispo, San Mateo, Santa Barbara, Santa Clara, Santa Cruz, Sherman Oaks, Solano, Sonoma, Stanislaus, Stockton, Tulare, and Ventura.
We have represented clients involved in a wide range of accidents, resulting in injuries ranging from emotional distress to catastrophic injuries. We can also assist you in negotiating settlements with major insurance companies. If you or a loved one has been injured in a car or workplace accident, contact Arash Law to speak with a winning team! To schedule your free car accident consultation, call Arash Law at (888) 488-1391 or fill out our online form. You owe us nothing unless and until we successfully resolve or litigate your case.
---
Record-breaking verdicts in the following Areas of Practice