What Should You Do After Having an Accident?
Don't say a car accident can't happen to you, because it can. It happens to hundreds of thousands of California residents and visitors every year. In the year 2020, between February 3 and December 7, there were a total of 4,740 police-reported crashes in California that resulted in severe or fatal injury.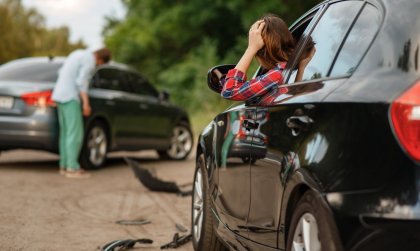 In 2017, the California Highway Patrol reported their Statewide Integrated Traffic Records System (SWITRS) totalling 193,564 injury crashes. Those crashes injured 277,160 and killed 3,904 people. Some of those near 200,000 injuries may not have been serious. They would still result in insurance claims and police reports.
It doesn't matter what kind of accident you may find yourself in. Even a fender bender or rear-ender could total the front or rear of your vehicle. These seemingly "minor" accidents may lead to a total write-off of your car. That is when an insurance company says that the repairs on your vehicle exceed its value, and they are just going to give you the cash for the write-off.  That cash is never going to be what you paid for the car.
So, even "minor" accidents with no injuries can ruin your life a little bit. If you know exactly what to do when it happens, your life feels a little less ruined.
Here you will find insurance terms and tips, and steps to take immediately after a car accident in California. You'll learn here what California car insurance companies can and can't do. You'll also know what your rights are and exactly what to do after an accident. Use this guide to make those big decisions after a California car collision. Let's talk about your California car insurance first.
General Car Insurance Tips
Trying to buy car insurance can be overwhelming. There are terms that you've never heard before and hope that you never have to understand. But you may get the wrong insurance if you don't review everything carefully.
Here are a few essential car insurance tips to get you started if you are new to auto insurance.
When You Must Show Proof of California Car Insurance
The state requires auto insurance if you plan to drive in the state. You must carry it with you at all times when you are behind the wheel.
You also must provide it at the following times:
When law enforcement requests it
When you renew your vehicle tags and registration
When you are in a car accident
You will not be able to renew your tags without proof of insurance. You may be charged or cited if you are in a collision and cannot provide proof of insurance.
Mandatory Minimum Requirements for California Car Insurance
It is against the law in California to drive without a driver's license or car insurance. You must have one of the following to drive in the state:
A car insurance policy with liability insurance\
A cash deposit of $35,000 to the DMV if you are unable to get insurance. This deposit is put into an account to cover any damages in the event of an accident.
A DMV self-insurance certificate for those that own over 25 vehicles.
A surety bond with a value of $35,000 from a California company that is licensed to do so. Contact the Department of Insurance to locate an agent for this.
If you purchase car insurance, California Insurance Code §11580.1b stipulates the following liability minimums:
$15,000 injury/death liability to one person
$30,000 injury/death liability to more than one person
$5,000 property damage liability
You are not required to purchase comprehensive or collision insurance, but they are optional. Collision insurance will cover your vehicle for property damage. Comprehensive insurance covers property damage as well, but not necessarily for an accident. If a tree falls on your car in a storm, for example, that would be covered by comprehensive insurance.
Another optional insurance is renter's insurance. This type of insurance is something that a lot of people don't know upfront. Rental insurance is insurance that provides a rental vehicle for you in the event of a collision. It's a small rider that goes on your policy, and the amount is usually a minimal amount monthly.
You may want to avoid the cost upfront when you are getting insurance. But it could be a critical coverage you'll be thankful for after an accident. Ask your insurance agent about all of these coverages and optional ones before deciding what company to go with.
Take Your Time Buying Car Insurance
Already you may be feeling a little overwhelmed. Car insurance is a serious purchase, and you need to take your time getting the right policy.
Breathe! Read the documents carefully when your insurance company sends over the paperwork. You can always add to the policy if you think you won't have enough.
Read the signature and declaration page carefully. It tells you everything you need to know about your coverages, deductibles, and who and what is insured.
If you need changes, ask. Put the request in writing.
It will help you to learn some car insurance terms and insurance company responsibilities as well. Keep these close by.
Auto Insurance Terms
After you get in a car accident in California, you'll have to start dealing with your insurance company. You'll have to start making some big decisions as well. Arm yourself with understanding these terms, and the decisions are a little bit easier to make. It can be easy to feel overwhelmed by insurance terminology. That's called being human.
Know these terms before you call, or at least have them ready to review if the time comes.
Actual cash value (ACV)
This is the actual cash value of your vehicle. Sometimes this is defined in your insurance policy. The ACV is simply the fair market or blue book value of your car in California. It is considered the fair market value of your vehicle.
That ACV of your car is the dollar value of what your car would sell for today if the buyer and seller acted free of their self-interests. They must also be free of any pressure to perform the transaction.
Appraisal Provision
Most car insurance policies in California will contain this term. This term refers to the provision that arises in the event of a dispute regarding what an insurance company will offer if your vehicle is a total loss after an accident.
If your policy contains an appraisal provision, you can demand an appraisal of the matter. Don't be shy about asking if your policy has an appraisal provision when buying car insurance. The hope is that you never use it, but it's there if you need it. That's what insurance is for.
If there is a dispute between you and the insurance company on the car's value, an appraisal provision provides for you to get a third party to weigh in. The appraisers hopefully will agree on a fair valuation of the vehicle.
If there is still a dispute, the dispute goes to an umpire, who will arbitrate between the two appraisers. It sounds complicated, but you are just getting a few referees on the problem of your car's cash value. You may wind up with the same amount at the end, but you will at least know an insurance company isn't duping you. You'll have to pay the appraiser fee and an umpire fee, but it could be worth it.
Collision Damage Waiver
This is a waiver during a rental car agreement. You may waive collision damage when you rent a car for an additional fee. The rental company already has collision damage coverage for their vehicles. This is what you are paying for if you purchase a collision damage waiver when you rent a car.
Will your insurance company pay damages if you get in an accident? It all depends on your policy.
Salvage Value
This is just what it sounds like. This value could be the value of your vehicle that is justified after it is considered a total loss or write-off. Say you have a $3,000 stereo in your car, for example, that isn't damaged in an accident. The value of the stereo could be a salvage value. Or your tires may all be okay, and you may be able to keep them after an accident. If that's all you have to justify, that might be your salvage value.
Most of the time, the salvage value is determined by salvage buyers and bidders. They will give you what the market will provide you with, and nothing more. They may sell your car to the highest bidder, but they aren't obligated to do so. You may be entitled to keep the salvaged car. The salvage value would then would be deducted from your insurance settlement.
If you decide to keep it, you'll need to file a notice of that to the DMV in the form of a salvage certificate.
Subrogation
This term describes the insurance company's right to recover damages they paid to you from a third party. If another party is at fault in the accident, for example, and you have collision insurance, the insurance company can subrogate a portion of your settlement from that party. It happens a lot in California because California is an at-fault state.
That means that whoever is at fault in an accident bears the burden of the costs. Suppose there is a subrogation clause in your policy, and you sign the policy. In that case, you are required to cooperate with your insurance company's efforts to claim money for damages from whatever source.
You have to comply and can not do anything to prevent the insurance company from doing so. For example, you can't sign an agreement with the other driver releasing them from damages if they pay your deductible. And it does happen all the time in California. Check your policy for subrogation language before you deal with anyone on car accident costs.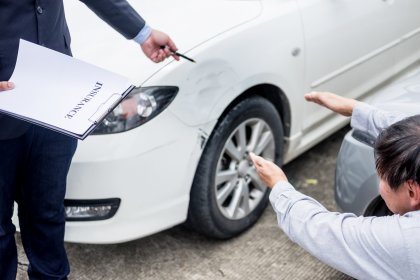 California Car Insurance Company Responsibilities
Dealing with a California car insurance company can be an overwhelming hassle. A lot of that stress stems from your accident. But a lot also stems from the fact that it may feel like they aren't honest, or they are trying to convince you to take settlements in a hurry.
That doesn't necessarily mean they are dishonest. They may just be acting in their interests, and it is in the insurance companies' interest to pay out as little as possible. There are some essential responsibilities your California car insurance company must comply with that you may not already know.
After You File a Car Accident Insurance Claim
After you file a car accident claim, your insurance company will attempt to obtain all of the information needed. They may ask for an examination under oath, also known as a deposition. Depositions are not uncommon in the accident claim process. The other driver may experience the same thing, so know that it's not just you.
You should keep every piece of documentation of the accident, including medical documentation, car repair documentation, and any photos of the accident that you took at the time. Keep a record of your lost wages as well.
Contact Deadlines for California Car Insurance Companies
A California car insurance company has no more than 15 days to contact you after an accident. If you don't hear from them, this is an excellent time to get a lawyer if you have not already done so. You should also contact the California Department of Insurance at 1-800-927-4357 [HELP] to file a complaint. This organization is the state agency that regulates the insurance industry. They fight for the consumer every day.
The CDI has been in place since 1868. California is the largest insurance market in America and the sixth-largest in the world. The CDI oversees hundreds of thousands of employees, agents, adjusters, and businesses. They don't just deal with car insurance. You can contact them for any kind of insurance problem. They receive 170,000 calls a year, 35,000 complaints annually, and recover each year over $63 million. You are not alone if you need to call the CDI.
If you aren't sure, see if your problem fits this checklist:
You feel an agent or broker is mistreating you
You have questions that aren't being answered
You want to ask for help from your agent or broker
You are having a tough time starting a claim with your insurance company
Getting Your Insurance Settlement Money
It's human to ask your car insurance company when you should expect a check. They may make you feel otherwise, though. They may send you a check in the entirety of your settlement. Or they may pay some to the car repair shop as well—more on that in a minute.
If you have a loan outstanding on your car, you are responsible for that. But you can use the insurance settlement to cover that. You can request gap insurance riders when you get your policy to avoid that problem. This particular insurance coverage will cover the gap between a settlement and outstanding car loans. You may still have to pay your deductible either way. Sometimes an insurance company is required to recover that. Sometimes they aren't.
When an insurance company pursues subrogation, you likely won't have to pay the deductible, and the other driver will. If you are having problems with this, contact a California personal injury lawyer for help.
Your California Car Accident Insurance Rights
Your California car insurance company has many duties and responsibilities to you, just like you do them. Your policy is a contract. They are often hoping you feel at their mercy. There are several things they are required to do for you.
They are required to tell you of every benefit, coverage, and time limit stipulated in your policy.
Your insurance company, or anyone else's insurance company, is not allowed to tell you where to get your car fixed. They may make a recommendation, but you aren't obligated to follow it.
They must contact you no later than 15 days after you launch a claim with them.
They must acknowledge that the claim process has begun. They must also start their investigation and assist.
They should be giving you forms and instructions from your very first phone call.
Keep proof of the documentation that occurs when you make this claim. They are required to accept or deny it within 40 days from the day they receive proof of your claim. This proof should include a police report, repair estimates, lost wages, and evidence that shows the monetary size of your loss.
They are not required to pay to tow unless you have an excellent policy that covers it. The tow cost shouldn't be more than $200 unless you travel far between the accident site and a repair shop.
The insurance company must offer a fair settlement. If it is a total loss, taxes must be included, and transfer and license fees.
Once the insurance company accepts your claim, they must pay within 30 days of the date the settlement is reached.
A California car insurance company must advise you if they are seeking subrogation.
California personal injury lawyers deal with this language every day. If you are feeling confused or overwhelmed, book a free consultation with the experienced legal team at Arash Law.
Some Thoughts on California Car Insurance Fraud
There are a few reasons why you may find it difficult dealing with an insurance company. One of the reasons is they want to keep their money. Part of that involves dealing with car insurance fraud, which costs over $6 million in losses annually.
Car insurance fraud ranges in style. It can be as simple as lying on an insurance application. It can be as extensive as a car accident ring that stages accidents to recoup insurance settlements. There is a Fraud Division within the CDI that investigates claims of insurance fraud. The Fraud Division completes investigations and then files them with the local district attorney or with the United States Attorney General if the fraud occurs out of state.
This Division enforces California Penal Code Section 548-550. In 2017, they received over 14,543 fraud suspected fraud claims (SFC) and organized economic automobile theft groups. Of those, 475 criminal cases were born, and 205 arrests were made. The potential losses were $6,170,330,074. Organized crime is a large part of California car insurance fraud. If you've been in an accident, you may even be a victim of one.
Here are some examples of California car insurance fraud, wherein you could be the victim:
When a driver reports damages or losses that weren't incurred. Another driver could do this in an accident you're involved in.
When an auto repair shop bills for repairs that neither you nor your insurance company authorized. Sometimes this happens because organized car accident rings are in play. In the case of an organized car accident ring, their income is generated by car accidents that aren't accidents at all.
Overcharging on auto parts. A shop can sometimes charge for brand new parts when aftermarket parts or salvaged car parts are used.
Criminals are tricky in the organized rings. It's impossible to protect yourself from every kind of fraud. Review every line on every piece of paper you get from auto repair shops. You should also be wary of any auto shop that refers you to a medical center or legal office and asks for a referral fee. This practice is called "capping" and could be a felony in California.
Automobile accident fraud occurs when an accident happens that wasn't an accident. Here are some ways you could get into an accident with someone that engages in this behaviour:
They stop suddenly for no reason
Another driver intentionally disregards the right-of-way, hoping for a simple crash
Car accident claims report list people from a vehicle that weren't there. If you are in an accident, take pictures of people inside the other car and names if you can.
Witnesses are sometimes made up as well.
Injuries are conflated to an insurance company. You may not do this, and you shouldn't. But you can't bank on the fact that all drivers think like you. Take note of their injuries as well.
Another driver may claim vehicle damage that wasn't caused by accident and was damage to the car before the accident happened.
Take a lot of notes and pictures after a car accident. Note all people involved, as many injuries as you can, and photograph all vehicles involved as much as possible. Even if you don't think it's important, take 25 pictures of the same rear door, for example. You never know when an expert sees something that you didn't.
If you feel you have fallen victim to problems like this, call a California personal injury lawyer and show them what you have. You may also want to talk to your lawyer about your auto repair shop. Many shops may well be tricking you and your insurance company at the same time.
California Car Insurance Auto Repair Tips
California Insurance Code §758.5 stipulates that an insurance company can not tell you where to get your car fixed. But there are certain conditions under which they can make recommendations.
You have to ask them for a recommendation to start. You still aren't obligated to take their recommendation.
If you take their recommendation, your insurance company must restore your car to its condition before the accident, with no additional cost unless your policy says otherwise.
If you take their recommendation orally and not in writing, your insurance company must follow that up with something in writing within five calendar days.
You have to be informed in writing of your right to choose your repair shop.
If you choose the repair shop, your insurance company must pay a reasonable amount to repair the car following standard trade values.
Your insurance company is not allowed to limit reasonable repair costs on the premise that their recommended shop could have done it cheaper.
If you choose the insurance company's recommended shop, and your car isn't repaired correctly, your insurance company must stand behind that.
There is also a process and insurance protocol for auto repair. When you take your car to the shop, the shop is required to put an estimate in writing of the cost of repair. This must include a notification of auto parts. State law stipulates that the kind of auto parts must be named in your initial invoice. They should be identified as used, reconditioned, rebuilt, aftermarket, or original equipment manufacturer parts (OEM).
Confused and overwhelmed? It's perfectly normal to feel that way. A car accident is traumatizing. If you are confused or overwhelmed over a detail such as where to take your car to get fixed, you are human.
You should feel a little more comfortable now about your rights if there is a car accident. There are rules for everything in the insurance game. They have responsibilities just like you do. But you may be too sick or injured to be thinking clearly when the time comes.
Call a California personal injury lawyer to get your questions answered. California personal injury lawyers will be happy to help you stay within these protocols. Take the right steps after an accident, and your lawyer will handle the rest.
Steps to Take After a California Car Accident
If you are in a car accident in California, you won't need to remember every one of this guide's tips immediately after. But you can take some necessary steps that will help your case before you call a personal injury lawyer.
Step One: As soon as the car accident happens, the law asks that you pull over and move your car out of traffic if you can. If you can't, call the police immediately. Yes, call the police or California Highway Patrol before you even talk to the other driver. If there are injuries, call 911.
Step Two: Exchange information with the other driver. Don't get into an argument. Say as little as possible. You need to exchange contact information, names, and their driver's license and insurance. Get all of the same information from any passengers they may have. Give them all of the same information from any passengers you may have. Recording this conversation with your phone could be useful as well.
Step Three: Take pictures of any damage or injuries and traffic conditions at the time. It may just look like an empty or busy street to you. A good lawyer and an honest insurance company will use that as data in settling your claim. You never know when another driver will say, "The street was packed, and it was their fault," when the traffic was empty at that time of day.
Step Four: Call your insurance company as soon as possible and tell them every piece of data that you have.
Step Five: Do not sign anything without the advice of a lawyer.
Step Six: Don't take any money from anybody without talking to a lawyer.
Step Seven: If you have not called the police yet, and your vehicle damage is over $750.00, you must report the accident to the DMV within ten days or risk license suspension.
Step Eight: Don't tell your story to anybody, especially the other driver. Save that for the police, your insurance company, and your lawyer.
Important Car Insurance Tips
Read your policy. Don't wait until you have an accident.
If you don't understand your policy, ask your agent or insurance company for clarification.
If you have an accident, call the police. If there are injuries, call the paramedics.
Obtain as much information as possible at the scene of the accident to give it to your agent and/or your insurance company.
Notify your agent and/or your insurance company immediately if you have an accident.
Cooperate with insurance company appraisers and investigators.
If you do not understand something about the claims procedure, for example, the amount of the settlement offer, ask your agent and/or your insurance company to explain it to you.
Notify your agent or insurance company in writing of any change in ownership of your vehicle.
Get a Free Consultation at Arash Law With a California Car Accident Attorney
When you've been in a California car accident, the stress can be overwhelming. When you know your rights and responsibilities and do everything right, it's easier. But that won't stop crooks from trying to scam you. And it won't stop California car insurance companies from trying to settle for as little as possible. That is their job.
A California car accident lawyer can help you work with them, or even work with them for you. That will ensure you get what you deserve after a car accident. A free consultation will unload that overwhelming feeling of things beyond your control. A car accident is not just an insurance problem. It is always a legal problem. That is because your car insurance policy is a legal document and contract.
Anything you say or do before, during, or after a car accident can become legalese as well. Know your rights. Know that we are here to help. The attorneys at Arash Law have been fighting for car accident victims' rights for decades. We've recovered over $200 million for victims in San Francisco, San Jose, Sacramento, Fresno, Bakersfield, Irvine, Sherman Oaks, Riverside, and throughout California. Call (888) 488-1391 or contact us online to schedule a no-obligation consultation today.