Our Sutter County Injury Law Firm

Doesn't Just Win,


We Win Big!
You May Be Entitled to Compensation

Sutter County residents experience several personal injury cases yearly due to accidents resulting in fatalities. Unlike intentional crimes, these accidents are often the result of negligence rather than a desire to harm another person. While they may not be intentional, the impact on the victims and their loved ones can be just as devastating. With the top injury law firm in Sutter County, you can defend your rights when you or a loved one sustains an accident-related injury.
Arash Law, under the direction of Arash Khorsandi, Esq., is a renowned injury law firm with a successful track record of winning challenging cases and offering top-notch legal services. Our attorneys' constant goal is to go above and beyond to serve their clients; as a result, they consistently achieve results that are superior to their expectations.
Our firm understands the devastation that an unjust death or catastrophic injury can cause. We work relentlessly to ensure that our clients receive fair and equitable compensation. As an advocate, the focus will be on fighting for your rights and ensuring those responsible for your injuries are held accountable.
To schedule an appointment with our experienced injury law firm in Sutter County, call us at (888) 488-1391. We offer a free initial consultation to discuss your case and answer any questions you may have. Let us help you get back on the road to recovery and get the justice you deserve.
Morales v. Construction Group Staffing (settled on 7/23/2020) – settlement involving a client who was catastrophically injured when he fell from a height of 4 stories down a shaft. This is a record breaking California Workers' Compensation settlement. Read more about this case on Yahoo! Finance News
– 
TINA ESHGHIEH
IF YES, You may be able to recover financial compensation. TELL US MORE: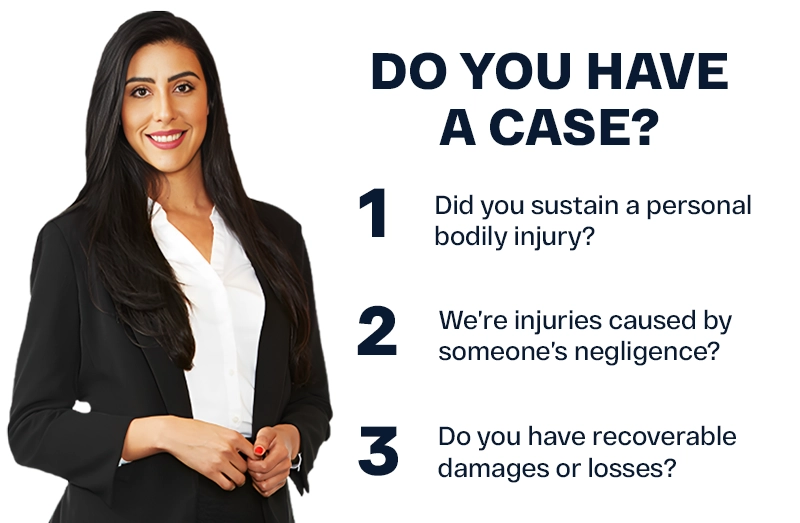 IF YES

, You may be able to recover financial compensation.

TELL US MORE:
What Are The Best Strategies for Finding A Top Injury Law Firm in Sutter County, CA?
Experiencing personal injuries can be a distressing occurrence that can impair your physical and emotional health. If another individual's carelessness results in your injuries, enlisting a law firm's help is crucial. Sutter County has several legal firms that concentrate on personal injury cases, and it is crucial to identify the appropriate one that meets your requirements.
Below are a few pieces of advice to assist you in finding the best personal injury law firm in Sutter County:
Selecting a law firm with experience handling cases like yours is essential. By doing so, you can ensure that the law firm is familiar with the legal challenges of your case and that they can better represent you.
Prioritize the accessibility of the attorneys when choosing a law firm. A good law firm should have easily reachable lawyers willing to address any concerns you may have regarding your case.
Determining the fees associated with a law firm can be crucial in choosing the right one to represent you in a personal injury case. Many law firms operate on a contingency fee basis, meaning they will only receive a payment if they win your case.
Before hiring a law firm, it is essential to understand how their fees work and ensure they are fair. Remember that the success of your case depends on finding a personal injury law firm that is easy to reach, quick to respond, and charges fair prices. When researching potential law firms, ask about their billing practices and fee structures to avoid any surprises down the line.
Additionally, considering a law firm's reputation for success in personal injury cases can be a helpful factor in making your decision. By researching and carefully vetting potential law firms, you can feel confident that you are making the best choice for your case and your wallet.
Winning Streak: Our Law Firm's Track Record of Successful Cases
Law firms specializing in personal injury cases can only handle cases in their field or related fields. It is not within their expertise to handle criminal defense or family law matters, so it would be unreasonable to expect them to do so. Personal injury law firms have a team of attorneys trained and experienced in handling cases related to accidents, medical malpractice, workplace injuries, and other personal injury claims.
Arash Law, led by Arash Khorsandi, Esq., is highly qualified and dedicated to achieving successful client results. Their passion for their work drives them to provide exceptional legal services to help you achieve your desired outcome. Whether you're facing a difficult legal challenge or need guidance on a legal matter, you can rely on their knowledge and experience to guide you through the process and help you achieve your goals.
Car Accidents
The occurrence of car accidents in Sutter County is frequent, and it usually entails a driver hitting your car or hitting you directly. The responsibility for causing the accident falls on the driver, who was under the influence of alcohol, did not obey traffic rules, was distracted, or did anything else that could have led to the collision.
Medical Negligence/Malpractice
Medical negligence can happen when a healthcare practitioner, like a doctor or nurse, doesn't do their job correctly and worsens their patient's condition. If this happens, the patient or their family can sue the healthcare practitioner and receive compensation for any harm caused. Only healthcare practitioners can be held responsible for medical negligence because it's related to their job.
If someone puts you in danger, even if you don't get physically hurt, they're still being careless. This means you can sue them for personal injury. This includes when doctors make mistakes like diagnosing or giving you the wrong medicine. You can also file a claim for more obvious harm, like surgical errors.
Wrongful Death
The family members of someone who dies due to the carelessness of another individual may seek legal assistance from a personal injury lawyer to file a wrongful death lawsuit. Note that this does not necessarily have to involve intentional harm or murder since negligence can occur without any intent to harm.
Workplace Negligence
Workplace negligence is a broad term that refers to various issues that can occur in the workplace. Suppose you believe that you have suffered harm while on the job due to the negligent actions of your employer or coworkers. In that case, it is essential to seek the advice of a qualified personal injury law firm in Sutter County, CA. They can help you determine whether you have a valid claim and your legal options.
Personal injuries resulting from workplace negligence can include a wide range of harm, such as physical injuries, emotional distress, or financial losses. Sometimes, it may be clear that your employer or coworker acted negligently, such as when they failed to provide adequate safety equipment or training. In other cases, it may be more challenging to determine whether their actions were negligent.
Regardless of your situation's specifics, taking workplace injuries seriously and seeking appropriate legal guidance is crucial. A personal injury attorney can help you understand your rights and fight for the compensation you deserve. If you believe you have suffered harm due to workplace negligence, do not hesitate to contact a qualified attorney for help.
Apart from these cases, we also handle:
Car crashes
Defective products
Boat Accidents
Drug injuries
Motorcycle collisions
Premises liability
Truck wrecks
Estimating Compensation Claims in Sutter County: Unraveling the True Value
It is common for those who have been in an accident to be concerned about the financial burden they will face due to medical expenses and property damage. Even if they know they can seek compensation to cover their losses, some may worry that the amount they receive will not fully address their economic and non-economic damages.
When someone hires a personal injury lawyer, they may wonder how much money they could receive if they win their case. Compensation for accidents can be substantial, but there is no set formula for figuring out the exact amount that should be given. The amount of money a person receives as a settlement for their injuries in California depends on their severe injuries and if they have any additional medical conditions that make their treatment cost more than the average settlement amount of $150,000.
If you hire a personal injury lawyer, they might request you provide them with a detailed list of all the expenses you have incurred due to the accident, such as medical bills and property repair costs. However, you can increase the money you receive as part of your settlement if you prove that you have suffered more than just financial losses. This might include emotional pain and suffering, which can be challenging to quantify but can significantly increase the value of your claim.
After a free consultation with your personal injury lawyer, you can ask them to negotiate with the opposing side. If you win your personal injury lawsuit, your payout should cover all accident-related costs. If someone in Sutter County, California, gets injured due to someone else's negligence, they may need legal help. They can call Arash Law, led by Arash Khorsandi Esq., at (888) 488-1391.
The Benefits of Enlisting a Sutter County Personal Injury Law Firm to Represent Your Case
You can receive monetary compensation if you get hurt due to someone else's negligence in California. Although this compensation will not completely heal your injury, it can make the complicated process easier to handle with less anxiety and more poise. 
Recovering from physical injuries or restoring properties after damage can be challenging. It can be even more difficult if you lack the financial resources needed to cover all the expenses associated with the recovery process. The road to recovery can be even more challenging and stressful in such situations.
Being compensated for injuries caused by someone else's negligence is a way to provide justice to the person who suffered the harm. It also holds the negligent party accountable for their actions, which can encourage them to be more careful in the future. This, in turn, benefits individuals whose carelessness may have hurt.
If you need help pursuing the justice you are entitled to, don't wait any longer. Contact Arash Law, led by Arash Khorsandi, Esq, today to schedule a free initial consultation. We are committed to providing an excellent personal injury lawyer who will represent you to the best of their ability. You can rely on us to deliver high-quality legal services and fight for your rights.
Arash Law – Your Guide to Navigating the Complexities of Personal Injury Law
Are you a victim of an accident or personal injury in Sutter County, California? Don't suffer in silence. You may be entitled to compensation for your pain and suffering. Our injury law firm in Sutter County, Arash Law, led by experienced attorney Arash Khorsandi, is here to help you fight for your rights.
Our firm has a proven track record of successfully representing clients in Sutter County who have been injured due to the negligence of others. We understand the physical, emotional, and financial toll an accident can take on you and your family. That's why we work tirelessly to help you get the justice and compensation you deserve.
At the Arash Law Firm, we know that every case is unique. That's why we take the time to listen to your story and tailor our approach to meet your specific needs. Our team of skilled attorneys will investigate your case, gather evidence, and build a solid legal strategy to help you win your case.
Get the help you need immediately. Contact us today or complete the "Do I Have a Case?" form to schedule a free consultation. Let us help you get the compensation you deserve to move forward with your life.
Record-Breaking Verdicts in the Following Areas of Practice
Get The Latest News from

The Best California Accident Law Firm Today