A truck vs. car accident is considered more dangerous than a car crash due to the truck's size and weight. On average, a passenger vehicle weighs about 4,000 pounds, while a truck (especially an 18-wheeler) weighs up to 80,000 pounds. This is why large commercial truck accidents are likely to result in serious bodily injury or death.
At Arash Law, founded by Arash Khorsandi, Esq., our truck accident lawyers helped recover millions of dollars in compensation for the clients who put their trust in us. We've represented individuals who suffered serious injuries such as traumatic brain injuries, fractured bones, internal hemorrhaging, and nerve damage during truck accidents as well as the families of those who died at the scene.
Trucking accidents are extremely dangerous and can result in grave consequences. Understanding the typical reasons these types of accidents can save lives and help individuals become responsible and alert truck drivers.
National Crash Estimates
The National Highway Traffic Safety Administration estimated that there were about 120,000 fatal and injury crashes nationwide involving at least one large truck during a 2-year and 9-month study period. There were 141,000 large trucks involved in those crashes. During the study period, each of the 963 Large Truck Crash Causation Study or LTCCS study cases was assigned a sampling weight, which makes up the national estimates of total fatal and injury truck crashes.
The study results presented here are national estimates for the 141,000 large trucks that NHTSA estimated to have been involved in fatal and injury crashes during the study period.  The estimates may differ from actual values because they are based on a probability sample of crashes and not a census of all crashes. The size of the difference may vary, depending on which LTCCS sample is the focus of a particular analysis.
15 Typical Causes of Truck Accidents
Numerous factors can cause a truck accident. The team of Arash Khorsandi, Esq. at Arash Law, dealt with different types of truck accident cases in their decades of service. Here are the 15 most common causes of truck accidents:
1. Fatigue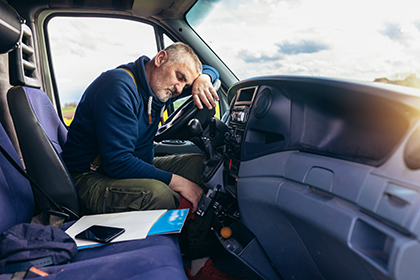 The fatigue experienced by overworked drivers commonly causes road mishaps. The average truck driver drives long distances for long hours with little rest. Since many truck drivers are required to make timely deliveries of goods in short periods of time, they might have little time to rest and recharge.
Truck drivers are under a lot of stress and pressure to meet deadlines and deliver on time. As a result of accumulated stress and fatigue, they lose coordination and concentration. Some even fall asleep at the wheel while driving.
2. Drug and Alcohol Use
Driving under the influence of drugs or alcohol is common among truck drivers. Some truck drivers take medication or drink alcohol during stops, while others carry them on the road. Drinking or using drugs can impair driving, usually resulting in truck accidents.
3. Driver Error
Despite having increased responsibility for driving safely, many truck drivers commit mistakes just like other vehicle drivers. Truck drivers might drive tired, drunk, under the influence of drugs, or be reckless and distracted.
This calls for the significant need to improve defensive driving strategies and techniques like keeping the safest distance from other vehicles and being patient with reckless and slower drivers utilizing turn signals.
4. Overtaking and Overspeeding
Owners of trucks commonly demand truck drivers to reach a particular destination within a set time frame. This is not always achievable because of many factors, including traffic on certain roads and poor weather conditions.
Nevertheless, drivers usually exceed the speed limit because they are under pressure to meet deadlines and face the possibility of losing their jobs.
The oncoming drivers of smaller cars are forced to veer off the road in order to pass these larger trucks driving at breakneck speed, which causes fatal accidents. Also, overspeeding has the effect of reducing reaction times.
When driving at higher speeds, drivers might be required to break suddenly or immediately veer to another portion of the road. At much higher speeds, this isn't always possible. Hence, resulting in a deadly crash.
5. Texting or Talking on the Phone While Driving
Texting while behind the wheel is prohibited by law and is banned nationwide for commercial trucks for a reason. But this law doesn't deter all drivers from engaging in this risky behavior. This kind of neglectful behavior behind the wheel can lead to a detrimental outcome.
6. Poor Maintenance of Vehicles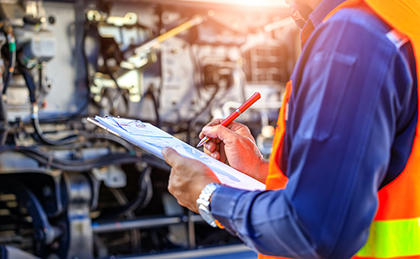 Truckers drive a thousand miles each day. These vehicles should be regularly maintained to keep up with the extensive wear and tear. Equipment failures, like worn, damaged brake pads, and a cracked windshield, can result in major accidents.
It is the responsibility of drivers to check their rig at the start of each shift and then submit a report regarding vehicle maintenance. Failure to do so can be risky.
7. Equipment Failure
Poor vehicle performance is not the only thing that causes truck equipment to fail at such a dangerous time. Equipment manufacturers might be guilty of negligence in the course of the production of parts, resulting in dangerous and defective components.
The parties that might be liable for the damaged and defective parts in the trucking accidents include the parts manufacturer, the trucking company that sold the truck, the truck manufacturer, and the mechanic who created the part repairs.
8. Bad Weather
Ice, snow, and rain can be tricky for truckers to drive into because of the slow stopping speed of their vehicle and its heavy weight. If a truck driver is not highly trained and well prepared for driving in severe weather conditions, he or she will likely have truck accidents.
Truckers must travel quickly for all scenarios and learn the right braking techniques to prevent skidding, jackknifing, and hydroplaning.
9. Improper Loading of Cargo
Cargo issues can cause accidents involving trucks. There are various ways in which cargo can cause a crash.
The cargo can be mislabeled or dangerous, resulting in dangerous explosions and spills. Cargo may be loaded incorrectly, resulting in incorrect distribution or weight. This is a factor that can cause a rollover accident.
Cargo loading teams and truckers need to follow specific industry regulations regarding loading cargo. Negligence or mistakes during the process of loading and securing the cargo can cause loads to fall off the road, resulting in catastrophic accidents.
10. Overloading
There are particular height, length, width, and weight limits to truck loads and special methods of securing cargo for transportation. These guidelines help decide how much weight a business truck can carry since overloading can result in errors and unwanted accidents like jackknife accidents, tire blowouts, etc.
11. Truck Design Defects
A truck needs to be designed better, and good parts must be installed because truck accidents caused by poor quality or failing tires and subpar brakes are increasing. The manufacturers and the designers might also be liable for the resulting damages.
12. Improper or Inadequate Training
A truck driver needs to have sound and proper training, especially in handling and driving trucks, security components, and defensive driving, or else the truck driver can pose serious hazards on the road.
13. Inexperienced Driving and Unfamiliarity with the Road
Any individual traveling an unfamiliar route can face driving difficulties. Try to imagine if that individual was driving an 80,000-pound vehicle for the first time and didn't understand how rough and curvy that street was. These circumstances can be risky.
14. Road Construction
Road construction and road development undertakings can cause delays in terms of traffic. These literal barricades regularly limit truck drivers to one path of traffic.
A few drivers may attempt to move around these constructions by driving in the middle of the shoulder. However, doing so will just cause truck accidents.
15. Other Road Issues that Can Cause Truck Accidents
Many other factors, such as road obstacles, can contribute to or cause truck accidents.
Whether a truck driver is driving carelessly or not if there are various obstacles on the road, more severe or dangerous accidents that involve trucks can occur. In other instances, road accidents due to poor maintenance and design can result in catastrophic crashes. The moment this happens, the particular entity responsible for the road's upkeep, which is usually a government entity, might become the target of a truck accident lawsuit.
Other causes of accidents involving trucks are unsafe driving practices, following another vehicle very closely, failure to properly check on the blind spots, changing lanes more often, road rage, and failure to utilize turn signals.
Coding Crash Causation Variables
Many variables were coded from the hundreds of data elements collected on each crash. The NHTSA provided three key variables that were coded for assessing crash risk:
Critical Event: The action or event that put the vehicle or vehicles on a course that made the collision unavoidable. The critical event is assigned to the vehicle that took the action that made the crash inevitable.
Critical Reason: The immediate reason for the critical event (i.e., the failure leading to the critical event). The critical reason is assigned to the vehicle coded with the critical event in the crash. It can be coded as a driver error, vehicle failure, or environmental condition (roadway or weather).
Associated Factors: The person, vehicle, and environmental conditions present during the crash. No judgment is made on whether any factor is related to the reason for a particular crash, just whether the factor was present. The list of the many factors that can be coded provides enough information to describe the circumstances of the crash.
Critical Events
Three major types of critical events were assigned to large trucks:
Running out of the travel lane, either into another lane or off the road (32 percent of the large trucks in the LTCCS sample were assigned this critical event)
Vehicle loss of control due to traveling too fast for conditions, cargo shift, vehicle systems failure, poor road conditions, or other reasons (29 percent)
Colliding with the rear end of another vehicle in the truck's travel lane (22 percent)
Critical Reasons
The percentage of large trucks coded with a critical reason depends on the type of crash:
Of the large trucks involved in all LTCCS crashes (single-vehicle and multi-vehicle), 55 percent were assigned the critical reason in crashes.
Of the large trucks involved in two-vehicle LTCCS crashes between one truck and one passenger vehicle (a car, van, pickup truck, or sport utility vehicle), 44 percent were assigned the critical reason.
The major categories that critical reasons are assigned are as follows:
About 87% or 68,000 trucks fall under driver errors.

Thirty-eight percent of these errors were due to poor driver decisions (The driver drove fast, misjudged the speed of other vehicles, or followed other vehicles too closely)
Twenty-eight percent were due to a lack of driver recognition (The driver was inattentive, distracted by something inside or outside the vehicle, or failed to observe the situation adequately for some other reason).
Twelve percent were due to non-performance (The driver fell asleep, was disabled by a heart attack or seizure, or was physically impaired for another reason).
Nine percent were due to performance (The driver panicked, overcompensated, or exercised poor directional control).

About 10% or 8,000 trucks fall under vehicle failure.
About 3% or 2,000 trucks fall under environmental conditions.
In total, 78,000 large trucks are coded with critical reasons, while 63,000 large trucks are not coded. These results shown are national estimates for the 141,000 large trucks that are estimated to have been involved in fatal and injury crashes during the study period.
Associated Factors
Hundreds of associated factors were collected for each vehicle in each crash. In descending order, the top 10 factors coded for large trucks and their drivers were:
Traffic flow interruption (congestion, previous crash)
Prescription drug use
Unfamiliarity with roadway
Roadway problems
Required to stop before the crash (traffic control device, crosswalk)
Over-the-counter drug use
Inadequate surveillance
Fatigue
Effects of Truck Accidents
Truck accidents can be a traumatic experience for the victims. A variety of factors can cause them physical pain and emotional suffering. Some of the most common effects of semi-trailer accidents include:
Scarring
Chronic pain
Paralysis
Loss of a limb or bodily function
Property loss
Mental anguish
Anxiety
Depression
Death
You deserve to be compensated for an accident that caused your suffering. Contact Arash Law, under the supervision of Arash Khorsandi, Esq., today for a free consultation with one of our truck accident lawyers.
FAQs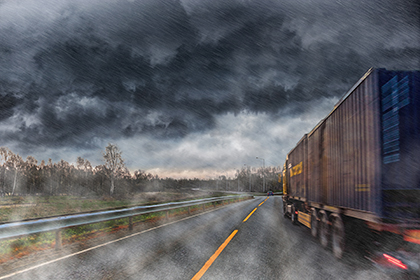 Can weather conditions have an impact on truck safety?
Severe weather conditions, such as heavy rain, snow, fog, ice, or high winds, can significantly impact the safety of commercial trucks. These conditions can reduce visibility, make the road surfaces slippery, and affect the truck's stability, making it more challenging for the driver to control the vehicle. Trucks require more distance to stop. Slippery roads can increase stopping distances dramatically. In conditions of high winds, trucks are at risk of being blown over.
Are fatalities common in commercial truck accidents?
Yes, unfortunately, fatalities are common in commercial truck accidents. Commercial trucks, due to their significant size and weight, can cause extensive damage in collisions. Occupants of smaller vehicles often suffer severe injuries. The likelihood of fatalities is much higher than in accidents involving only passenger vehicles. It's not uncommon for such accidents to result in multi-car pileups. This further increases the risk of fatal outcomes.
Experience and Knowledge When You Need It Most
Hiring a truck accident lawyer today can give you the knowledge you need to understand your case. At Arash Law, founded by the famous attorney Arash Khorsandi, Esq., we offer free consultations to injured victims and their families. We aren't paid until we win full and fair compensation for you.
Our firm has recovered more than $500 Million for California clients. A consultation with one of our commercial truck accident attorneys trained in this area can help you better understand your rights and options.
If you want more information on the common causes of truck accidents or to discuss your case with our truck accident lawyers, please call our law firm for a free case evaluation. We can review your case and inform you if you have a valid claim. So, call us today at (888) 488-1391 to schedule a free consultation.