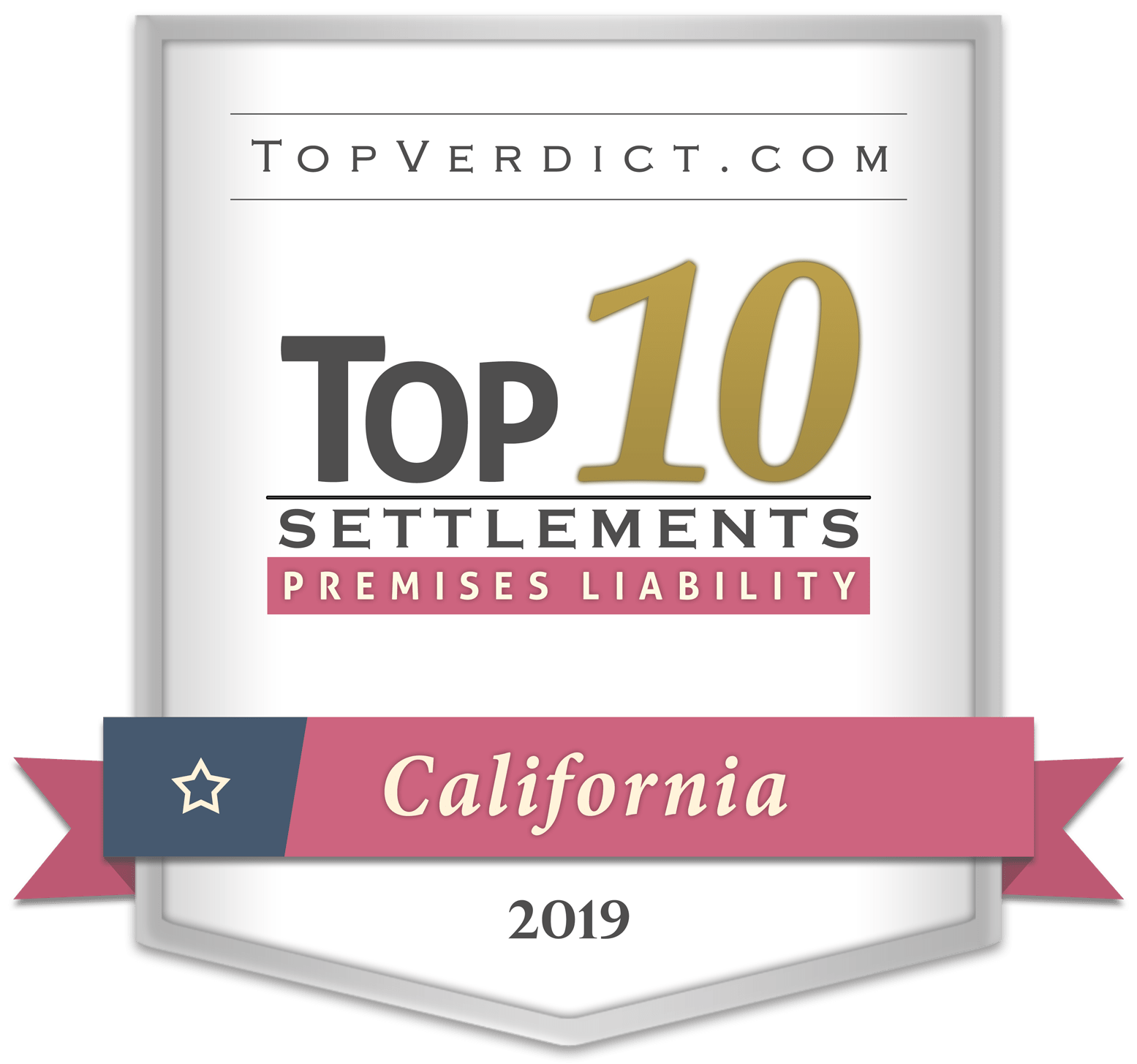 At Arash Law, we fight hard to make sure our clients get the compensation they deserve. Accident victims have a legal right to compensation for the devastating losses resulting from a personal injury or wrongful death. Our results mean that our clients can start rebuilding their lives after these life-shattering events and know that the parties who upended their lives have been held responsible for their actions.
Today, we are proud to share that Arash Law achieved a significant trial victory last year on behalf of one of our clients. In 2019, our premises liability attorneys obtained a settlement of $14 million for a farmworker injured by defective equipment. This verdict was tied for the third-largest personal injury verdict in California that year. We are honored that we were able to help our client obtain compensation and begin rebuilding a life after a serious accident. 
---
According to Top Verdict, the largest premises liability settlements in California in 2019 were: 
$28,715,000:

Sanchez v. Martinex et al

., a pedestrian accident involving a serious brain injury.
$20,000,000: A personal injury case involving a dangerous condition on a landowner's property.
$20,000,000:

Du v. The city of San Diego

, a bicycle accident caused by the city's negligence and construction defects. 

$

14,000,000:

T.J. v. University Community Association

, a case in which a falling object caused serious brain injuries to the victim.

$14,000,000: A farm accident that resulted from defective equipment.  Arash Law's own Trial Attorneys, Arash Khorsandi and Brian Beecher secured this outcome.
$9,475,000:

Kulkarni v. The Sobrato Organization

, a wrongful death caused by an architect's professional malpractice. 

$7,500,000:

Bermas et al. v. Waterstone Garden Investments et al

., a falling object case that resulted in wrongful death.

$4,650,000:

Caceres v. Villanueva

, a wrongful death caused by a truck accident.
$4,000,000:

Scott v. County of Los Angeles

, a single-car accident caused by the County's negligence.

$3,000,000: A construction accident in which a fall from scaffolding caused a worker's wrongful death.
---
Arash Law Fights for Workplace Accident Victims
If you have been injured in a workplace accident, you have the right to be compensated for your injuries and losses. Most workers who are injured while on the job are entitled to workers' compensation – regardless of who was at fault for causing their injuries. In some cases, you may be able to bring a personal injury claim after a work-related injury as well, but the claim will typically need to be against a party other than your employer. Some examples of work-related accidents that often allow injured workers to file personal injury claims include those caused by defective work equipment or those involving the negligence of an independent contractor or other third-party. 
Arash Law Protects Your Right to Workers' Compensation
Workers' compensation rights are established by state law. Every state has different laws and requirements, so it is important to work with an attorney who has experience with California workers' compensation claims. Workers' compensation is designed to get compensation to any injured worker quickly. This is one reason that injured workers' do not have to prove was at fault for their accident. But, there are other requirements. For example, you must see a doctor quickly after your injury and get appropriate documentation of all your treatment. You must document your lost wages and submit that claim in the designated manner. You might also have additional claims that can supplement your workers' compensation. Be sure to consult with a personal injury lawyer about your workers' compensation rights. 

Hire the Best Personal Injury Lawyers in California 
You don't have to search the state looking for the best personal injury attorneys in California. The skilled attorneys at Arash Law have decades of experience and know-how to protect your rights. We have collected over 150 million dollars for clients in San Francisco, Riverside, San Jose, San Diego, Sacramento, Sherman Oaks, Fresno, Bakersfield, Palm Springs, Pasadena and throughout California. Clients trust us to protect their legal rights, and we will fight hard for you, too. Call (888) 488-1391 or contact us online to schedule your free consultation with one of the experienced California personal injury attorneys at Arash Law.