An unidentified 69-year-old man was killed after a fatal pedestrian crash in Oxnard on late Saturday night, July 10.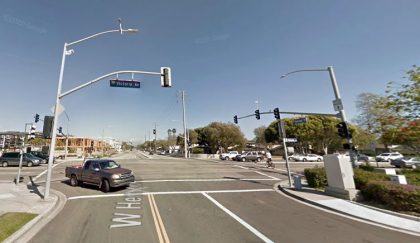 The accident occurred at approximately 11:58 p.m. at the intersection of Victoria Avenue and Hemlock Street in Oxnard. The pedestrian was walking along the southbound lanes of Victoria Avenue when he was struck by a passing vehicle.
It is unclear what caused the driver to hit the pedestrian. The driver remained at the scene and willingly cooperated with authorities.
The unidentified pedestrian was fatally wounded in the crash. He was pronounced dead at the scene. It is unclear whether drugs or alcohol were a factor in the accident.
The case is currently under investigation. Witnesses that can provide more information about the accident are urged to contact the police at 805-385-7750.

Fatal Pedestrian Accident Statistics
Pedestrian accidents often lead to severe injuries and even death to those unlucky enough to be involved in such an accident. This fact is not surprising when the weight of the average passenger vehicle is compared to the weight of a pedestrian. Vehicles have much more weight and force than pedestrians, and in the event of a collision, it is the pedestrian, not the vehicle, that will be severely injured.
Statistics show that California is particularly dangerous for pedestrians when compared with other states. In 2018 alone, 893 pedestrians were killed while 14,000 people were injured on California roadways. Some common reasons pedestrian accidents occur are negligent driving, speeding, and drivers failing to yield to pedestrians.
Ventura County Wrongful Death Attorney for Victims of Fatal Pedestrian Accidents
According to California law, a pedestrian accident lawsuit must be filed within two years of the date of the accident. If you miss the deadline, then you will be precluded from filing a claim. This means that you won't be able to seek compensation for the damages you've accrued regardless of how bad they are.
This is why it is important to seek the assistance of an experienced attorney immediately after an accident. Attorneys can help you file a wrongful death claim and negotiate with insurance companies on your behalf. With the wrongful death claim, the victims can seek financial compensation for damages like loss of income, funeral expenses, pain and suffering, and emotional distress.
Our lawyers at Arash law are happy to assist you. We will vigorously defend your rights and ensure that you receive the compensation you are entitled to. You can visit our offices in Los Angeles, Sacramento, San Francisco, Riverside, Orange County, San Diego, or call us for a FREE consultation at (888) 488-1391.