Did you ever wonder how much you can claim if you were in an Uber accident? The minimum legal coverage requirements for a typical auto accident are $15,000 for personal injury or death to one person, $30,000 for personal injury or death to two or more individuals, and $5,000 for property damage. Therefore, your case is worth at least $15,000 if you are hurt in an Uber collision.
Rideshare companies also have insurance policies that can increase drivers' policies. They are required by law to get more than the minimum insurance policy. Uber provides a $1 million policy to cover injuries sustained by passengers. This policy pays for any damages not covered by the at-fault driver's policy (up to Uber's $1 million policy limit).
An Uber accident can be worth $500,000 or more, depending on the severity of your injuries. When you or your loved one were injured in an Uber accident, contact the personal injury lawyers at Arash Law, led by Arash Khorsandi, Esq. at (888) 488-1391 so we can help you get the best settlement for your loss or injuries.
Uber Accidents Are Increasing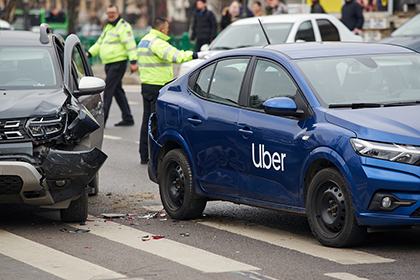 Over the years, ridesharing businesses like Uber have become increasingly popular, especially in areas with many major cities like California. They make it easy and affordable for people to get where they need to go. But as the popularity of Uber grows, the number of deaths and injuries related to it also goes up.
Some risks associated with rideshare apps may be causing the increase in accidents in California. How so? To book passengers, drivers for Uber must use the Uber application on their phones. Uber drivers may become distracted due to having to focus on the road and their phones simultaneously, endangering pedestrians, cyclists, and other drivers. The result is increased rideshare accidents in busy places like San Francisco and Los Angeles.
Because many police departments nationwide must distinguish between rideshare collisions and typical auto accidents, it is impossible to gain accurate data on how many Uber accidents occur yearly. However, ridesharing is currently a contributing factor in between 2% and 3% of all automobile accidents in the US.
Uber accident victims often ask personal injury attorneys the following questions regarding the amount of compensation they will receive:
What is the worth of an Uber accident case?
What is the average settlement for an Uber accident lawsuit?
How much is an Uber accident claim payout?
I was riding in an Uber vehicle as a passenger when another car struck us. Can I sue Uber, and for how much money?
I had a collision while driving for Uber. What will the settlement be for my case?
Occasionally, an Uber accident caused by the driver's negligence can cost $500,000 or more. If you are a victim of an Uber crash, you may be an innocent driver, employee, or passenger strike. If you are not a party at fault, you can reimburse several expenses provided you have enough evidence and a seasoned personal injury lawyer to help you prove your claims.
You may have many questions. What happens if you're in a rideshare accident? What type of legal recourse can you pursue? Can an Uber driver be held liable for causing an accident in California? If you or someone you know was a victim of an Uber mishap, you should seek the assistance of competent Uber accident lawyers. Consult our personal injury attorneys at Arash Law to discuss your case without fee. We are ready to assist you in your legal battle.
Accident victims will normally want to know how much money will be awarded to them in reparations for their losses. The worth of a case is based on several important factors. Below is a summary of the most critical factors that can affect the calculation of compensation in a personal injury lawsuit. Any instances involving an Uber or a Lyft accident must consider these variables. You can read more below to learn how much an Uber case is worth or the typical settlement.
Does Uber Compensate for Accidents?
Yes, Uber can compensate you. Victims of Uber accidents can recover compensation in different ways, depending on the facts of each crash or collision.
The Largest Uber Settlements in History
Unfortunately, many Uber settlements are confidential. Therefore, we need help understanding the largest ride-sharing settlement in history. Our team has handled Uber accident cases that have settled from $415,000 to $1,250,000.
It is important to note that Uber is insured by multiple insurance companies depending on the state, including Allstate, Farmers, Liberty Mutual, and Progressive. Settlements vary based on the insurance company handling the claim. For example, Liberty Mutual is known as the most generous of the four insurance companies used by Uber, although the difference is minimal. Progressive and Farmers are considered the least generous, and Allstate is in the middle.
It is also important to note that most Uber accident claims only reach a verdict if they are settled outside of court (this is also why so many settlements are confidential).
One of the largest Uber accident payouts that are not confidential consists of a claim that exceeded the $8 million mark – the payout was a little above $8.2 million. In this case, an Uber driver got in an accident with a trailer, and the trucking company was found at fault. Because the trucking company did not carry enough coverage, the injured Uber driver filed an underinsured motorist claim with Uber's insurance. Although it wasn't easy, the driver was awarded roughly $6 million for pain and suffering and $2 million for past and future medical expenses.
Back, neck, spine, and whiplash injuries requiring a medical operation or procedure are valued at $500,000 to $2,500,000.
Neck, back, and whiplash injuries incurred after an accident can permanently disable the sufferer as it risks damaging the spinal column. If the damage is severe enough, you can risk not ever being able to walk again. Many people with a whiplash injury need numerous doctor visits for the pain, follow-up surgeries, and additional therapies to manage the pain and range of motion.
These issues may also arise from neck, back, or whiplash injuries:
Limited range of motion
Psychological difficulties, such as feeling depressed and missing the joy of life
Back pain causing balance or walking difficulty
Sudden flare-ups and rising signs and symptoms
Future procedures will be necessary to fuse the back. Additional therapies are necessary.
Continuous ache that never goes away, delayed or drawn-out healing
The ability of the upper arm muscles to contract and relax is diminished, and the neck flexors have less range of motion.
Back and neck pain that doesn't go away
If you would like more information regarding past Uber settlements, do not hesitate to seek legal assistance with the experts at our law firm immediately.
When You Are Not Injured, Can You Ask for Your Money Back?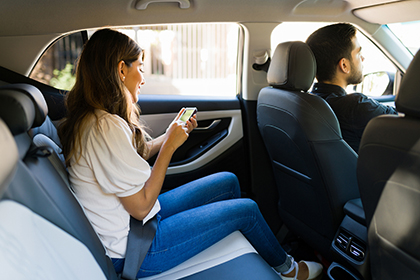 Yes! Uber will still pay you back the amount they charged you for the ride.
How? File a complaint through the app, and your refund will probably be handled within one to two days. You must report the accident if the police are not contacted because your driver probably won't. This means that even if the driver's poor decisions and careless behavior contributed to the crash, they may still drive for Uber in good standing.
How Much Does An Uber Passenger Victim May Claim?
All victims of incidents that occur while an Uber driver has the app open are protected by the company's required insurance policy. If the Uber driver is found at fault for the accident, you may be awarded compensation of up to $1 million for your injuries and monetary losses. In the event of an Uber accident, customers have numerous insurance alternatives.
Remember that California is a comparative negligence state. That's why any party involved in an Uber accident may be held partially responsible. Your Uber driver might not be entirely at fault.
Uber insurance coverage might cover most of your monetary losses (medical expenses, property damage, etc.) in certain circumstances. Still, you might also need to seek further reimbursement from the other party's insurance provider.
The easiest way to increase your insurance payment is always to write a strong demand letter and include enough proof to create a strong case, regardless of which business you are suing for damages.
When You're A Pedestrian
That $1 million Uber insurance policy also covers victims not in the car. Say, for example, an Uber driver strikes a pedestrian in a crosswalk. If the driver had the app open on their phone – regardless of whether they had a passenger in the car, the injured pedestrian could still seek compensation from Uber.
Thankfully, California traffic laws make it easier for pedestrians to be compensated by Uber after a collision. Indeed, the California Vehicle Code mandates all drivers to yield the right of way to pedestrians in marked or unmarked crosswalks. It also mandates that all drivers operate their vehicles safely and prudently – especially when pedestrians are present. It is highly uncommon in California for an injured pedestrian to be found even partially at fault when hit by a car.
Why Are Uber Drivers at Increased Risk of Accidents?
Uber drivers are sometimes only professionally licensed and not required to take courses. This means nearly anyone can become an Uber driver. As drivers deal with driving hazards, time constraints, and the pressure to entertain passengers, the lack of proper training can lead to accidents and wrecks directly caused or not by the driver.
Another common cause of every accident is vehicle failure or malfunction. While Uber and other ride-sharing companies have some vehicle requirements, they do not test or maintain the vehicles themselves. Since many Uber drivers only do it as a side gig, they may need help maintaining their car after all the extra miles.
Common Accident Causes
The following are some of the common pitfalls of driving for Uber that increase the chances of an accident: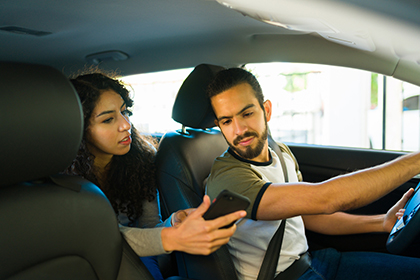 Vehicles and drivers are not held to tested standards.
Uber drivers must adhere to tight timelines for each ride.
Drivers will feel pressure to entertain and interact with their passengers.
The nature of the hustle encourages drivers to finish rides as fast as possible.
The fear of low-star reviews puts drivers on edge.
Thankfully, most Uber rides end with passengers getting safely to their destination. The factors listed above, however, come in addition to the risks we all face on the road. This means Uber drivers have to confront many different types of distractions. It is not a surprise, therefore, that the number of Uber-involved accidents is unfortunately increasing every year.
People Also Ask
Does Uber Cover Crashes?
A driver who gets in an accident while working for Uber is covered by the company's insurance company. The driver can avoid paying through their own insurance, but as an independent contractor, they cannot use workers' compensation.
Typically, Uber will cover you if you can show that you were working for Uber when the accident occurred, whether you were looking for passengers, carrying a passenger, or otherwise operating within the scope of employment under Uber.
Uber drivers should have their auto insurance to increase the amount of compensation available in the event of an accident, even though Uber's insurance may cover drivers in many situations.
How Long Does It Take to Settle with Uber?
Like many insurance companies, Uber is notorious for dragging the settlement process on for an excruciating and often unfair amount of time. Insurers are also always looking to pay the least amount for personal injury claims because it means more money for them. Uber's insurance company is no different.
This is why hiring a vehicle accident attorney with a specific understanding of and experience working with Uber drivers is crucial. We know the tricks and strategies Uber's insurance company employs and will work to prosecute as quickly and aggressively as possible.
Historically, receiving a reply to a settlement offer can take as long as 3 to 6 weeks. You will also need to factor in time spent negotiating, as your attorney will likely need to fight for fair compensation for your injuries.
Never accept the first settlement that Uber or another rideshare operator offers you. Allow your attorney to assist you in obtaining a reasonable claim amount.
How Do I Claim with Uber?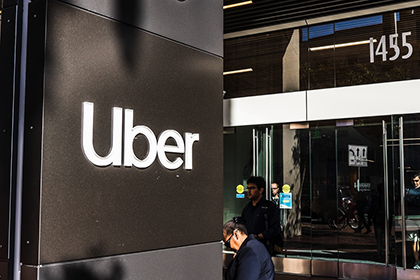 Immediately after the crash, ensure you get the insurance information from all vehicles involved, including the Uber driver. You will want to know exactly who to contact to submit your claim.
Also, write down other important information, such as:
The names of the drivers involved in the crash
The license plate numbers and vehicle descriptions of all the cars involved in the collision
Contact information of the drivers, such as phone number and email
All of this information is useful when submitting your claim.
Does Uber Provide Compensation?
Uber's insurance coverage has three distinct periods based on the driver's activity during the accident:
Not Available – This is when the driver uses his vehicle for personal use or is not logged into the Uber app. In this period, the driver's personal insurance applies, not Uber's.
Available – If the driver is logged into the app and available to take on rides but is not in an active ride or request, the primary insurance is the driver's insurance. However, Uber covers an additional $50,000 per injury with a $100,000 maximum and $25,000 in property damage if the driver's personal insurance is insufficient.
Available and Carrying A Passenger – In this period, the driver is in an active ride request, has picked up the passenger, and is therefore covered by Uber's $1 million insurance policy.
It is important to note that Uber can still deny any accident victims' coverage even if they were injured during the third period. The driver's insurance might not pay either, as the driver was driving for Uber at the time of the accident. In these instances, having a lawyer on your side is vital to fight for your right to adequate compensation.
How Does Uber Verify Your Insurance?
They will verify your auto insurance by checking the state's insurance database, but they will only take action based on what they find. Because insurance is a complex subject, you should consult your insurer for any specific questions about your policy. Typically, personal auto insurance doesn't cover carrying paid passengers as the vehicle is no longer classified as personal use but as for hire.
What Are The Survivor Benefits for Uber Drivers?
Since Uber drivers are independent contractors, they may not have a right to workers' compensation. If accidents happen, they will seek compensation by filing personal injury claims or rely mainly on their savings in case of emergencies. Those with no available remedies may struggle to repay their lost wages or pay their medical costs.
That's why the new Driver Injury Protection Insurance of Uber in California is such great news. This ensures that all drivers can be covered in the case of an injury so they can get the medical care they need. Additionally, the company wanted to ensure families weren't left with anything in the case of a driver's death. This is an affordable insurance program for drivers.
The insurance covers the medical and disability expenses caused by collisions and provides survivor benefits to families of those who are killed. Those who use this insurance are protected en route, during their trip, and while online on the Uber app, giving them peace of mind that if anything goes wrong, they'll be covered. The premium is charged per mile, meaning drivers who work less often have smaller premiums, while those who work more are charged more per their workload.
After an accident, the last thing you want to worry about is money. If you're hurt or killed while working as an Uber driver, this coverage is just one way you or your family can seek compensation.
Contact Arash Law For A Free Consultation After An Uber Accident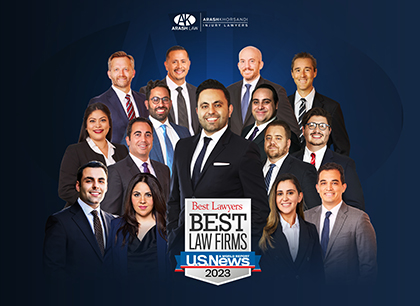 An Uber accident lawyer specializes in the complexities and nuances associated with ridesharing accidents. When involved in a traffic accident with Uber, whether as a passenger, driver, or third party, the legal implications can be much more intricate than typical car accidents. Traditional auto insurance policies may not always cover ridesharing incidents similarly.
An experienced legal professional understands the unique interplay between personal auto insurance, Uber's corporate policy, and local regulations. They can help ensure you receive the proper compensation, especially if you are injured or suffer other losses. Navigating these layers without specialized knowledge could lead to pitfalls or missed recourse opportunities.
Moreover, hiring an attorney can prove invaluable when it comes to gathering evidence, assessing liability, and negotiating with insurance companies. Since Uber is a large corporation with significant resources, it may have aggressive legal teams aiming to minimize payouts and liabilities.
A specialized attorney will be adept at countering these tactics, ensuring your rights are upheld and you get a fair settlement. Additionally, they can guide you through the process, from reporting the incident to Uber, seeking medical attention and documenting your injuries, and finally, building a robust case for compensation. Hire Arash Law, led by Arash Khorsandi, Esq., for a free consultation as you seek justice and compensation after an Uber Accident.