Uber publishes statistics but hardly ever includes details about every collision that one of their ridesharing drivers has experienced. Instead, they regularly share data on fatal crashes, which is around 100 annually.
Some studies link Uber's rise to increased traffic fatalities. According to research from the University of Chicago Booth School of Business, ridesharing services may be responsible for a 3% rise in fatalities.
If you or someone you care about got injured in a rideshare accident, you should contact Uber accident lawyers who can provide your legal needs when fighting for your rights. The legal team of Arash Law, led by Arash Khorsandi, Esq., is composed of competent Uber accident lawyers who can help you achieve the justice and compensation you deserve. Get in touch with us for a free consultation at (888) 488-1391.
Uber Accident Statistics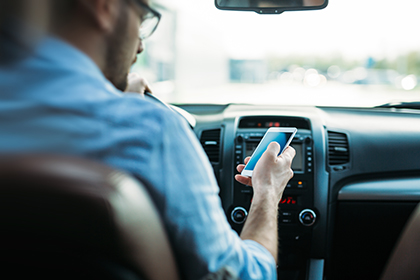 Uber may brag about the quality and safety of their services, but statistics will show otherwise, as there are significant hazards when a consumer rides with them. However, Uber has reduced the number of drunk and dangerous drivers on the road. 43% of Uber users rely on the service to go out and attend parties and dinners. Drunk driving accidents have decreased by 15% to 62%.
As the number of trips increases, so does the number of accidents. According to statistics, one in four accidents in medium and large cities in the United States is caused by ridesharing services.
In reality, Uber is used by 25% of the country's population at least once a month. The percentage of vehicle miles traveled has increased rapidly in recent years. In 2016, these ridesharing vehicles accounted for 1% of the total VMT in the country. Today, Uber cars exceed 14% in numerous states. The national average is 6%.
In 2019, Uber claimed to have provided 6.9 billion rides, up from 140 million in 2014. The University of Chicago Booth School of Business confirmed the theory regarding traffic incidents and deaths increasing. In particular, Uber has resulted in a 3% increase in car accident fatalities. As a result of the increased use of these vehicles, around 1,000 people are killed in car accidents every day.
How Many Uber Accidents Have There Been?
Uber has changed the way people travel in this modern era. There is substantial discussion about whether this mode of transportation has made roads safer due to new legislation and regulations. While numbers fluctuate over time and vary by place, concluding is difficult. But one thing is sure: accidents happen, even on ridesharing trips.
Based on Uber's 2019–2020 safety report, 101 people died in 91 fatal Uber incidents. Most of these crashes (32%) featured at least one fast vehicle. The second-leading cause was alcohol-impaired driving (23%). In these Uber incidents, pedestrians (64%), vulnerable road users (42%), third-party motorcyclists (29%), and bicyclists or scooter riders (7%) were involved.
Uber Accidents Average About 100 Annually
Uber released its first official accident statistics in 2017 and 2018. The study concluded that 107 fatalities were caused by 97 Uber vehicles. A safety assessment was released later by the California-based firm for 2019 and 2020. The data showed that more than one hundred people died every year. A total of 101 deaths occurred in 91 fatal incidents. Uber also explained the reasons for the collisions in one document. The leading causes are:
Speeding (32%)
Driving under the influence of alcohol (23%)
The victims most affected by these accidents are pedestrians (64%), followed by vulnerable road users (42%), motorcyclists (29%), and cyclists (7%).
Are Uber Drivers More Likely to Cause Accidents?
Uber has increased the number of accidents in certain cities since ridesharing became more mainstream. In places where Uber operates, it has seen an upsurge in car accidents since 2010, when it became popular. This follows a nationwide drop in car accidents of more than a half-century.
This increase in accidents is due to several factors, including:
Poor navigation
Improper training
Car accident fatalities were at an all-time low in the years preceding ridesharing. But since ridesharing apps were launched, fatal car crashes have increased by about 2–3% yearly. This presses the question –Is the increase in fatal accidents caused by rideshare drivers?
When you get into an Uber, you expect to be in good hands, and there's no doubt that skilled drivers are vital to the company. However, individuals may drive carefully and lawfully; they may not always do so. Uber has used a behavioral science-based in-app design that encourages drivers to work more hours for less money, often without realizing it. This increased time spent on the road may lead to poor driving.
Let's look at how Uber keeps its drivers on the road, how these measures affect driving quality, and what you should do if you are involved in an Uber accident.
Possible Causes of Uber Collisions in California
It didn't seem easy to take a cab in California before Uber. Their presence in California has many benefits for its residents. Although the company rarely publishes Uber accident numbers since they prefer to keep such information private, California is considered one of the country's most crash-prone states. As previously stated, California has the highest number of ridesharing app drivers.
Because it is one of the areas with the most ridesharing vehicles, there is an increased probability of an accident. California Uber drivers spend more time on the road than other drivers, increasing their risk of accidents. Driving for an extended period of time causes drivers to lose ground or drive unsafely. Similarly, the number of evening travels has grown, raising the chance of an accident.
Most Common Types of Uber Accidents
There are several types of accidents and degrees of severity depending on the cause of the crash. While the reason helps determine who is at fault for the Uber accident, the types may help compute the settlement or compensation amount.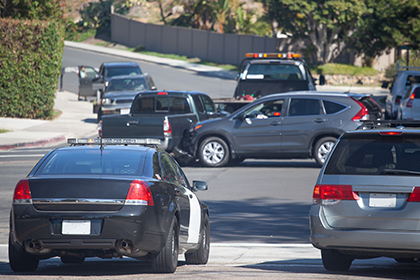 What Should You Do in Case of a Collision During a Rideshare?
With so much data and figures available, it's natural to have many questions regarding this service: Is it safe? Should I file a complaint if I am involved in an accident? Can I sue for compensation? The answer to these three questions is YES!
Despite frightening statistics, Uber services are safe and suitable transportation solutions. However, incidents might occur at times, just like in real life. In the event of a traffic accident, it is usually a good idea to have a basic understanding of what to do. Understanding how to proceed in a collision can be critical to collect proper compensation.
Suppose you have an accident while using a ridesharing service or collide with one of these vehicles. You should be aware of the following:
Call 911 and ensure that everyone involved is safe especially yourself.
Call the cops to come to the crime scene and make a report
Gather evidence from the scene of the accident and look for possible witnesses.
Primary information should be exchanged with the other motorist.
To manage a prospective case, contact a skilled Uber accident personal injury lawyer.
Once you've calmed down, notify Uber about the accident.
Frequently Asked Questions About Uber Accidents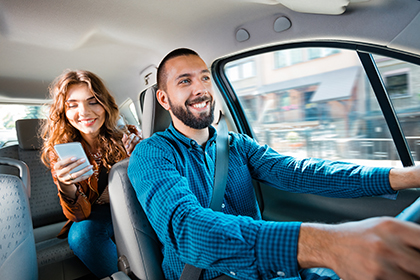 What is the risk of Uber accidents?
According to Uber's 2019-2020 Safety Report, there are fewer driver fatalities in car accidents than passenger deaths, with one driver fatality reported for every 140 million rides.
What is the connection between Uber and DUI?
While Uber drivers cause numerous incidents, Uber is not without its benefits. In fact, according to a recent study undertaken by Stonehill and Providence Colleges, ridesharing applications like Uber have reduced DUIs and accidents in general by 15% to 62%, depending on the area.
While other factors, such as reduced access to alcohol and stricter street monitoring, may have influenced these reductions in DUIs and accidents, ridesharing apps add another option besides public transportation for riders to get from one place to another safely.
According to the same Stonehill and Providence study, Uber's app has resulted in a 16% reduction in traffic fatalities, saving up to 500 lives each year in DUI deaths nationwide.
Do Uber drivers get assaulted, too?
Passengers are not the only ones that get assaulted. According to Uber data, 42% of people who reported sexual assault were drivers. "Drivers are assaulted as much as passengers are," Michael Bomberger, an attorney representing the women suing, told Vox.
Particular sorts of assault may be hazardous to passengers. Bomberger, for example, stated that he had heard from several riders who fell asleep in an Uber and awoke to discover a driver attacking them. According to Uber records, 92 percent of people who experienced sexual assault, including penetration, were passengers.
However, drivers, mainly the roughly 19 percent of Uber drivers, frequently report being grabbed by passengers, according to Bomberger. They also lack some safeguards for taxi drivers and other workers, such as barriers separating them from passengers because they are independent contractors for gig-economy enterprises.
What are the drawbacks of driving for Uber?
While Uber opens an opportunity for people to generate a bit of a side income, there are some cons of being an Uber driver:
Increased driver competition
The requirement to keep a vehicle that satisfies Uber's requirements.
Possibility of obtaining unfavorable feedback
Gas, maintenance, and insurance costs
Uncertainty regarding each ride's payment rate
Uber Accident Settlements
One of the most challenging aspects of being in a collision that an Uber driver caused is determining who will pay for your injuries. If you were hurt in an accident while riding as a passenger, driving or riding in another car, or as a pedestrian, you can file a claim against Uber. In some situations, you may be limited to recovering from the driver's car insurance policy.
Under California law, Uber is required to provide primary insurance for its drivers. The limit on this insurance is $1 million, plus uninsured and underinsured motorist coverage with a $1 million limit. Because Uber is required to provide uninsured and underinsured motorist coverage, even if another driver was responsible for the crash, if they don't have insurance or not enough to cover their losses, they will be covered under Uber's policy. This insurance coverage starts when you enter the vehicle and ends when you leave it.
In addition, if an Uber driver has the app open and is waiting for a passenger, Uber must provide insurance coverage. This type of coverage has lower limits: $50,000 for death and personal injury per person, $100,000 for death and personal injury per incident, $200,000 in liability insurance for the driver, and $30,000 for property damage.
Finally, if a driver is not using the app and is on their own time, car insurance is the only way to get reimbursed. A seasoned attorney can work with you to obtain compensation for your injuries.
Get The Compensation You Need with The Help of Uber Accident Victim Lawyers
Have you or a family member been seriously injured in an Uber accident within the last 24 months? The best course of action after securing your health is securing your rights by filing a claim. Do not allow medical costs to pile up while you wait for the negligent party or their insurance company to act appropriately. Instead, you need a dedicated personal injury lawyer specializing in Uber accidents who will fight for the compensation you deserve.
Recovering damages in the event of an Uber accident is challenging, making it critical to have the powerful legal support of Arash Law. Our California Uber accident attorneys will personally handle your claim, conduct a full investigation, and determine liability for the ridesharing accident that caused your injuries. They will also research all of your compensation options.
Know Your Rights – Seek Legal Help at Arash Law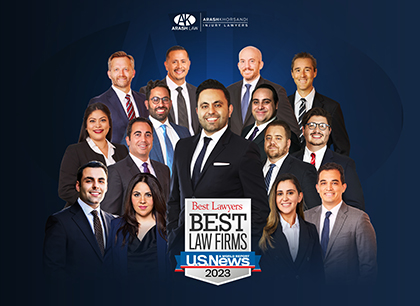 Being involved in a car accident caused by another person's negligence is a terrifying experience. Not only must you deal with insurance companies, but your health is also jeopardized. This is especially true if the collision results in catastrophic injury or death.
After reviewing Uber accident statistics, it is critical to use extreme caution. While you never know when or how a collision will occur, you can be prepared to take the necessary precautions to protect your bodily and mental well-being.
Our California personal injury law practice is a sure bet for victory, with over a decade of combined legal experience. Our legal experts specialize in obtaining the most advantageous settlements for our clients. We will handle your case with determination, empathy, and knowledge so that all you have to worry about is your health. Everything is in our hands.