Our Corona Injury Law Firm

Doesn't Just Win,


We Win Big!
You May Be Entitled to Compensation

Seeking Justice in Corona?

Our Personal Injury Law Firm is Ready to Serve
Corona, a city in Riverside County, has a population of approximately 159,743 residents. The city offers its people a dense suburban atmosphere in the heart of the state, contributing to a close-knit and community-oriented environment. Most individuals living in Corona are homeowners, fostering a sense of stability and pride within the community.
While the city boasts various appealing features, such as its well-maintained parks, it is essential to note that accidents can occur in any city, including Corona. In 2020 alone, the California Office of Traffic Safety recorded about 442 victims who were either killed or injured during a crash. Residents and visitors must prioritize safety and adhere to traffic laws to prevent accidents.
Arash Law, under the leadership of Arash Khorsandi, Esq., is a well-known injury law firm in Corona specializing in personal injury cases. Our personal injury law firm is committed to fighting for victims' rights and offering them legal assistance. With a proven track record and a team of exceptionally talented lawyers, we have effectively represented numerous individuals and have won more than $500 million for their claims.
When you have experienced harm due to another person's negligent behavior, it is important to promptly seek assistance from the top personal injury law firm in Corona. Explore the reasons why our approach leads to significant compensation and gain an understanding of the actual worth of your case. Contact us at (888) 488-1391 to arrange a complimentary consultation and allow us to guide you through seeking justice and recovery.
Smith v. Air Hollywood (settled on 9/22/2023) – settlement involving a man who sustained a traumatic brain injury when he was struck by a forklift during the course and scope of his employment.
– 
TINA ESHGHIEH
IF YES, You may be able to recover financial compensation. TELL US MORE: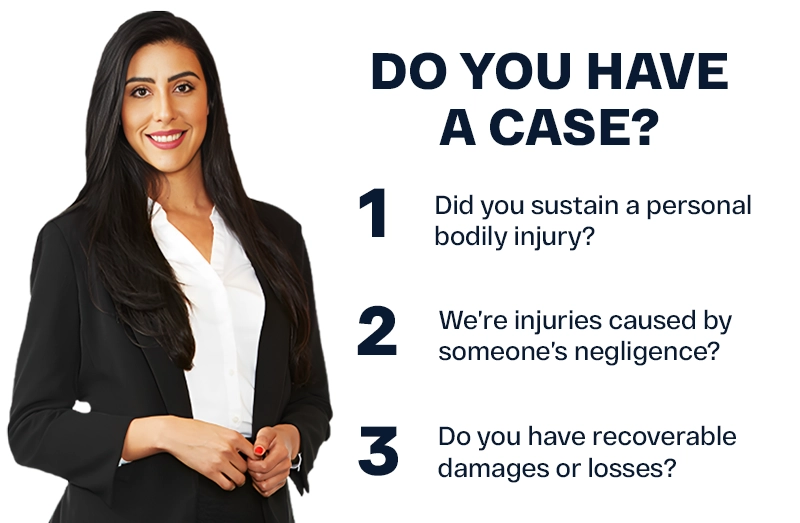 IF YES

, You may be able to recover financial compensation.

TELL US MORE:
Types of Personal Injury Claims We Handle in Corona, CA
Arash Law, under the leadership of Arash Khorsandi, Esq., possesses the essential abilities and assets to handle various personal injury lawsuits proficiently. We are dedicated to offering assistance and encouragement at every stage of the claim process. Throughout our experience, we have obtained favorable results for numerous clients involved in different personal injury litigations.
Here are a few instances of the personal injury cases we have effectively represented:
10 Ways to Safeguard Your Well-being and Legal Rights After the Crash
Seek Medical Attention. Immediately after a crash, it is crucial to prioritize your health and well-being. Seek medical attention, even if you believe your injuries are minor, as some injuries may have delayed symptoms.
Document the Scene. Take photos of the accident scene, capturing any damage to your vehicle, skid marks, and road conditions. This evidence can be valuable when filing an insurance claim or pursuing legal action.
Gather Information. Obtain contact information from all parties involved in the accident, including their names, phone numbers, addresses, and insurance details. Additionally, gather contact information from any witnesses present at the scene.
File a Police Report. Contact the local authorities to report the accident. The police report can serve as an official record of the incident and may be required when filing an insurance claim or pursuing legal action.
Preserve Evidence: Preserve any evidence related to the crash, such as damaged clothing, medical records, and receipts for medical expenses or vehicle repairs. This evidence can support your case and help establish liability.
Notify Your Insurance Company. Promptly notify your insurance company about the accident. Provide them with accurate and detailed information regarding the incident to ensure a smooth claims process.
Consult an Attorney. If you suffered significant injuries or believe you may be entitled to compensation, it is advisable to consult with a personal injury attorney. They can provide legal guidance and help protect your rights.
Limit Communication with Insurance Adjusters. While it is crucial to cooperate with your insurance company, limiting direct communication with insurance adjusters is advisable. Instead, let your attorney handle any discussions or negotiations on your behalf.
Keep a Record. Maintain a detailed record of all medical treatments, expenses, and other losses resulting from the accident. This documentation will support your compensation claims.
Know Your Rights. Educate yourself about your rights and the legal process. Understanding the laws and regulations surrounding car accidents will empower you to make informed decisions and protect your legal rights.
Pursuing Damages for Personal Injury Case
Damages for personal injuries refer to the compensation awarded to individuals who have suffered harm due to someone else's negligence or intentional actions. These damages aim to provide financial relief to cover medical expenses, lost wages, pain and suffering, and other related costs. Understanding the various types of damages and their significance is crucial for victims and legal professionals involved in personal injury cases.
Compensatory Damages

Compensatory damages are awarded to victims of personal injuries to compensate for their losses. These damages aim to restore the injured party's financial position before the injury occurs.

Economic Damages

Economic damages are a type of compensatory damages that are awarded to cover the financial losses resulting from a personal injury. These damages include medical bills, rehabilitation costs, lost income, and property damage. Economic damages are meant to compensate for the measurable monetary losses incurred due to the injury.

Non-economic Damages

Non-economic damages are another category of compensatory damages awarded for the non-financial losses experienced by the injured party. These damages are more subjective and can include pain and suffering, emotional distress, loss of consortium, and loss of enjoyment of life. Non-economic damages aim to compensate for the intangible harm caused by the injury.

Punitive Damages

Punitive damages are awarded when the defendant's conduct is found to be reckless, malicious, or grossly negligent. Unlike compensatory damages, punitive damages are not meant to compensate the injured party for their losses. Instead, they are intended to punish the defendant and deter similar behavior in the future. Punitive damages are often awarded in cases involving willful misconduct, fraud, or intentional harm.
Factors That Determine Liability in Personal Injury Cases
Several key factors determine liability in personal injury cases. These factors play a crucial role in deciding whether an individual is legally responsible for the injuries sustained by another person. Understanding these factors is essential for plaintiffs and defendants involved in personal injury cases. Here is a short, detailed list of the factors that determine liability:
Duty of Care
The first factor to consider is whether the defendant owed a duty of care to the plaintiff. Duty of care refers to the legal obligation to act reasonably and responsibly to prevent harm or injury to others.
Breach of Duty
Once it is established that a duty of care exists, the next factor is determining whether the defendant breached that duty. A breach of duty occurs when the defendant fails to act reasonably, causing harm or injury to the plaintiff. This could include driving under the influence or failing to maintain safe premises.
Causation
To hold someone liable for a personal injury, there must be a direct link between the defendant's breach of duty and the plaintiff's injuries. This factor requires establishing that the defendant's actions or negligence directly caused or contributed to the plaintiff's harm. Establishing a clear cause-and-effect relationship between the defendant's actions and the injuries sustained is essential.
Damages
In personal injury cases, the plaintiff must suffer provable damages. The severity of the injuries and their impact on the plaintiff's life will be considered when determining the amount of damages.
These factors collectively determine liability in personal injury cases. It is essential to consult with legal professionals specializing in personal injury law to navigate the complexities of these factors and build a strong case. By understanding these elements, individuals involved in personal injury cases can better assess their legal options and seek appropriate compensation for their injuries and losses.
Benefits of Hiring Our Corona Injury Law Firm
Arash Law, led by Arash Khorsandi, discovered that the term "accident" does not precisely represent most personal injury incidents. In many cases, these unfortunate events are not accidental but rather a series of occurrences triggered by someone's failure to exercise their duty of care and responsibility.
Our personal injury law firm in Corona is dedicated to seeking justice for those who have been harmed by the negligence of others and advocating for fair compensation for injured victims. We have extensive experience in assisting individuals in navigating the aftermath of a distressing accident and helping them progress toward recovery.
Below are the benefits of selecting our personal injury law firm:
Expertise and Experience. Arash Law, led by Arash Khorsandi, Esq., is a well-established personal injury law firm in Corona. With years of experience handling a wide range of personal injury cases, our legal team possesses the expertise and knowledge necessary to navigate through the complexities of the legal system.
Maximum Compensation. Our personal injury law firm in Corona is dedicated to fighting for our client's rights and ensuring they receive the maximum compensation they deserve. We understand the physical, emotional, and financial toll a personal injury can have on individuals and their families, and we work tirelessly to secure the best possible outcome for each case.
Personalized Attention. At Arash Law, led by Arash Khorsandi, Esq., we believe in providing personalized attention to our clients. We understand that every case is unique, and we take the time to listen to our client's concerns and goals. Our dedicated attorneys and staff work closely with each client, guiding them through the legal process and keeping them informed every step of the way.
Strong Track Record of Success. Our personal injury law firm in Corona has a strong track record of successfully handling personal injury cases. We have helped numerous clients recover substantial settlements and verdicts, holding negligent parties accountable for their actions. Our proven track record demonstrates our commitment to achieving favorable client outcomes.
No Fee Unless We Win. We understand that financial concerns can burden individuals seeking legal representation. That's why we operate on a contingency fee basis at Arash Law, led by Arash Khorsandi, Esq. Our clients do not have to worry about upfront costs or legal fees unless we win their case. This allows individuals to pursue their claims without added financial stress.
Fight for Your Rights – Reach Out to Our Personal Injury Law Firm in Corona Today
Our personal injury law firm in Corona is the perfect choice for all your legal requirements, as we possess vast knowledge and hands-on experience in dealing with personal injury lawsuits. Our dedicated and highly proficient lawyers have a proven track record of representing countless clients and delivering favorable results.
When you choose Arash Law, led by Arash Khorsandi, Esq., you select a team with a demonstrated history of success. We have a track record of achieving significant client settlements and verdicts. Our deep knowledge of personal injury law, practical negotiation abilities, and strong courtroom skills have consistently yielded favorable results.
Our personal injury law firm also provides support for people living in the nearby cities of Corona, such as Norco, Chino, Chino Hills, Ontario, Yorba Linda, Montclair, Rancho Cucamonga, Upland, and Pomona. We are fully devoted to delivering legal assistance and are committed to assisting individuals in these communities in pursuing justice and rightful compensation for their injuries. To initiate the process, contact us at (888) 488-1391 to arrange a consultation and embark on the path of seeking justice and recovery.
Record-Breaking Verdicts in the Following Areas of Practice
Get The Latest News from

The Best California Accident Law Firm Today