Our Norwalk Injury Law Firm

Doesn't Just Win,


We Win Big!
You May Be Entitled to Compensation

Your Trusted Norwalk Personal Injury

Law Firm for Compassionate Legal Support
In the wake of an unexpected accident, the aftermath can be devastating, leaving you questioning your future and grappling with the daunting prospect of recovery. Fast-accumulating hospital bills, lost wages, and additional costs only exacerbate the situation. The process of seeking medical treatment consumes time and energy, making it challenging to navigate. It's important to recognize that personal injury attorneys are available to assist you during such times. Our Norwalk personal injury law firm empathizes with the profound impact of sudden accidents and is committed to aiding you and your family in pursuing the justice and compensation you rightfully deserve. At Arash Law, we have more than three decades of experience representing victims of negligence and recklessness. With the expertise of our attorney, Arash Khorsandi, Esq., our firm is well-equipped to handle your case. Contact us today at (888) 488-1391 to initiate a case evaluation.
When you find yourself a victim of personal injury or an accident, navigating the legal system becomes a challenging task. You need seasoned legal representation that aggressively defends your rights and shows empathy toward your pain and suffering. A personal lawyer and accident attorney should be meticulously attentive, efficient, and communicative. Bearing these considerations in mind, our Norwalk personal injury law firm takes pride in delivering precisely this level of dedicated legal representation. Reach out to us for a complimentary initial consultation and embark on the journey toward resolution.
You can relieve some of the legal burdens of an accident by working with an experienced personal injury attorney so that you can concentrate on recovering physically and mentally. In addition, seeking legal representation may give you a better chance of obtaining fair compensation during difficult times.
Settlement in a motor vehicle versus pedestrian accident; client, suffered facial and spinal injuries
– 
JUDD ROSS ALLEN
IF YES, You may be able to recover financial compensation. TELL US MORE: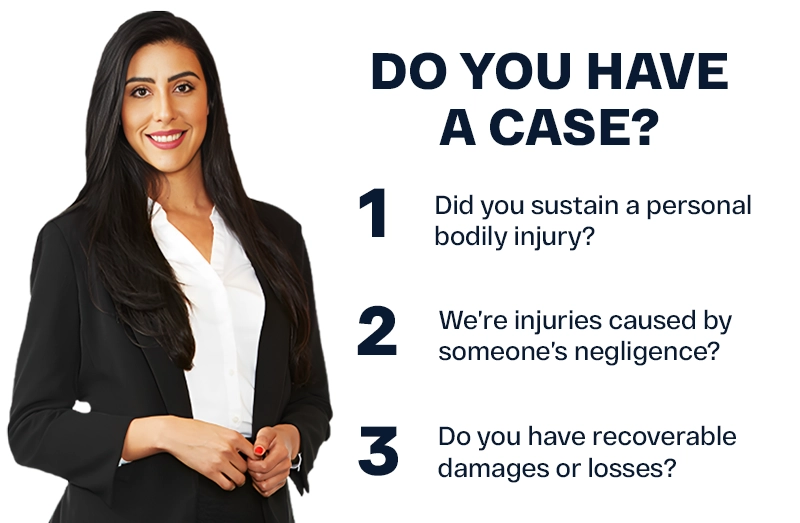 IF YES

, You may be able to recover financial compensation.

TELL US MORE:
Why Do You Need a Norwalk Personal Injury Attorney?
While facing a defendant or insurance company as an injured victim, you may believe in your ability to handle the situation alone. However, insurance companies often employ tactics to diminish the value of claims. Opting to represent yourself, even if you possess the capability, hinders your ability to concentrate on healing from your injuries fully. Choosing Arash Law as your legal representation allows you to focus on recuperation while our trained and experienced lawyers tirelessly advocate for maximum compensation on your behalf.
The importance of hiring a Norwalk personal injury law firm like Arash Law becomes evident in its ability to navigate the intricacies of local laws, gather relevant evidence, interview eyewitnesses, file your claim, enlist experts, and take numerous other strategic steps to resolve your case. This specialized focus ensures the best possible outcome for your unique circumstances.
Who Is Liable for Your Norwalk Accident?
An accident victim is entitled to financial compensation from the at-fault parties under the personal injury law system. The party that is allegedly responsible for the victim's losses is called the defendant. Legal liability refers to legal and financial responsibility for a victim's losses.
The at-fault party may be liable for your recent accident in Norwalk if the following four elements prove to be true:
You were entitled to a reasonable amount of care from the defendant.
The defendant breached or violated a duty of care.
Your injury or illness resulted from the defendant's breach of duty.
The accident caused you to suffer real and specific losses.
In personal injury law, these are the four elements of negligence that must be proven in a lawsuit. If the defendant(s) fails to meet the required duty of care and causes injury to another individual, they are negligent. You will be liable for past and future losses if you prove negligence by establishing these four elements. In a personal injury case, the plaintiff must show by a preponderance of the evidence that the defendant is significantly more likely than not to be responsible for the injury.
Types of Cases We Accept in Norwalk Personal Injury Law Firm
Our Norwalk personal injury law firm has handled many different types of accidents. You can contact Arash Law if you or a loved one have been injured in any of the following accidents:
Our Norwalk personal injury lawyers craft their legal arguments based on the unique elements of each case, as well as the needs of the client. Different types of accidents require different legal strategies. You will work with us closely to create the best strategy for your case.
Common Injuries Involved in Personal Injury Cases
The damages awarded in a personal injury case are contingent on the nature and severity of the injuries sustained. Various types of injuries may be at the forefront of a personal injury claim.
Traumatic brain injury (TBI) is a prevalent concern in legal cases, stemming from incidents such as motor vehicle accidents, pedestrian mishaps, bicycle collisions, falls, and sports-related injuries. TBIs can significantly impact cognitive functioning, physical abilities, and emotional control and may even result in extended periods of unconsciousness.
Neck injuries, often referred to as 'whiplash,' are common in motor vehicle accidents, particularly rear-end collisions. These injuries involve sprains or strains to the tendons, ligaments, and muscles of the neck, often necessitating extensive physical therapy and causing pain that can limit daily activities and work.
Back injuries encompass a range of issues affecting muscles, soft tissues, and spinal discs, potentially immobilizing victims and requiring surgery. The inability to work until recovery is complete is a common consequence of back injuries.
Spinal cord injuries (SCI) disrupt essential messages between the brain and the body, causing paralysis in some victims, either temporarily or permanently. This serious disability can limit mobility and independence, affecting a person's ability to work.
Amputations happen when accidents crush, shatter, or sever limbs, impacting victims' lives significantly. The cost of treatment and recovery, particularly if a prosthesis is needed, can be substantial.
Burns result from various accidents, ranging from superficial to severe and debilitating. Serious burns can damage skin layers, muscles, and tissues below the skin, requiring extensive and painful treatment.
Fractures have about 6 million reports annually and vary in severity. While some may heal with rest, others necessitate surgical procedures and extended recovery periods, potentially requiring assisted living facilities.
Accidents can also lead to internal organ damage, such as rupture of the abdominal aorta, punctured organs, blunt trauma to the kidneys, ruptured spleen, punctured lung, and internal bleeding. Immediate medical attention is crucial, as untreated internal organ damage can be life-threatening.
What Damages Are Available After an Accident in Norwalk?
According to the severity of your injuries, damages can be divided into three general categories.
Economic damages – Financial losses can be calculated easily with damages based on monetary values.
Medical costs
Lost wages
Diminished earning potential
Out-of-pocket expenses
Physical therapy
Travel costs to and from medical treatment
Non-economic damages – Damages caused by intangible losses you have suffered or will suffer in the future are not associated with specific prices.
Pain and suffering
Anxiety
PTSD
Emotional distress
Loss of consortium
Inconvenience/embarrassment
Scarring/disfigurement
Reduced quality of life
Punitive damages – Punitive damages are awarded in addition to compensatory damages in order to punish those who have committed gross negligence or malicious conduct.
What To Do After a Norwalk Injury Accident
You must follow certain safety protocols when involved in a car accident or any type of accident resulting in personal injury.
After an accident, the following steps should be followed as soon as possible:
Ensure Safety. Prioritize safety by immediately checking for any potential hazards and relocating to a secure area if possible. Your well-being and that of others should remain the primary concern.
Call for Assistance. Call 911 to report the incident and request medical aid if injuries occur.
Exchange Contact Information. Share your contact and insurance details with the other parties involved in the accident, including names, phone numbers, addresses, and insurance information.
Document the Accident Scene. Capture images of the scene, including vehicle damage, road conditions, and any visible injuries. These photos can be invaluable for insurance claims and legal matters.
Gather Witness Testimonies. If there are any witnesses to the accident, ask for their contact details and have them provide statements regarding what they observed. Their accounts can be instrumental in determining fault.
Seek Medical Care. Regardless of the perceived severity of your injuries, it's essential to consult a healthcare professional. Some injuries might not be immediately evident, and prompt medical attention aids in diagnosis and treatment.
Report the Incident. Notify your insurance company about the accident as soon as possible. They will guide you through the claims process.
Consult with Legal Counsel. If you sustained injuries due to someone else's negligence, consider reaching out to our Norwalk personal injury law firm. They can offer advice on your legal rights and options for pursuing compensation.
Following is a list of steps to take based on your accident circumstances to assist you following an accident. Choosing our Norwalk personal injury lawyers on your side during this time can be exceedingly beneficial.
Who Is Eligible to File A Claim?
Only injured victims can file claims. You can file a claim for loss of consortium if your spouse suffered an injury that affected their ability to contribute to your marriage, i.e. if they can no longer provide physical affection or emotional support. You may be able to file a wrongful death claim If you had a close family member die due to an accident.
Choosing a Norwalk personal injury law firm like Arash Law is essential in these situations. Specializing in the complexities of local laws, our experienced attorneys understand the nuances of loss of consortium and wrongful death claims. We can guide you through the
legal process
, ensuring your rights are protected and diligently advocating for the compensation you deserve. With a focus on personalized attention, Arash Law is committed to assisting you in navigating these challenging situations with expertise and compassion.
What Is the Cost of Hiring a Norwalk Personal Injury Lawyer?
Injured individuals and their families are often concerned about the cost of hiring an attorney. However, it's not as costly as you might think. In our Norwalk personal injury law firm, we understand that victims may experience financial hardships due to medical bills and the loss of their wages if they are unable to work because of their injuries.
Our Norwalk personal injury law firm operates on a
contingency fee basis
, meaning clients do not face any upfront or out-of-pocket expenses for their cases. Importantly, no legal fees are charged to our clients if our firm doesn't secure a victory. To clarify, we only collect legal fees after successfully obtaining the compensation you deserve. This fee arrangement is designed to provide injury victims with the necessary resources to pursue compensation, even in cases where a win is not achieved.
What Is The Time Frame for Filing a Lawsuit in California?
The
statute of limitations
in California for personal injury claims is two years, while in wrongful death claims, you must file your claim within a specified period after your loved one's death.
In some circumstances, such as malpractice claims, there may be exceptions. Missing the deadline may result in your claim not being recognized.
Our Norwalk personal injury law firm can provide you with assistance. We will ensure that your case will be filed within the statutory deadline if we need to do so.
Why Choose Arash Law For Your Personal Injury Claims in Norwalk
Experiencing accidents and injuries can significantly disrupt your life, leading to various physical, emotional, and financial challenges. If you find yourself injured in an accident, pursuing a personal injury lawsuit becomes essential for obtaining the rightful compensation you deserve. While personal injury claims can be complex, it's important to entrust them to an experienced attorney.
By choosing our Norwalk personal injury law firm to handle your case, you can focus on your recovery. Throughout the entire personal injury claim process, our attorneys manage every aspect, from the initial investigation to the final negotiation, giving you the space to prioritize your well-being. This becomes a pivotal factor in your ultimate recovery. Insurance companies representing the at-fault party often employ tactics to deny or limit compensation, but our firm possesses the experience and skills necessary to counter these attempts effectively."
Get the Compensation You Deserve — Call Our Norwalk Personal Injury Law Firm Today!
Arash Law provides compassionate legal representation to individuals who have suffered personal injuries, accidents, wrongful deaths, or employment disputes. Under the guidance of Arash Khorsandi, Esq., we will listen sympathetically to your needs, offer advice, and vigorously represent your interests.
Our personal injury attorneys have secured
over $500 Million
in settlements for personal injury cases. In addition to Norwalk, we also serve clients in nearby cities, including Bellflower, Artesia, Santa Fe Springs, Cerritos, Downey, La Mirada, La Palma, and Lakewood, as well as major cities throughout California, namely
Los Angeles
,
San Diego
,
Sacramento
,
San Jose
,
Bakersfield
,
San Francisco
, and
Fresno
.
Feel free to contact us today for a complimentary consultation with one of our seasoned and compassionate Norwalk personal injury lawyers. Call us at (888) 488-1391 and start the journey to justice.
Record-Breaking Verdicts in the Following Areas of Practice
Get The Latest News from

The Best California Accident Law Firm Today