Timeline for an Injury Case (Pre-Litigation)
After sustaining a personal injury, that injury might take some time to heal. Similarly, it might take some time to settle or litigate your case. Although your case may eventually make it to court, your California personal injury lawyer will first attempt to negotiate with the liable party's insurance company. If the insurance company does not make a settlement offer that you believe is fair in covering your damages, then your attorney can file a lawsuit on your behalf. 
Before your case can be settled or litigated, time must be allowed for you to recover from your injuries as best as you can while your attorney investigates the facts and evidence surrounding your case. Only from a thorough investigation can your California personal injury lawyer determine how much money your case is worth. If you are interested in filing a claim, it is essential that you understand the pre-litigation timeline for personal injury cases.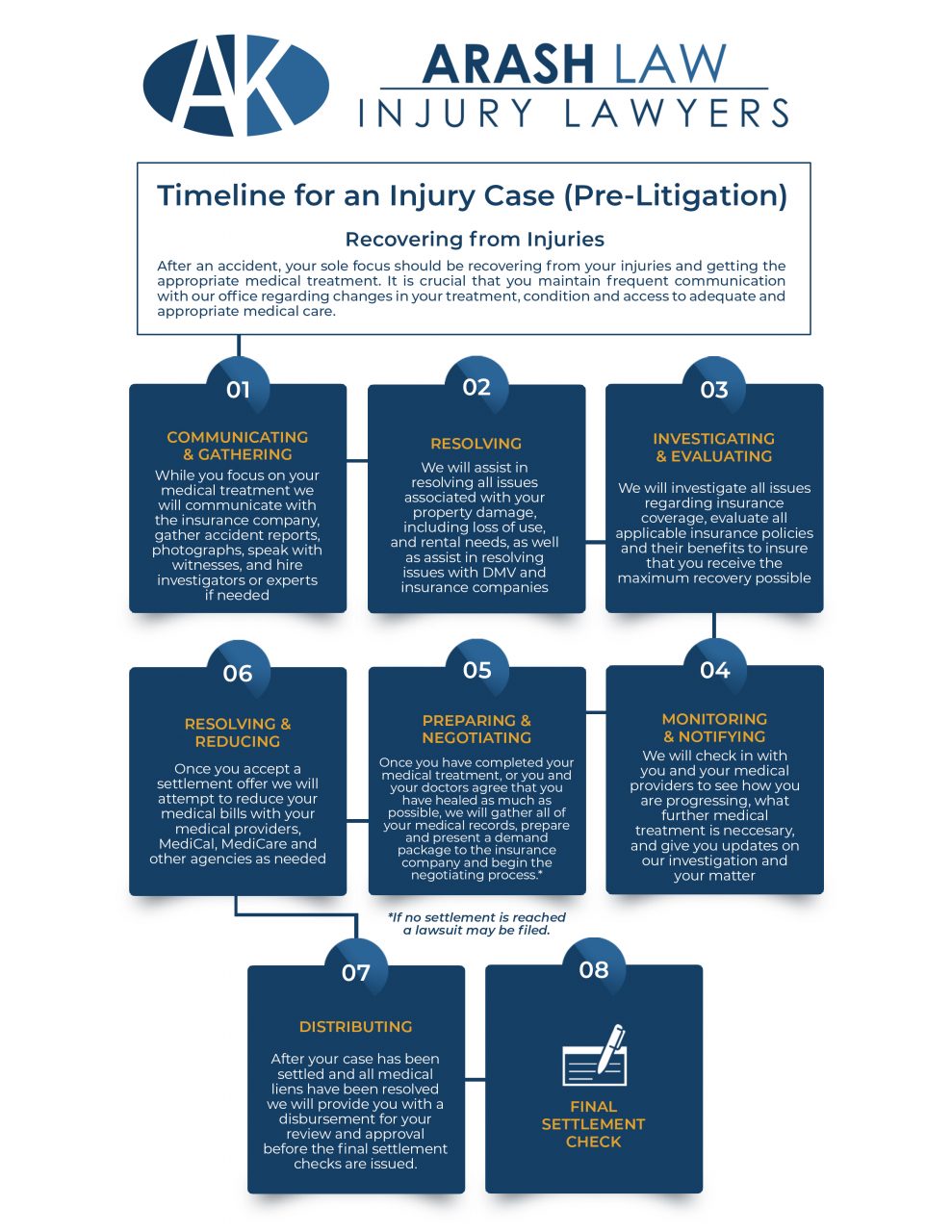 ---
Above all else, it is crucial to prioritize recovering from your injuries. An important part of this recovery process is receiving the medical care that your healthcare providers recommend. In fact, following your doctor's treatment advice will help support your injury claim. If there are any changes in your diagnosis, treatment plan, or your ability to access the healthcare that you need, please notify our office as soon as possible. Frequent communication with our team is essential to the success of your case and for us to be able to help you.
Preparing Your Legal Claim
While you pursue the needed medical treatment, we will be working behind the scenes to begin building your case. In order to properly build you case, your California personal injury lawyer will:
Communicate with any involved insurance companies so that you can focus on recovery.

Obtain accident reports from the applicable law enforcement agencies.

Gather evidence, such as photographs of the accident and accident location, as well as your injuries.

Interview any witnesses.

Hire experts and investigators, if needed.
Resolving Issues
After a personal injury, there are many issues that must be resolved. You might need a rental vehicle if your vehicle needs to be repaired. You may possibly have property damage in need of repair or just to be completely replaced. We will assist you by addressing these issues with the DMV, insurance companies, and any other necessary parties. 
Insurance Coverage Investigation and Evaluation
Next, your California personal injury lawyer will research and evaluate all of the insurance policies and coverage amounts that apply to your claim. By doing this, they will ensure maximum recovery for your damages.
Updates
We will be in touch with you, as well as your medical providers, to keep track of your treatment progress. Additionally, we want to be notified of any further medical treatment that is recommended for your care. During these communications, you will receive updates on your case and how the investigation process is going.
Preparing for Negotiations
When your medical treatment is complete, or your healthcare providers have determined that you recovered as much as can be expected, we will obtain your medical records in order to prepare a demand package that will be delivered to the insurance company. From there, the negotiation process will begin. Negotiating a fair settlement can sometimes take months. If our settlement efforts do not produce fair payment for your damages, your California personal injury lawyer will prepare your case for litigation.
Dealing with Medical Bills
If you accept a settlement, we will reach out to all of your medical providers and, if appropriate, agencies like MediCal and MediCare. The purpose of reaching out to them is to see if any are willing to reduce the amounts that you owe so that you can keep more of your settlement monies. 
Distribution of Your Settlement
Once your case is settled, we will ensure that all of your medical liens have been satisfied. At this time, your California personal injury lawyer will provide you with a disbursement statement. You will be given time to review it, looking for any possible discrepancies. After you approve the statement, you will receive your final settlement check, officially bringing your claim to a close.
Arash Law: Passionate Representation for Your Personal Injury
When you hire a California personal injury lawyer at our firm, you will have someone on your side to guide you through the entire personal injury claim process. At Arash Law, we fight for our clients to receive the compensation they deserve. Our skilled California personal injury lawyers have recovered more than $200 million for clients throughout California, including San Francisco, Riverside, San Jose, San Diego, Sacramento, and Sherman Oaks.
If you think you have a valid personal injury case, do not hesitate to reach out for legal help. We are able to meet with clients in person, over the phone, or via videoconferencing. Contact Arash Law today at (888) 488-1391 or online to receive your free personal injury case consultation.