Getting a lawyer after a car accident can be done anytime if you're still within the statute of limitations. But if that time runs out, you might miss your chance. It's really important to talk to a lawyer soon after an accident. This is because time matters a lot in gathering proof, dealing with insurance, and building a strong case. The earlier you get legal help, the better they can guide you, protect your rights, and increase your chances of getting the compensation you deserve.
While we want you to focus on your recovery, we also know that you should move quickly to get legal assistance. Many victims will want to take some time to settle down and think about their options. However, waiting too long can be detrimental to your compensation recovery. If too much time has passed, you might wonder if you have time to file a claim. A California car accident lawyer can review your circumstances during an initial consultation. Just because you did not hire an attorney immediately after an accident does not mean you cannot retain one now.
The statute in California is typically two years from the accident date; however, the starting date of the statute is different if there is a fatality. Then the timeline will change. If two years have passed, the law can prevent you from taking legal action against the at-fault party. There are some exceptions to these rules. The most common exceptions are public entity involvement, accidents involving minors, and more. So even if the deadline has passed, you should call an experienced personal injury lawyer in California. Arash Law will review your case with you and determine if you have legal options.
After a car accident, you want to move beyond the situation as quickly as possible. However, for many victims, their entire lives are turned upside down. You may suddenly find that your future looks different than before the collision. Some victims find themselves living a life of pain, disability, and suffering. You must now focus on rebuilding your life and healing physically. While you are healing, you are not thinking about your legal options.
So, don't wait too long – early legal help can make a big difference in your car accident case. Reach out to Arash Law, founded by Arash Khorsandi, Esq., today by dialing (888) 488-1391 to schedule a free case review.
Get California Car Accident Lawyers on Your Side Today
The sooner you hire car accident lawyers, the better. Evidence can be lost or destroyed following a car accident. Some evidence is best found immediately after a collision. Witness statements may fade if too much time has passed. We will get these statements immediately when you have a California personal injury lawyer. We want a recorded statement when memories are fresh.
Conversely, waiting does not mean you have no case or a lower chance of a successful outcome. Your claim can become more complex. However, we have experience garnering successful results even when our clients have waited to contact us. We will fight for your rights and maximum compensation. Let us handle the insurance company while you focus on your health.
Potential Risks of Not Hiring California Car Accident Lawyers
You have legal rights and privileges when someone is negligent. However, you must fight back through legal avenues to get justice. One of your rights is to seek compensation from the liable party. They are also legally obligated to reimburse you for your losses. Often the award amount is significant, depending on the severity of the crash. Arash Law, under the direction of Arash Khorsandi, Esq., can adequately calculate your losses and pursue these monetary awards.
Not getting the compensation you deserve can put a financial burden on you. You will likely have healthcare expenses and property repairs. You may also be experiencing mental trauma after a car crash. When you do not work with a California car accident attorney, you essentially give the offender a free pass.
Fighting a Claim without a California Car Accident Lawyer
You can pursue a legal claim without a California personal injury lawyer, and doing so sounds like an excellent option to many people. However, there are some factors you should consider before going it alone. One common situation is that you do not hire a lawyer, but the other parties do. Now you find yourself going up against an experienced car accident attorney.
Instead of dealing with the insurance company, you are fighting for compensation with a legal team. They know the loopholes to use to lower or deny your claim. You are unfamiliar with loopholes, intricacies, or legal nuances. Opposing counsel will move swiftly to get your case dismissed. You can end up with nothing.
This is just one example. Many other potential outcomes can arise from not having a car accident lawyer in California.
The Benefits of Hiring California Personal Injury Lawyers After a Car Accident
Several advantages come from hiring California car accident lawyers. When Arash Law understands the intricacies of your case from the beginning, they can offer more options, and you'll have a better chance of recovering your damages.
The first advantage is that your lawyer will gather evidence to build a solid claim. The stronger the case the higher your chances of obtaining compensation. We must gather evidence from the scene and the surrounding area. We must also send out preservation letters so evidence does not disappear. We will also look for witnesses and surveillance videos. Waiting too long can hinder our ability to get as much evidence as possible. Waiting can hurt your case, but we can still uncover evidence that helps you.
Another benefit of retaining a California car accident lawyer is guidance. The competent lawyers from Arash Law can guide you on what you should and should not do following a car accident. Often, we can tell if a claim may go to trial. We will prepare as though we have to go to court. Early preparation is necessary. We can prepare your claim for any potential legal pitfalls.
Your case may resolve faster when you have a car accident lawyer in California on your side. If your claim goes into litigation, you might have a better chance of winning if you are prepared. The insurance company can also be more inclined to settle the claim when a lawyer is involved. A potentially quicker settlement is one of the biggest motivators for hiring a California personal injury lawyer after a car accident.
As we mentioned, many laws, intricacies, and nuances exist when dealing with legal claims. These issues can confuse anyone unfamiliar with them. Proceeding with your claim without a lawyer can be detrimental. You might end up losing your claim because of your lack of knowledge. Don't hesitate to contact Arash Law, established by Arash Khorsandi, Esq., today at (888) 488-1391. Seeking advice at an early stage can help you avoid further complications with your case.
Dealing with the Insurance Company
The most significant benefit of hiring California car accident lawyers from the beginning is not having to deal with the insurance company. Insurance adjusters are moving quickly. They want to talk to you before you have legal representation. Their job is to minimize or deny compensation. The best way to accomplish this task is to get recorded statements and information from you before you can speak to a lawyer.
Other ways insurance adjustors minimize or deny compensation include:
Offering a low and quick settlement – The insurance adjuster wants to settle the claim as soon as possible. They want to do so before you know the extent of your injuries. They don't want you to understand your total damages. Instead, if they settle with you soon, you cannot go back and ask for more. When you hire our California car accident lawyers, we can help you understand the actual value of your claim. We will also negotiate with the insurance company for a fair settlement.
Getting recorded statements – One major piece of evidence that the insurance adjuster will use to deny or lower your claim is getting a recorded statement. They will often request these statements before you have an attorney. They are looking to find inconsistencies in your story. They are also looking for any minor or significant admissions of guilt. Our legal team can advise you on how to handle these questions. We will take on most of the communication with the insurance company. When we cannot, we will be beside you, preparing you to answer.
Denying and delaying claims – Insurance companies will use another tactic: delaying claims. They hope you will give up or miss the statute of limitations. They want to delay as long as possible, so you accept anything they offer you. They will go as far as denying your claim. A car accident lawyer will hold the insurance company accountable. We will ensure they handle your claim appropriately.
Medical Bills and Lost Wages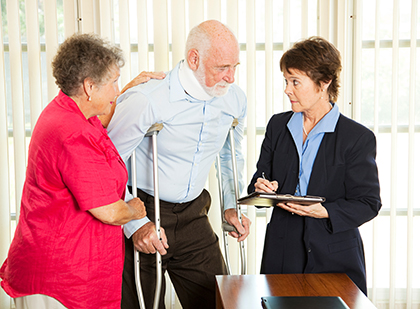 You will often incur two categories of losses from a car accident: medical bills and lost income. They can cause a significant financial burden. You must have someone who can accurately calculate these losses. We will also have to fight to recover compensation.
Our car accident lawyers can accomplish the following:

Calculate your medical treatment costs – We will work with your medical team, review your medical records, and determine the total cost of your current and future medical needs. These losses are all accident-related.
Evaluate lost income and diminished earning capacity – Some injuries can prevent people from working temporarily. Other times, the consequences are permanent. If you miss work, we can include that in your compensation claim. Conversely, we must calculate losses if you cannot return to work in the same capacity. The impact on your earning capacity will also be a factor in your compensation claim.
Negotiate with insurance companies – Once we know your losses, we can send the insurance company a demand. We will negotiate with the insurance company to ensure you get adequate compensation for losses like medical bills, lost income, etc.
Consequences of Waiting Too Long to Hire a California Car Accident Attorney
Timing is critical when seeking a car accident lawyer in California. Sometimes, it can be too late to get a lawyer and a successful outcome. In some instances, the consequence is not obtaining a fair settlement. Other times, it is the inability to get any compensation. What follows are other consequences that car accident victims suffer without legal representation.
Loss of Evidence
Preserving evidence is essential for car accident claims. Crucial evidence can disappear if you wait too long to hire a lawyer. If evidence disappears, getting a successful outcome can be more challenging. Video footage can quickly disappear. Sometimes, video footage can be recorded by local businesses.
Difficulty in Locating Witnesses
Another consequence of waiting too long is losing potential witnesses. Finding where the witnesses are can be challenging. Their memory of the incident can also fade with time. Finding them after months can be fruitless because they might have forgotten important details.
Missed Deadlines
There are insurance and state deadlines for personal injury claims in California. Missing a deadline can result in losing your ability to recover compensation. It can be challenging to navigate the legal system and heal physically. Our California personal injury lawyers can guide you through the legal process, and ensure you do not miss any deadlines.
Inadequate Medical Treatment
You might have higher medical expenses or inadequate care when you wait to contact our car accident lawyers in California. You might have to pay for your expenses out of pocket. You might not have access to specialists because of your financial burdens. Payment for your medical treatment should come from the at-fault party.
Lower Settlement Amounts
Waiting too long to start a claim can result in a lower settlement. As time passes, it can be challenging to build a strong case. As you might imagine, you can have less leverage to negotiate without a strong case. Insurance companies will use your weaknesses against you. They will likely offer you a lower settlement amount because they know you are desperate for a settlement.
Refrain from waiting too long to call a California car accident lawyer. Even if you are unsure of your case strength, get some insight by scheduling an initial consultation with our legal team. We have decades of experience helping car accident victims pursue compensation.
What to Discuss with a Car Accident Lawyer in California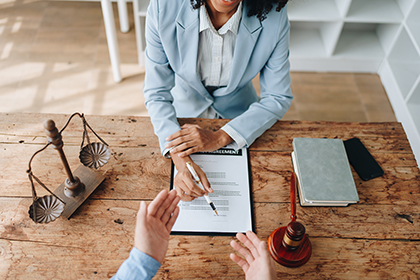 Before you proceed with your legal claim, you should discuss several things with your car accident lawyers. The most significant rule for working with them is honesty. Hiding any information or facts can hurt your case. Your attorney should prepare for any issues ahead of time, but they can only do so if they have all of the information. The last thing you want is for something to come up during court that you have not shared with your lawyer.
Those in car accidents often do not want to admit wrongdoing. However, even if you may have contributed to the collision, you should share that with your lawyer. We can find ways to use this information and create defenses against the insurance company. Our job is not to judge you but to help you through this challenging time.
Throughout the legal process, your lawyer will ask various questions. You should answer these questions accurately. You should also inform your local car accident lawyers if you don't remember something. Witnesses and other evidence can fill in the gaps in your memory.
Contingency Fees and Free Consultations
You may hear two terms addressing legal fees. First is a free consolation. During this initial meeting, your lawyer will not charge you anything to discuss your case. They will receive and review preliminary information. This consultation will help you decide if you have a valid claim and your options. You can also determine whether the law firm is right for you.
California car accident lawyers will discuss their fees if you decide to move forward. Many work on a contingency fee basis. You only pay the attorney if they successfully recover compensation for your claim. You will not have to worry about out-of-pocket fees. It also means the attorney must fight if they want to get paid.
Arash Law offers free initial consultations and contingency fees. We fight for maximum compensation for our clients.
Call Us Today to Speak with our California Car Accident Lawyers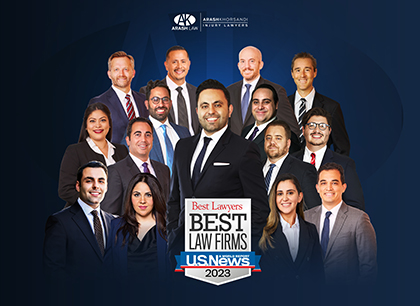 Arash Law, under the guidance of Arash Khorsandi, Esq., boasts a long-standing history of providing exceptional assistance to clients spanning several decades. Over the years, we've successfully secured over $500 Million in compensation for clients throughout the state of California. Our track record speaks volumes about our dedication and commitment to achieving favorable outcomes.
Take the first step towards your legal resolution by contacting us at (888) 488-1391 to arrange a no-obligation, free initial consultation. Our skilled car accident lawyers are ready to assess your case and offer you the guidance and support you need. Your journey toward justice begins with Arash Law.