Bakersfield

Truck Accident Lawyers
with over $500 Million Recovered in Compensation for Injury Clients.
You May Be Entitled to Compensation

You Can Trust Us To Get You The Money You Deserve

Bakersfield Truck Accident Lawyers
Getting into a traffic accident, especially an accident involving a large commercial truck, can be one of the scariest experiences you have as a driver. The aftermath can be nearly as devastating, too. If you or a loved one has suffered an injury in a truck accident in Bakersfield, you need an experienced attorney to help you financially recover. Contact Arash Law today at (888) 488-1391 for a free no-obligation case evaluation and speak to one of our talented Bakersfield truck accident lawyers. 
Bakersfield, California is filled with dangerous roads that drivers of passenger vehicles must share with commercial truck drivers. Big rigs carry numerous products throughout the state and country, so these vehicles are a large part of the economy. With the number of commercial vehicles on the road, there are bound to be collisions and sometimes crashes that cause serious injuries. 
Truck accidents can become complex because of the connection between state and federal laws and the truck company's safety rules. Getting an experienced attorney to help guide you through the complex world of truck accidents is important to the success of your accident claim. The Bakersfield truck accident attorneys at Arash Law are the experienced professionals you need after an accident. 
The legal team at Arash Law, under the leadership of Arash Khorsandi, Esq., has decades of experience getting injured Californians the compensation that they need. We want to help you, too. 
Mild Traumatic Brain Injury
November 2020: $9M settlement in a mild traumatic brain injury case involving a construction worker injured at the jobsite.
– 
BRIAN BEECHER
Truck Accident Statistics
Traffic accidents with large commercial trucks are far too common across the state and nationwide. According to statistics compiled by the Federal Motor Carrier Safety Administration (FMCSA) and the National Highway Traffic Safety Administration (NHTSA), travelers are facing the following statistics:
7.2% of the country's commercial motor vehicle accidents happen throughout California.
291 people died in a commercial motor vehicle accident in California in recent years.
4,067 people died nationwide in recent years in commercial motor vehicle accidents.
116,000 people were injured in truck accidents across the country in recent years.
The percentage of commercial truck accidents has increased and reflects 3,908 accidents that involved a large commercial truck.
Commercial motor vehicle accidents are 78% more likely to happen during the work week (Monday through Friday) and 65% more likely to happen during daylight hours.
433,000 of these accidents involved large commercial trucks.
How Do Semi-Truck Accidents Differ from Typical Passenger Vehicle Accidents?
A traffic crash that involves a semi-truck is much more dangerous than an accident between two passenger vehicles. Truck drivers and trucking companies are under the strict regulations of the Federal Motor Carrier Safety Regulations (FMCSR). The FMCSR has implemented rules that limit the daily and weekly number of hours truck drivers work. The FMCSR requires drivers and companies to log hours driven. 
800+ Real Client Reviews Verified by Google
Federal Motor Carrier Safety Administration Requirements
The Federal Motor Carrier Safety Administration (FMCSA) is the federal regulatory agency that sets minimum insurance coverage amounts for commercial vehicles and truck drivers. Truck drivers and companies must carry the following minimum insurance coverages:
Trucking companies must carry at least $750,000 in coverage for each vehicle.
If the vehicle carries hazardous materials, trucking companies must carry a minimum of $5,000,000 in coverage.
Getting covered by a truck company's insurance policy requires that you determine who caused the accident. Truck drivers will not have any accountability for the accident if an injured party does not pursue compensation, but it can be frightening to do that on your own. If you or a loved one has been injured in a truck accident, contact a Bakersfield truck accident attorney to learn your options after a crash.
In addition to insurance requirements, the FMCSA has listed requirements for becoming a big rig truck driver. Each commercial truck driver must meet the following basic requirements to get a job as a truck driver:
Be 21 or older.
Carry a valid commercial driver's license (CDL).
Take and pass a physical fitness exam every two years.
Abstain from drugs and alcohol while working. This includes taking any prescription medications that can impact the truck driver's ability to safely operate their truck.
The FMCSA also regulates trucking companies. Every truck company must comply with the following rules:
No truck may carry more than 20,000 pounds of cargo per axle.
A commercial truck cannot weigh more than 80,000 pounds.
Truck companies must verify their employees' driving records. The company must check each driver's references before they hire them.
Truck companies must maintain an accurate vehicle inspection record.
Truck companies must maintain accurate repair records.
Every commercial trucking company must monitor each of its driver's driving records annually.
Truck companies must regularly perform inspections of their trucks. If an issue is found, the truck company must make all necessary repairs to the vehicle before putting the vehicle back on the road.
If you suspect that a truck driver or company's negligence caused the accident that caused your injuries, you need an attorney working on your behalf. Contact our Bakersfield truck accident attorney to learn more about your legal rights.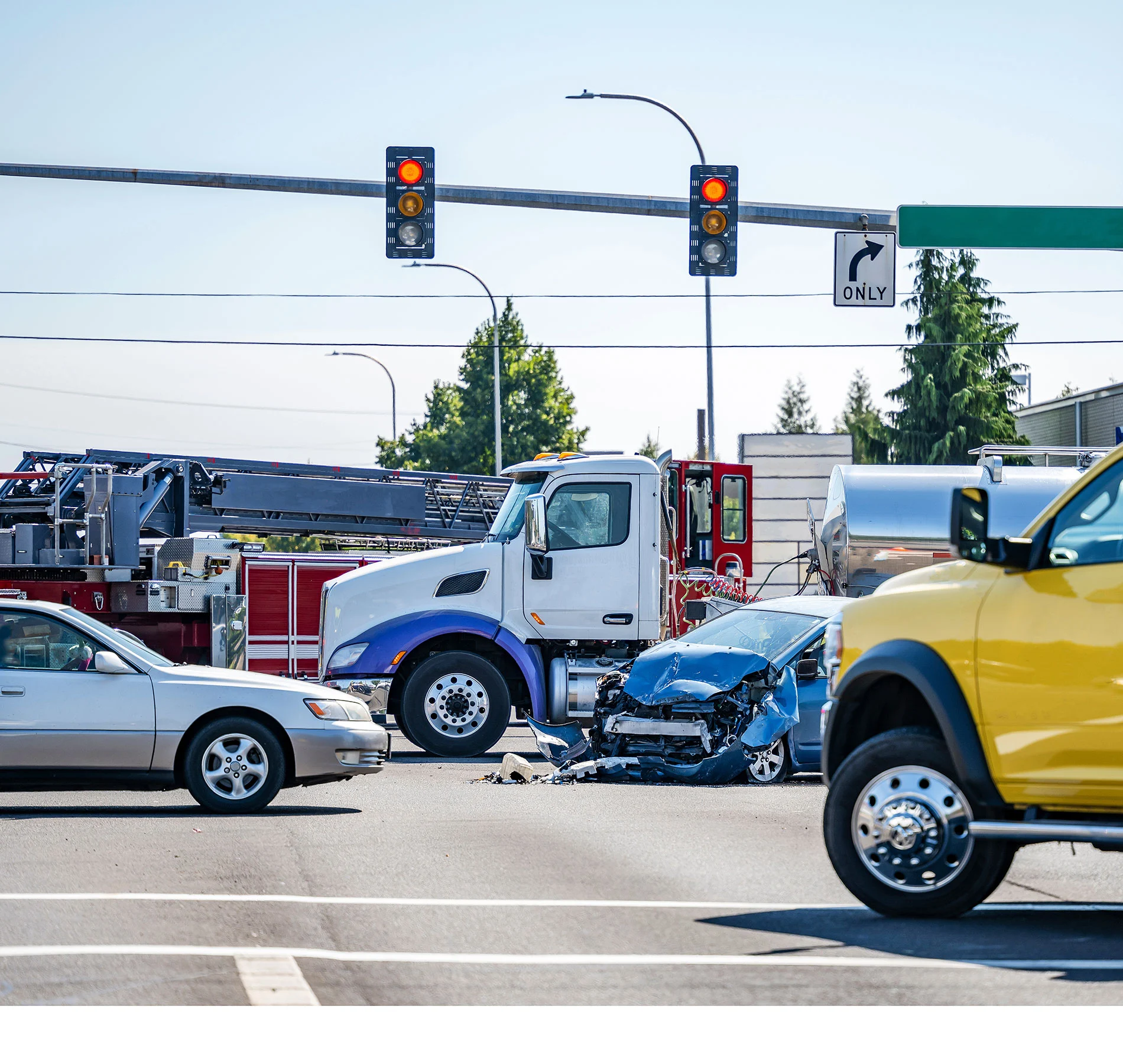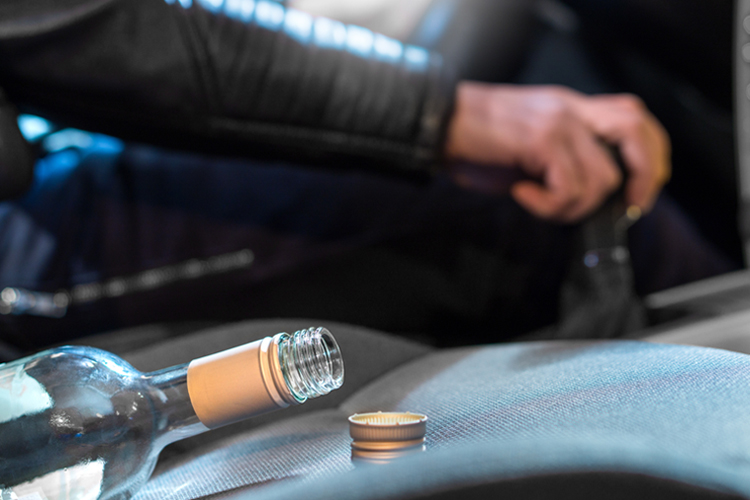 Common Causes of Bakersfield Truck Accidents
Truck accidents, like other accidents, are common and happen for various reasons. Traffic accidents can happen because of driver negligence; however, drivers are not always the cause.
Some factors may increase your odds of getting into an accident with a commercial motor vehicle, including the common pressures of tight deadlines by companies and employers to make deliveries. These pressures may encourage drivers to engage in reckless driving behaviors.
Here are some of the most common causes of truck accidents in Bakersfield, California:
Statistics Published by the FMCSA
After a 33-month-long study completed by the FMCSA, there are three leading causes of driver error truck accidents. Those driver errors include failure to stop, loss of vehicle control, and trucks veering off the road into another lane. These types of accidents are completely avoidable. Requiring accountability from those who cause accidents like these is the only way to ensure victims' rights are protected and that these accidents are reduced. 
Improperly Loaded Trailers
Truck drivers and trucking companies must ensure that the loads they send off onto the state's highways are properly loaded. Truck accidents are unique because even the team that loaded the trailer can face liability. When loads are imbalanced, the odds of a traffic accident are increased, and these crashes can have tragic results.
Examples of improper loading in truck accident cases include the following:
It might be negligent for employees to overload the trailers on big rigs. Commercial motor vehicles weigh thousands of pounds on their own, and any extra weight makes the chances of rollover accidents greater. Overloading also contributes to creating a greater strain on the truck's brakes and tires and makes maintenance more difficult. 
In addition to not overloading a trailer, employees should avoid unbalanced trailers. Unbalanced loads can pose a potential threat, even if the load is securely fastened, of a serious accident. An unbalanced load raises the truck's center of gravity because it is not the same weight on both sides. 
All loads must be secured properly with tie-downs, shoring bars, or other tools of comparable strength. Commercial trucks can carry a variety of goods like appliances, lumber, furniture, or metal. If these items are unsecured, they can cause a pileup accident as the debris is scattered across the roadway. 
Truck accidents can happen due to vehicle malfunctions. Most commercial vehicles usually malfunction if the vehicle is not properly maintained or if there is a manufacturing defect. The liable party here is determined by the facts surrounding the case. 
A driver and the trucking company must perform routine maintenance on vehicles. If they fail to perform standard maintenance on their vehicles before driving, they may face legal liability if the failure to maintain the truck caused the accident. 
Truck manufacturers must ensure that they put safe products on the road. Failure to do so can land the manufacturer in hot water. Finding and suing the correct entity if the manufacturer is at fault can be tricky, so having a legal team assist you gives you the best chance to recover full compensation for your losses. 
Distracted driving is one of the most common causes of traffic accidents in California. If a commercial truck driver is distracted while behind the wheel, they could cause a deadly accident. According to the Large Truck Crash Causation Study, published by the FMCSA, driver error (i.e., distracted driving) causes 87% of fatal or injury-causing crashes. Examples of driver error include the following:
Bad decisions. Safe driving requires operators of vehicles to make quick and sound decisions while behind the wheel. Failure to make good decisions can be deadly. Examples of bad driving decisions can include driving at an inappropriate speed for the present road conditions (i.e., too fast in a construction zone or the rain), following other drivers too closely, or braking too hard.
Poor driving performance. Drivers must ensure that they do proper maneuvers in time, like swerving to avoid a crash. Drivers must also avoid making technical mistakes like panicking or failing to safely execute a turn.
Inattention. All drivers, especially commercial truck drivers, must pay close attention to the road and their surroundings when they are driving. A driver must also notice and comply with all road signs or other dangerous driving conditions. One of the most common examples of inattentive driving is texting and driving.
Speeding or Aggressive Driving
Speeding is one of the most common causes of any traffic crash. If a commercial truck is speeding, the results can be even deadlier than a normal passenger vehicle accident. Speeding is illegal and negligent. Speeding decreases the driver's reaction time and their ability to make good decisions behind the wheel. A commercial truck takes significantly more time to come to a complete stop than a normal-sized passenger vehicle. 
Fatigued driving is a serious issue among commercial truck drivers. According to the NHTSA, approximately 30% to 40% of all commercial truck accidents involve a fatigued driver.
Driving without adequate rest is like impaired driving and has the same effect. Driving while sleepy reduces driver reaction time, decreases driver reaction time, and can lead to the driver losing consciousness on the road. Any of these actions can endanger the lives of all travelers on Bakersfield roads.
The FMCSA implemented the following regulations to help reduce the number of commercial truck traffic accidents that are caused by driver fatigue:
Drivers are prohibited from working more than an 8-hour shift without taking at least one 30-minute rest break.
The maximum number of hours that a driver can work per shift is 14. No driver may work more than 11 hours in one shift.
There must be ten hours between the end of one shift and the beginning of the next shift.
No driver may work more than 70 hours per workweek if the work week is eight days long or no more than 60 hours in a workweek if the work week is seven days long.
Drivers must log each hour that they drive.
When a driver reaches their maximum hours for a work week, the driver must take at least 34 hours off before the beginning of their next shift.
Truck drivers and trucking companies must strictly adhere to the above federal requirements. Failure to do so can cause a truck accident and lead to legal penalties for the company and the driver.
Driving Under the Influence of Drugs or Alcohol
Driving under the influence of drugs or alcohol is negligent. Drugs and alcohol lowers motor functions, cognitive reasoning, and other essential motor functions. Impaired drivers can lose their ability to control their vehicles, and losing control of their commercial vehicles can lead to severe accidents. 
Drivers of passenger vehicles may not drive with a Blood Alcohol Concentration (BAC) of more than 0.08%. Commercial truck drivers, however, have a higher standard. No commercial truck driver may operate their vehicle with a BAC of greater than 0.04%. The standard for big rig drivers is higher because they essentially wield murder weapons even if they are slightly impaired. 
Commercial truck drivers also are under a zero-tolerance policy for drug use. Although using drugs and drivers puts their lives and jobs on the line, big rig drivers still use drugs at an alarming rate. A study published by Reuters found that 30% of drivers use amphetamines to stay awake and meet strict deadlines. The study also showed that commercial truck drivers across the United States also tested positive for alcohol on drug tests at 12.5%. 
Trucking companies must properly train their drivers. Proper training is essential in the trucking industry because the size and weight of the vehicles cause catastrophic accidents if these vehicles get into an accident. Correct training reduces the risk of these kinds of accidents. Failure to adhere to the federal regulations implemented by the FMCSA is likely to be found negligent and cause legal liability for the truck company. 
Common Injuries in Bakersfield Truck Accidents
Injuries from truck accidents are among the most serious and often most deadly. Survivors of truck accidents may suffer from long-term injuries. According to the National Highway Traffic Safety Administration, about 1% of truck accidents are fatal.
Some of the most common injuries that occur in Bakersfield truck accidents include, but are not limited to, the following: 
Neck and back injuries can cause the victim to suffer from long-term hurt and require physical therapy to fully treat. You use your neck and back to complete everyday tasks, probably more than you realize, so it is important that your neck and back are completely healed after an accident. Examples of neck and back injuries include:
Mild to severe daily pain.
Loss of enjoyment of life or lost quality of life.
Partial or full paralysis.
Lost ability to perform activities of daily living.
Head Trauma and Traumatic Brain Injury
Head injuries are a serious consequence of truck accidents. A serious head injury can be life-changing. Head injuries are normally caused by blunt force trauma during an accident. Blunt force is a sudden and severe connection between a victim's head and often a stationary object. Blunt force trauma is common in truck accidents. Injuries are often hard to treat if care is delayed.
Head injuries are serious, but they often do not immediately show symptoms. If you hit your head during an accident, you should seek medical attention immediately. Some head injury victims show the following concerning signs:
A spinal cord injury can leave the victim paralyzed or facing long-term rehabilitation to recover. Spinal cord injuries happen when the force from the commercial truck collides with a passenger vehicle, and the occupant is jolted forward and can be trapped inside the vehicle. Spinal cord injuries are not always apparent, so it is important to see a doctor specializing in spinal problems after a crash, even if you do not think that you are seriously injured. 
Broken bones are also common in truck accidents. Commercial trucks are massive vehicles with a lot of power. Human bones do not stand a chance against these monsters. A victim who suffered from broken bone or bones may face the following types of long-term damages:
Exposed bones
Pain in the area
Accident victims are ten times more likely to be killed in a commercial truck accident than in normal passenger vehicles. Premature death caused by a negligent driver or company is probably the most tragic result of these kinds of accidents. Wrongful death cases can be complex, especially wrongful death cases that involve large trucks. Contact an experienced wrongful death attorney to get the advantage of their experience and knowledge. 
Liability means that a person or entity is legally responsible for an action, in this case, legally responsible for causing a truck accident. Determining liability in a truck accident can be complicated, but it is important to know who is at fault to receive full compensation for your injuries. 
You must identify every responsible party. There are many potential defendants in Bakersfield truck accident lawyers. Examples of potential defendants in truck accident cases include the driver, their employer, cargo handlers, and manufacturers, to name a few. 
Commercial truck drivers would face legal liability if their negligence caused a traffic accident. Drivers are usually the easiest defendants to identify because they are present at the scene. If you are able, make sure that you get their name and ask if they are employed by the company they were delivering for. 
Make sure that you ask whether the truck driver is working for a company or if they are working for themselves. If the driver is employed by a trucking company when the accident happened, then you may be able to seek compensation from their employer. California law allows plaintiffs to pursue the defendant's employers if the driver's negligence caused the truck accident. Trucking companies may also face legal liability separately if their negligence caused the accident (i.e., poor maintenance). 
Improperly loaded trailers can cause serious accidents. Your accident attorney can help you investigate the cause of the accident and determine if cargo handlers are to blame. Each cargo handler is an employee of the trucking company, so even if the driver is an independent contractor, if the accident was caused by improper loading, then the employer is also legally liable for causing the accident and may face legal consequences due to employee negligence. 
Poor and defective design and manufacture of the truck can lead to a traffic accident. Badly made vehicles are a danger to all travelers in Bakersfield. Well-made vehicles contribute to public safety. Finding the vehicle manufacturer is often a tedious process, so creating an experienced and knowledgeable legal team can help you find and sue the truck manufacturer. If you or a loved one has suffered an injury in a truck accident, contact a Bakersfield truck accident attorney to learn more about your legal options after a truck accident. 
California Comparative Fault Laws for Truck Accidents
California law allows a plaintiff to recover a percentage of a judgment or settlement if they are found to be partially at fault. This body of law is called comparative fault. In most civil actions, the opposing insurance company will try to prove that you were at least somewhat responsible for the accident. These laws protect a plaintiff from a total bar to financial recovery. If a jury finds you partially at fault for the accident, they will assign a percentage to your amount of fault. Your final award will be reduced based on the percentage of fault. 
What Should I Do After a Truck Accident in Bakersfield?
The steps that you take after a truck accident in Bakersfield are critical. The steps that you take immediately after the crash can significantly impact your ability to recover compensation for all of your injuries, losses, and damages. Consider doing the following after a Bakersfield truck accident:
California law requires anyone who was in an accident to call the police and make an accident report. Call first responders immediately, even if you do not think that the property damage is significant. 
If you are physically able, while you are waiting for the police to arrive at the accident scene, speak with the other driver, their passengers, and other eyewitnesses to the accident. Collect each of their names and phone numbers. In addition to contact information and name, get the insurance information for the other driver. Take note of what company the driver is working for or if they are an independent contractor. 
You will need physical evidence to prove your accident-related damage and losses. Photos and videos can be great physical evidence for your claim. Take a snapshot of the scene. Get multiple angles and the surrounding area around the accident. 
You always need to see a doctor after a truck accident. Truck accidents cause severe injuries. You may be suffering from an unseen injury like a concussion or internal bleeding or an injury that may not manifest for several days, like a head injury. 
Always call Bakersfield truck accident lawyers after a traffic crash. Failure to speak to an experienced personal injury attorney before making any decisions about your accident claim can cause you to lose some of your legal rights after an accident. 
Contact Your Insurance Company and Report the Accident
After getting legal counsel, speak to your insurance company and report the accident. Work quickly because you never want to speak to an insurance adjuster before speaking to an attorney, and your automobile insurance company may have time limits on reporting accidents to the company.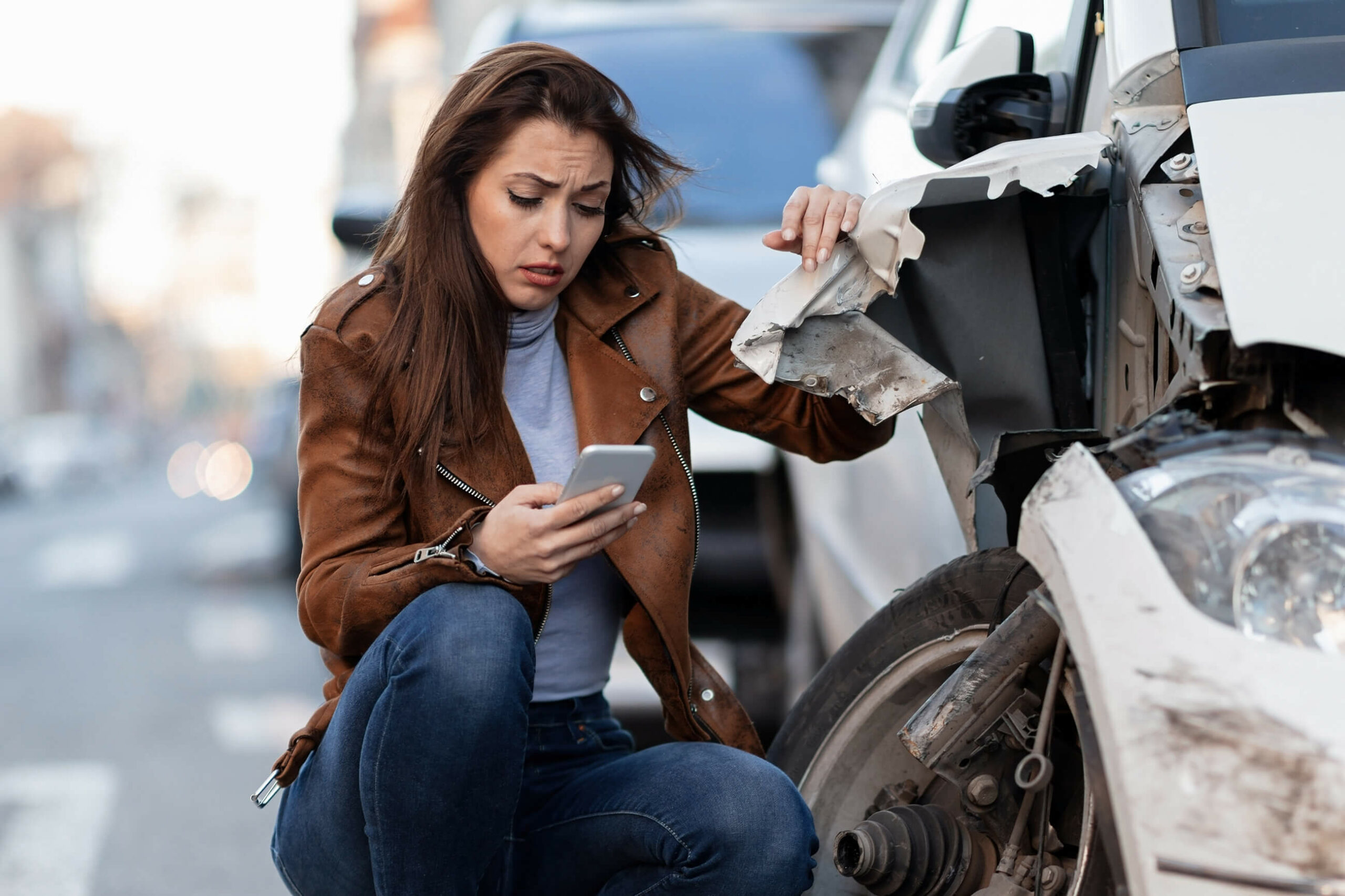 Gil v. Anderson Plumbing: verdict by a Los Angeles County Superior Court jury in Van Nuys awarded to a man who was injured when his vehicle was struck from behind by a large commercial plumbing van. Benny was part of the trial team that obtained this verdict.
– 
BENNY KHORSANDI
Available Compensation After a Truck Accident
There are three major categories of compensation that may be available to you after a Bakersfield truck accident. The categories of compensation include economic, non-economic, and punitive damages, if applicable. 
Economic damages are physical and tangible losses that are related to the accident. After a complete investigation, your attorney can help you identify the potential economic damages you may be entitled to. Examples of economic damages include:
Current and future medical expenses.
Current and future lost wages.
Non-economic damages that are related to the accident can be more difficult to prove. These damages relate to the non-physical losses you sustained in the accident, like lost quality of life, emotional suffering, or lost enjoyment of life. 
Punitive damages are available in specific cases. California law allows certain plaintiffs to collect non-compensatory damages in extraordinary cases. A knowledgeable Bakersfield truck accident attorney can help you understand your rights to punitive damages and pursue them if appropriate. 
Contact The Most Trusted Truck Accident Lawyers Bakersfield Has to Offer Today!
Our team wants to hear your story and help you recover. We will walk you through the legal process and stand by your side as you pursue the compensation that you deserve after a truck accident in Bakersfield, California. 
Arash Law services Bakersfield and the entire Kern County, including Tehachapi, Ridgecrest, Arvin, Mojave, Lake Isabella, Oildale, and more. We also represent clients from all over the state. Whether you are in San Francisco, Amador, Modoc, Los Angeles, Alpine, Orange, Marin, Contra Costa, San Diego, Sutter, Santa Cruz, or other counties, know that we can readily come to your aid 24/7!
We have recovered millions of dollars for injured people and their families after truck accidents. You can reach our office at (888) 488-1391 or online to schedule a no-obligation case evaluation with a member of our legal team. 
We look forward to hearing from you!