As one of the backbones of the American economy, the trucking industry has played a vital role for numerous years in maintaining economic growth and upholding the stability of business supply chains. Nevertheless, the growing presence of large trucks on the roadways has increased the annual occurrence of truck accidents. These accidents pose risks to road safety and raise concerns about drivers' well-being and the efficient functioning of commercial transportation networks.
The aftermath of a truck accident can result in a wide range of challenges – from injuries and medical expenses to lost income and psychological distress. Engaging the expertise of a skilled truck accident lawyer can significantly alleviate the burden victims have to face. These legal professionals possess the experience and insight to navigate the intricacies of truck accident cases.
While the aftermath of a truck accident may seem complicated, taking immediate steps to secure professional legal representation can provide you with a solid foundation for the journey ahead. If you're in need of legal assistance, Arash Law is the right choice for you. With Arash Khorsandi, Esq. at the helm, you can trust that you'll be in the hands of a seasoned and knowledgeable professional. Give us a call today at (888) 488-1391 and take the first step towards resolving your legal issues. We're here to provide the guidance you need during this challenging time.
What Are Truck Accident Lawyers?
Truck accident attorneys possess distinct expertise in handling claims and cases involving big-rig trucks, semi-trucks, and commercial trucks. They are equipped to manage not only the personal injury portion of your case but are also capable of facing off against the legal representatives of the trucking and insurance companies.
At Arash Law, led by Arash Khorsandi, Esq., our truck accident lawyers play a vital role in helping accident victims. They will investigate the accident's details, negotiate with insurance companies, and, if required, represent victims in court.
What to Ask Truck Accident Lawyers During Consultation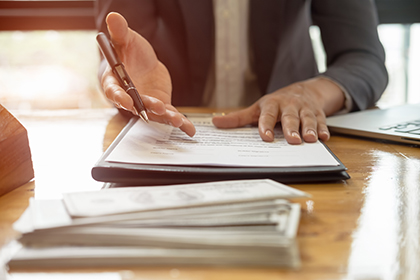 During an initial consultation with a truck accident lawyer, you must inquire about several vital aspects.
Here are some essential questions to consider:
What is your level of expertise in handling cases involving truck accidents?
Could you elaborate on your strategy when dealing with truck accident cases?
How will you maintain effective communication with me during this journey?
Can you provide insight into your fee arrangement?
Do you have experience tackling cases involving specific types of commercial vehicles?
How will you approach gathering and preserving crucial evidence related to the accident?
Are you familiar with the unique challenges truck accident cases pose?
Can you outline your experience in negotiating with insurance companies on behalf of clients?
Could you share examples of past truck accident cases you've successfully resolved?
What expectations should I have regarding the timeline for my case?
How do you assess the value of damages and losses in a truck accident case?
Can you provide references from previous clients with similar truck accident cases?
Asking these questions during your first meeting will allow you to identify the best truck accident attorney who meets your needs.
Essential Characteristics of a Reliable Truck Accident Lawyer
When selecting a truck accident lawyer, specific attributes warrant your attention, such as:
Proficiency in handling truck accident cases
Comprehensive understanding of trucking rules and regulations
Demonstrated a history of achievements in resolving truck accident cases
Effective communication and negotiation abilities
Wholehearted dedication to client contentment and desired outcomes
Furthermore, consider these additional factors:
Extensive legal knowledge regarding commercial vehicles
Willingness to collaborate with accident reconstruction experts
Ability to assess intricate accident scenarios accurately
Experience in addressing insurance companies' tactics
Capacity to handle complicated legal proceedings
Why Hiring Truck Accident Lawyers Matters
If you choose to take legal action against the trucking company that hired the driver who caused the car accident, you should have someone who knows the law to help you. Trucking companies possess the funds to cover your injuries, yet they also allocate a substantial amount of money for legal assistance to escape making payments. You need a lawyer for truck accidents by your side to have a fair chance in your case.
Here are the advantages that lawyers specializing in truck accidents offer:
Specialized Expertise and Knowledge in Truck Accident Laws

Attorneys specializing in truck accidents possess unique expertise and experience in handling these types of cases and claims. They have a deep understanding of the distinct laws and regulations, enabling them to handle the challenges associated with such accidents effectively.

Guiding Through Intricate Legal Processes

Truck accident cases involve complex legal procedures that can be challenging for individuals to navigate on their own. A truck accident lawyer will be your legal advocate, offering valuable guidance and unwavering support.

Negotiating with Insurance Companies

Interacting with insurance companies is not easy as they often employ tactics to minimize payouts. Your trusted attorney only has your best interest at heart and will fight to get you the maximum settlement for your losses.

Building  A Strong Case

Crafting a solid case is crucial for achieving a favorable outcome in a truck accident claim. Your lawyer can strengthen your claim by gathering evidence, conducting witness interviews, and even contacting an expert to reconstruct the accident scene. During courtroom proceedings, your attorney will effectively represent your interests, ensuring your voice is heard and your rights are safeguarded.

Managing Legal Proceedings and Meeting Deadlines

Truck accident cases, like other personal injury cases, have strict deadlines. Attempting to tackle these steps alone could become overwhelming and raise the likelihood of making errors. However, a truck accident lawyer expertly handles the legal component of your case.

Allowing You to Focus on Yourself

Dealing with legal matters alongside the pain and injuries you or your loved one suffered after an accident is incredibly stressful. One of the primary benefits of hiring a lawyer is that he or she can provide you peace of mind.
Recoverable Damages in Truck Accident Claims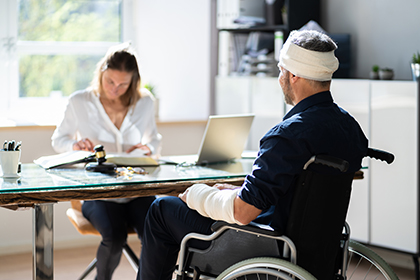 The compensation you can obtain and the damages you can recover in a truck accident claim depend on the severity of your injuries and the scope of property damage.
Usually, people impacted by truck accidents can pursue reimbursement for different types of damages, such as:
Economic Damages
Medical Expenses

This incorporates expenses related to doctor visits, hospital stays, diagnostic tests, medical bills, rehabilitation, and medical devices—essentially any treatment prescribed by your physician for your recovery. The aim is to recover the entirety of these costs.

Lost Earnings

Missing work leads to lost wages and financial loss. Inability to earn means struggling with bills. Financial concerns shouldn't compromise your health or recovery. Some truck accident injury cases might also warrant compensation for potential future lost earnings.

Residential Adaptations

Injuries like spinal cord injuries, fractures, and traumatic brain injuries can hinder mobility at home. Modifications such as wheelchair ramps, handrails, and stairlifts can offer assistance – but they might be expensive to install. Your truck accident lawyer can help you find ways to cover costs so you won't need to pay for them out of pocket.
Non-economic Damages
Emotional Distress

This entails conditions like depression, anxiety, PTSD, or changes in sleep patterns.

Loss of Enjoyment

The inability to engage in activities once cherished is disheartening. Compensation in a truck accident case can acknowledge this loss.

Loss of Companionship

As social beings, human relationships are crucial. How do you cope when you are unable to communicate with a loved one or an injury alters your relationship? Compensation is deserved for this emotional toll.

Wrongful Death

The tragic fact is that truck accidents lead to numerous deaths annually. Although money can't bring a loved one back, it can help offset accident-related expenses.
Legal professionals who make promises that sound too appealing to be realistic should raise caution. It's essential to remember that no attorney can assure a specific settlement or monetary award. Therefore, if a lawyer presents an overly favorable outlook, it might be prudent to explore alternative options.
Determining The Liable Party in Truck Accidents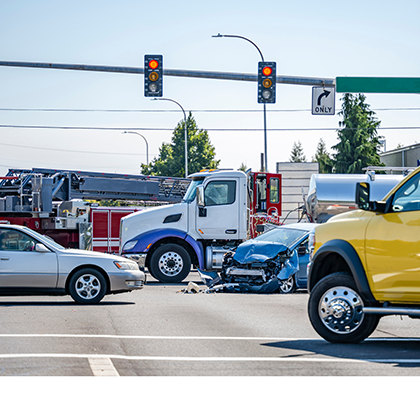 Sometimes, negligence can be hard to pinpoint in a trucking accident. Sadly, the truck driver or the trucking company may deny responsibility for the accident. This is where a truck accident lawyer comes in.
Proving the party at fault in a truck accident involves a skilled lawyer performing these actions:
Scrutinizing The Reason for The Accident

Your attorney will investigate the accident's cause to uncover factors such as negligence, road conditions, or mechanical failure.

Examining Police Report

Your attorney will analyze the police report for essential details about the accident's circumstances.

Gathering Evidence

Your attorney will collect evidence, including photos, videos, and records, to build a strong case.

Interviewing Witnesses

Your attorney will speak with witnesses who were present during the accident to gather firsthand accounts.

Utilizing Expert Testimony

Your attorney will connect with experts in accident reconstruction or trucking regulations to provide credible insights.
Get the Expert Help You Need – Contact Our Personal Injury Law Firm Today!
Consulting with our personal injury law firm today means accessing knowledge and experience. We recognize the challenges that can arise from legal matters and are dedicated to assisting you every step of the way.
Whether you're dealing with the aftermath of a truck crash or any other personal injury issue, our team is ready to provide expert help to ensure your rights are protected, your questions are answered, and your case is handled with the care it deserves.
Arash Law, led by Arash Khorsandi, Esq., believes in personalized attention and a client-centric approach. When you reach out to us, you can expect to be treated with the utmost respect and care. We take the time to listen to your concerns, understand the details of your situation, and provide comprehensive guidance that addresses your unique needs.
We comprehend that the journey towards attaining justice might be challenging, yet with a capable attorney, you can effectively navigate the legal proceedings and pursue the rightful compensation following a truck accident.
Our truck accident lawyers are available for a complimentary initial consultation anytime and anywhere. Contact us at (888) 488-1391 for a free consultation about your case.