Glendale

Motorcycle Accident Lawyers
with over $500 Million Recovered in Compensation for Injury Clients.
You May Be Entitled to Compensation

Glendale's Most Aggressive

Motorcycle Accident Lawyers
The Glendale
motorcycle accident lawyers
at
Arash Law
are serious about helping injured motorcyclists obtain all the compensation they need and deserve following crashes. Any injured motorcyclist needs to be sure to retain legal counsel as soon as possible after any collision.
Glendale is currently the fourth-largest city in Los Angeles County in California after Los Angeles, Long Beach, and Santa Clarita. According to the 2020 United States Census, Glendale had a population of 192,366 on July 1, 2021, with 71.4 percent of that population being white alone, 18.7 percent being Hispanic or Latino, 13.7 percent being Asian alone, 5.9 percent being two or more races, and 1.8 percent being Black or African American alone.
Glendale is in the Verdugo Mountains, south of the western San Gabriel Mountains. It incorporates other cities like Pasadena and La Cañada Flintridge and unincorporated communities like Altadena, La Crescenta-Montrose, and Sunland-Tujunga in Los Angeles. Glendale is predominantly a land area, as only 0.43 percent of the total land area is water.
The California Office of Traffic Safety (OTS) reported that motorcycle fatalities decreased by 9.4 percent in 2019, and motorcyclist deaths from not wearing a helmet decreased by 18 percent that year. In its
2023 Highway Safety Plan
, the California Office of Traffic Safety reports that 539 motorcycle deaths occurred in 2020, a 9.8 percent increase from 491 in 2019.
OTS reported that Los Angeles County, San Diego County, Riverside County, San Bernardino County, Orange County, and Kern County in Southern California and Sacramento County in Northern California had the highest fatal injuries among motorcyclists. In contrast, Los Angeles County, San Diego County, Riverside County, San Bernardino County, Orange County, Kern County, Sacramento County, and Alameda County had the highest number of severe injuries among motorcyclists. Rural counties such as Lassen County, Colusa County, Amador County, Calaveras County, Tuolumne County, Napa County, and San Benito County had the highest rates of fatal injuries per capita by county. Meanwhile, Del Norte County, Trinity County, Sierra County, Alpine County, Calaveras County, Mono County, Mariposa County, and Inyo County had the highest rates of critical injuries per capita by county.
Motorcycle accidents always have ways of turning people's lives upside down. You deserve to have somebody on your side who will be fighting to protect your rights and working to ensure you can recover all the financial compensation you are entitled to when this type of accident happens.
Do not risk underestimating your injuries or compensation. Also, ensure you have a skilled motorcycle accident lawyer in Glendale, CA, handling your case. Legal representation can make a world of difference in these types of cases.
April 2019: $5M settlement in a traumatic brain injury case involving a motor vehicle collision.
– 
BRIAN BEECHER
Common Stereotypes Associated with Motorcycle Accidents
There is no getting around the simple fact that many insurance companies investigating motorcycle accidents are likely to conclude that motorcyclists were at fault for their crashes. Such a presumption is unfair. As a result, motorcyclists often have to fight insurers who believe motorcyclists were partially responsible for causing their injuries.
The bottom line remains that many insurance companies immediately assume that people being on motorcycles means they will also be more likely to operate recklessly. The facts do not support this belief, so it becomes even more critical for a person to be sure they are working with an experienced Glendale motorcycle accident lawyer who will know how to prove fault.
Motorcycle accidents often result from the actions of other drivers, so making the case that another driver was at fault for a collision is not tricky. These cases can be challenging to prove, highlighting the need for legal assistance.
In 2020, the 5,579 motorcyclists killed represented 14 percent of all traffic fatalities, the highest number of motorcyclists killed since The Fatality Analysis Reporting System (FARS) began in 1975.
The number of motorcyclist fatalities in 2020 increased by 11 percent from 2019.
Per vehicle miles traveled, motorcyclist fatalities occurred nearly 28 times more frequently than passenger car occupant fatalities in traffic crashes.
In 2020, motorcycle riders involved in fatal crashes had higher percentages of alcohol impairment than drivers of any other motor vehicle type.
In states without universal helmet laws, 57 percent of motorcyclists who died in 2020 were not wearing helmets, compared to 11 percent in states with universal helmet laws.
In 2020, there were 5,579 motorcycle fatalities, the highest total recorded.
In 2020, there were 82,528 injured people, less than in 2019 but more than in 2018.
In 2020, 106,417 motorcycles were involved in crashes, the lowest number since 2015.
Motorcycle fatalities increased by 9.8 percent from 491 in 2019 to 539 in 2020.
In 2020, there were 35 unhelmeted motorcycle deaths compared to 28 in 2019.
The percentage of motorcyclists at fault in injury crashes was 59 percent in 2020, higher than 54 percent in 2016, 2017, 2018, and 2019.

Emperatriz Ayala
My husband had an accident 2 years ago, a 85 years old man hit him, the Arash law group works very well on my husband case that took 9 month and he won the case and my husband was happy with the results. A year later I got into an accident as well and I'm still waiting in my case is almost resolving and it's 9 months already. This people knows the law and they do their job right to help you out in getting the most for you to fight on your behalf. I strongly recommend the Arash Law firm they do things right in a efficient and professional manner.

Chris Zavala
Had a great experience with all the people at Arash law. Long story short was in a bad car accident. It was overwhelming and the whole process was a lot, but they kept me in the loop. They answered all my questions and gave me great advice. Couldn't be any happier. Would definitely recommend anyone looking for a personal injury lawyer. They'll guide you through the whole process!

Jill Smith
Having Arash Law handle my auto accident was the best decision I could have made. Everyone I interacted with was kind, professional and detail oriented. I am extremely happy with the outcome and would recommend them highly.

Joseph R. Porter
From start to finish, Arash Law firm is there every step of the way with close, constant, personal contact and attention. I never knew a Law firm could actually care so much for me as a person and what I was personally going through as well as the settlement I was going to recieve once my case was finally completed. Thank you to everyone at Arash Law for your ongoing support and communication. You are the ONLY firm I will ever recommend to someone who is need of a great attorny.

Monica Parra
I had an excellent experience with Arash Law. I will definitely recommend to my family and friends. I interviewed a few firms before deciding to work with Arash Law. What made my experience excellent was (i.e. head attorney being accessible to talk to and he answered all my questions and concerns, sensitive and thorough personel who completed in home intake & follow up process, being connected immediately to quality Physicians who addressed my injuries and recovery process, clear contract-read throughly to ensure its something you can commit to). Being in a car accident is a traumatic experience and I had a sense of peace knowing Arash Firm was walking with me throughout the whole process. Thank you Arash Firm for all your hard work and help. I am so grateful and appreciative for you all! 🙏 With Gratitude, Monica Parra
Common Types of Motorcycle Accident Injuries in Glendale, CA
Helmets are generally the first thing that many people, including insurance companies, will think of when inquiring about injuries in connection with a motorcycle accident. California Vehicle Code § 27803 requires all riders and passengers to wear a United States Department of Transportation (DOT) compliant helmet when riding a motorcycle, motor-driven cycle, or motorized bicycle.
If a person was not wearing a helmet at the time of the accident, an insurance company is more likely to deny any compensation to them. As a comparative fault state, everyone can file injury claims in California, regardless of whether they wear a helmet.
People can be entitled to recover various forms of damages in a motorcycle accident case. Some of the most common kinds of damages people can receive may include but are not limited to:
damage to a motorcycle
lost income
emotional trauma
diminished quality of life
disfigurement and scarring
pain and suffering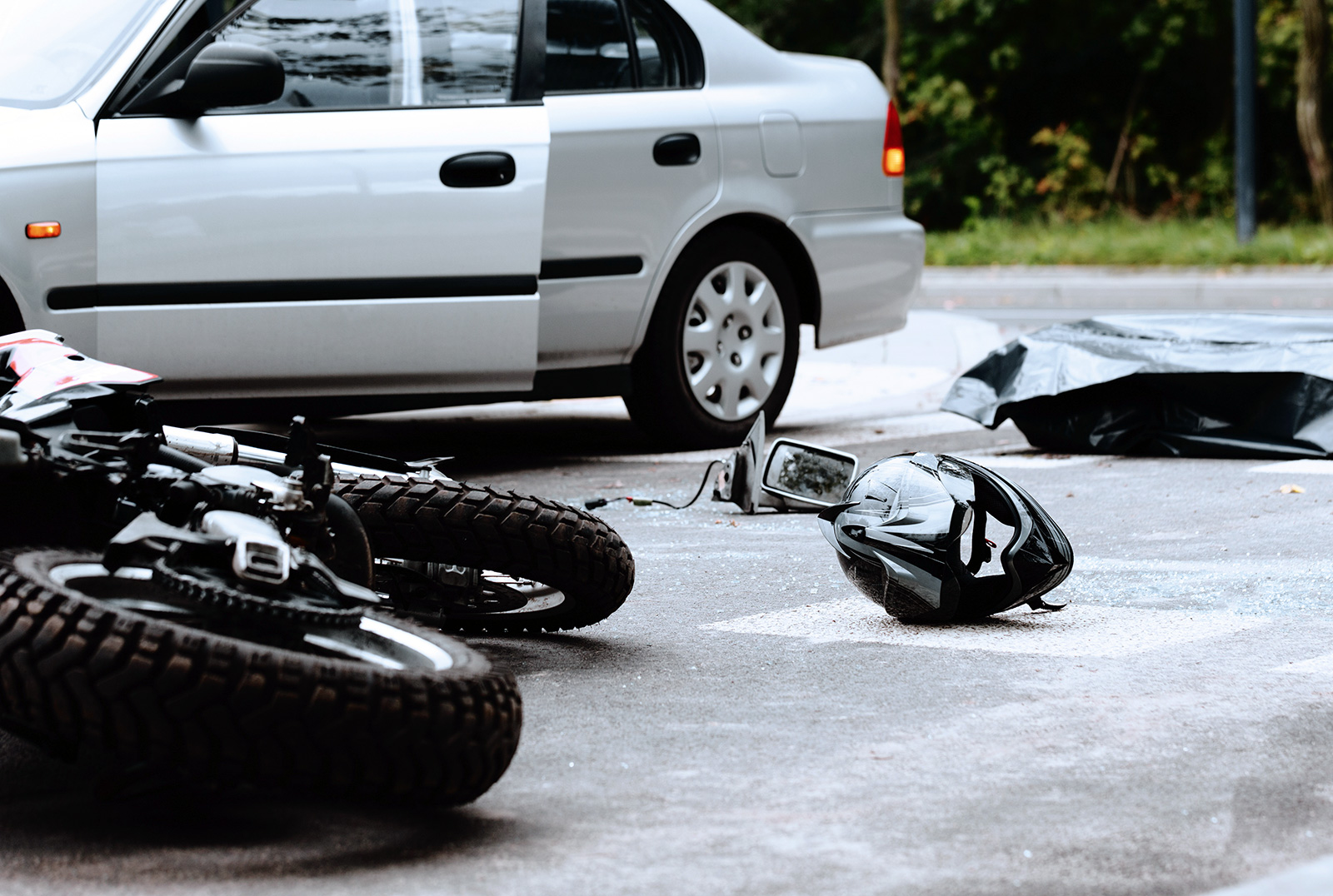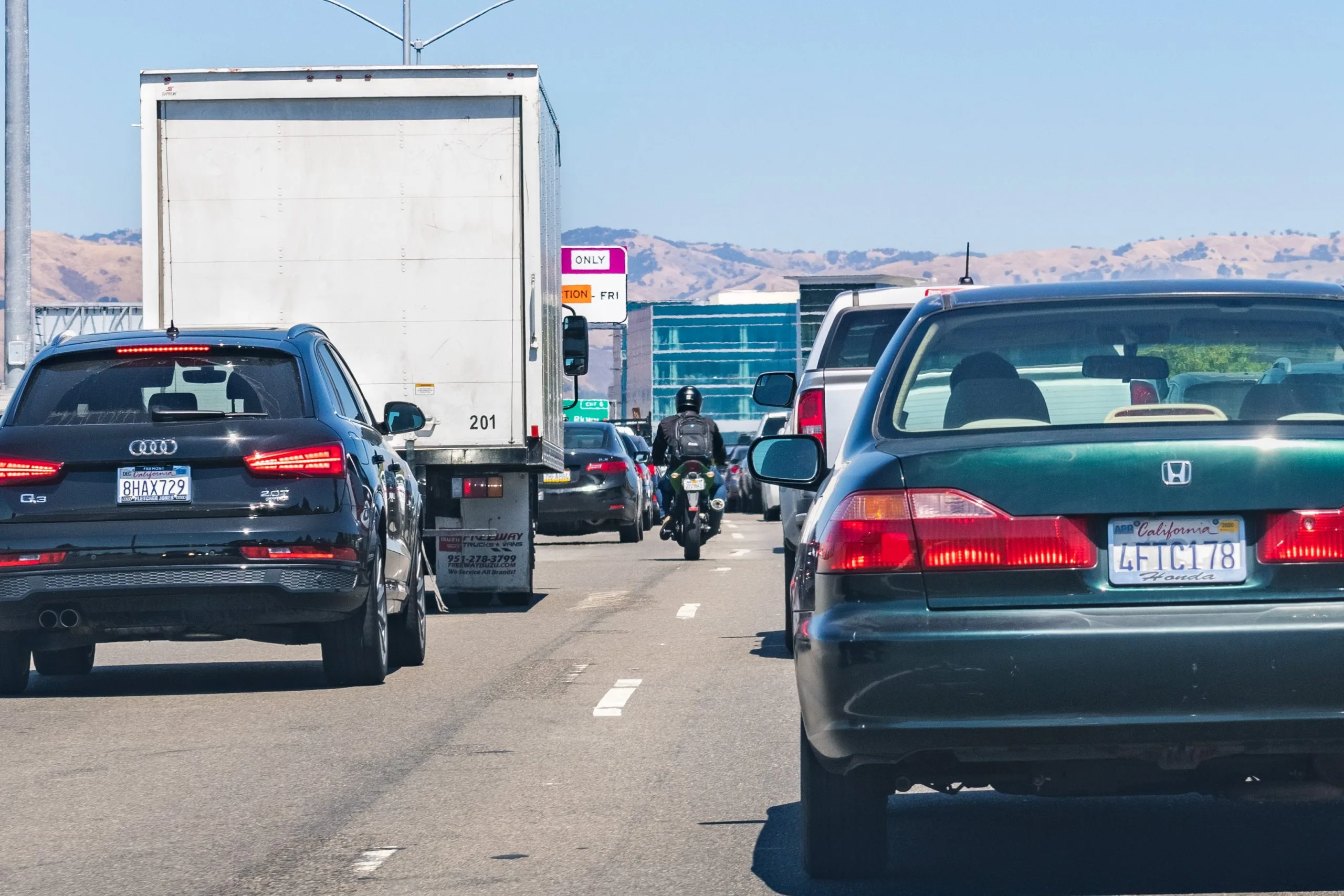 Common Causes of Motorcycle Accidents
A single factor rarely causes motorcycle accidents because many variables are at play. It will be much easier to prove some causes of crashes than others.
In general, some of the most frequent causes of motorcycle accidents in Glendale often include, but are not limited to:
1
Dangerous Left-Hand Turns
The left turn is always one of the most dangerous maneuvers a motor vehicle can perform because they often need to cross two opposing lanes of traffic. When a vehicle does not correctly gauge the speed or distance of a motorcycle, then a left-turn collision is more likely to happen.
California roads are not always professionally maintained, so motorcyclists may encounter various road issues that may impact their ability to control their motor vehicles. Among the most dangerous types of road conditions are pavements that are in disrepair (like on La Crescenta Avenue), fallen trees, poorly lit roads, dangerous intersections, improperly marked curves, unsafe curbs, loose gravel, wheel ruts, potholes, construction, and other road conditions.
Head-on accidents are less common but more deadly because they involve two vehicles colliding head-on. Such accidents are often the result of one driver going the wrong way, but there may be other possible causes.
4
lane-splitting accidents
The California Highway Patrol (CHP) notes that lane-splitting by motorcyclists is legal in California, but intentionally blocking or impeding a motorcyclist in ways that can cause harm to the rider is illegal. Opening a vehicle door or "dooring" is also illegal.
Lane-splitting remains a risk for motorcyclists and can result in fatal accidents. It occurs when a lane-splitting motorcycle gets too close to vehicles beside it, a car suddenly tries to shift lanes and does not notice a motorcyclist, or a car suddenly opens one of its doors into the motorcyclist's path.
5
reckless driving and intoxication
Drugs and alcohol remain a common factor in too many California motorcycle accidents, and it may be the motorcyclist or another driver who was under the influence. Reckless driving under California Vehicle Code § 23103 involves a person driving a vehicle upon a highway in willful or wanton disregard for the safety of persons or property.
While motorcycle crashes may happen anywhere in Glendale, certain roadways in the city are more often the location for collisions than others. Some of the intersections that are well-known for being more accident-prone include Brand Boulevard and Goode Avenue, Sanchez Drive and North Brand Boulevard, East Colorado Street and South Brand Boulevard, West Glenoaks Boulevard and Western Avenue, and North Glendale Avenue and East Wilson Avenue.
If you are involved in a motorcycle accident, you shouldn't get overly focused on the cause. Take the time to find a Glendale motorcycle accident lawyer as soon as possible. As soon as you hire an attorney, they can work on investigating your accident and determining your best options for recovering compensation.
Common Kinds of Injuries in Motorcycle Accidents
The significance of motorcycle accident injuries continuously varies by case. Therefore, some people will deal with their injuries for only a few days, while others might experience years of recovery.
While statistics show that motorcycles make up only 3 percent of all registered vehicles in the United States and 0.6 percent of all vehicle miles traveled, motorcyclists still account for 14 percent of all traffic fatalities, 18 percent of all occupant fatalities, and 4 percent of all occupant injuries.
Frequent injuries motorcyclists suffer in Glendale motorcycle accidents include the following:
traumatic brain injuries (TBIs)
spinal cord injuries
broken bones or fractures
severe lacerations
soft tissue injuries
internal organ damage
facial trauma
significant disfigurement
road rash
wrongful death
Personal Injury Settlement
Our client was the victim of a rear-end accident who was left injured and severely in pain. Arash Law was able to outshine other injury law firms when he searched online, and thankfully we were able to handle everything for our client from A to Z — All that he had to do was ask and focus on his recovery. Our client's life has changed forever, and the compensation received for the pain and suffering has opened paths for new lifelong opportunities.
Personal Injury Settlement
Our client was the victim of a rear-end accident who was left injured and severely in pain. Arash Law was able to outshine other injury law firms when he searched online, and thankfully we were able to handle everything for our client from A to Z — All that he had to do was ask and focus on his recovery. Our client's life has changed forever, and the compensation received for the pain and suffering has opened paths for new lifelong opportunities.
Understanding the Statute of Limitations for a Glendale Motorcycle Accident
All personal injury actions involve time limits for how long people can file their cases. This time limit is known as the statute of limitations. California has a two-year statute of limitations for claims resulting from motor vehicle accidents, meaning that people cannot file claims after two years have passed.
California does allow for certain exceptions to the statute of limitations. For example, an injured person who is a child will have two years to file once they turn 18 years of age, and a person who is unable to file their claim because of a medical condition (such as being in a coma) can have their limitations period extended until they recover.
What Riders Need to Do After Being in a Glendale Motorcycle Accident
People need to understand that they can take numerous important actions at the scenes of
motorcycle crashes
to help protect their rights and make the claims process go more smoothly.
Among the things you should do are the following:
You should always call 911 to report any motor vehicle accident in California. Calling this number will dispatch authorities to the scene of your crash to compile a report. The police report often proves invaluable in these cases because it is the independent view of a third party not connected to a crash.
Everyone involved in motorcycle accidents should visit a hospital for a complete evaluation of their condition, even when people do not think they suffered an injury. It is important to remember that many serious injuries involve delayed symptoms, so people may not be aware of how hurt they are until several days later.
Medical treatment is also necessary for any claim you file because insurance companies usually demand proof that an injury was treated after an accident. Insurers will try to deny claims if you wait a few days or weeks before consulting a doctor, arguing that the injury may be related to an after-accident event.
Taking photos or videos of the accident scene from varying angles and distances will greatly help your attorney. Be sure to get pictures of your injuries while they are at their worst, but also look for skid marks on the street, road defects, traffic signals, and any other circumstances that might help prove how an accident happened.
All parties involved in any motor vehicle accident in California will want to be sure they exchange their personal information with all other drivers. You need to acquire people's names, addresses, driver's license numbers, and insurance information.
When you are exchanging this information with another driver, do not comment on your accident or make any kind of admission of fault. Try to limit your comments to only being about the information you are exchanging.
If other people witness the accident, you should be sure that you also get the contact information of these parties. Independent witnesses are extremely invaluable to personal injury cases because they can offer unbiased views of what occurred.
When witnesses are uncomfortable giving you their information, ask police officers for assistance. A witness may be more willing to give their name and phone number to a police officer.
6
Avoid Discussing Your Accident
Many people feel the urge to talk about the accident they were just involved in, but you need to be especially cautious when it concerns social media. Many insurance companies will quickly investigate the social media profiles of people involved in motorcycle accidents. Anything you say that harms your case on a social media website can be used against you.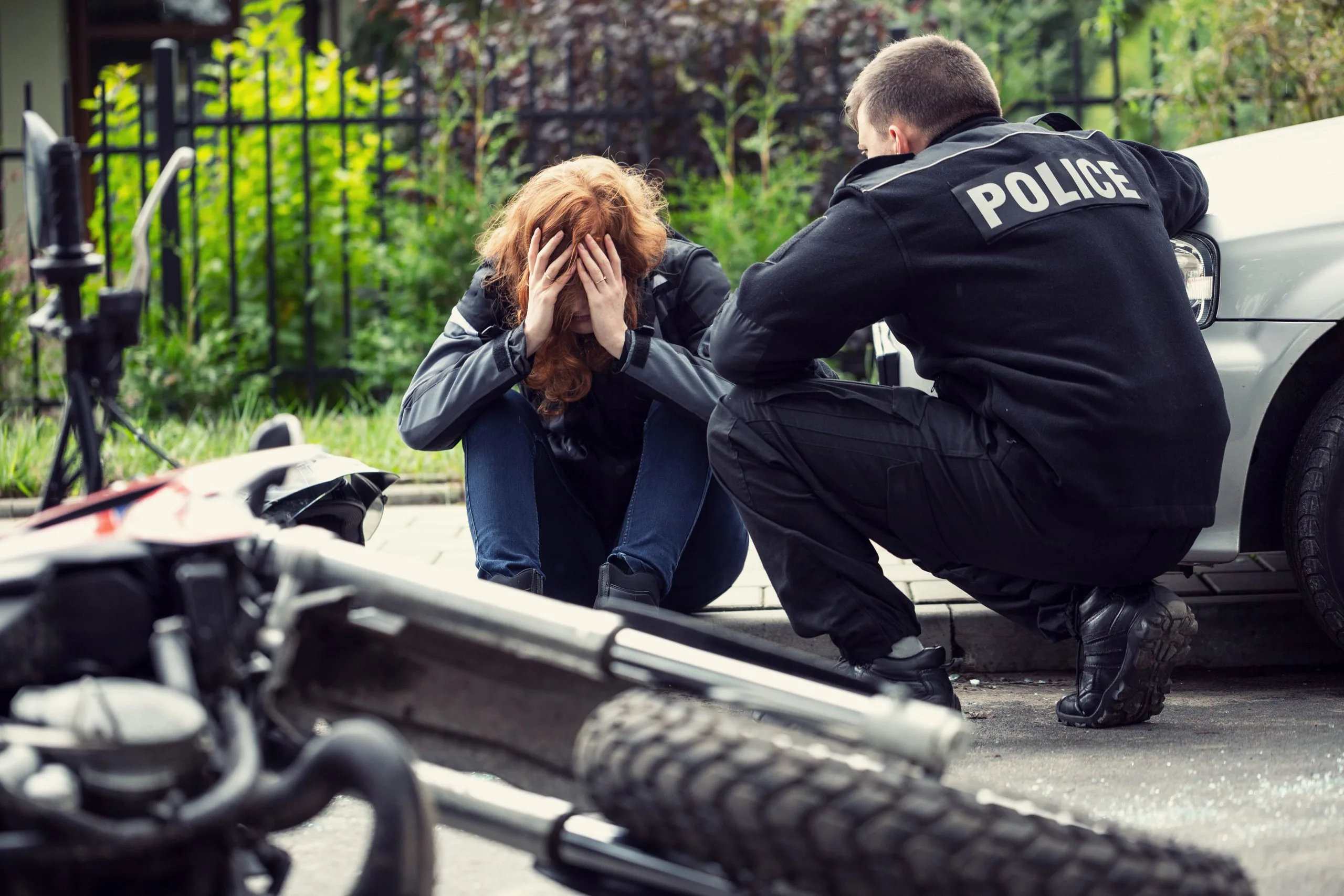 Settlement on the first day of trial against governmental entity for dangerous construction conditions on a local street that caused a motorcycle accident – largest motorcycle settlement in Los Angeles for 2019 – client suffered shoulder injuries
– 
JUDD ROSS ALLEN
Possible Liable Parties in a Motorcycle Accident Case
The following are some of the most common examples of parties who can be liable in a motorcycle accident:
Other drivers involved in a crash are usually the most common liable parties in motorcycle cases.
It is also possible for the owners of the other vehicles, when they are different from the drivers, to be liable for damages.
Trucking companies or truck owners can be liable in commercial motor vehicle cases because third-party companies own many large trucks.
Manufacturers of motorcycles may be liable for accidents stemming from defective motorcycle parts.
Mechanics of motorcycles can be liable when a motorcycle accident results from a failed repair.
Government entities can be liable for certain dangerous road crashes when the governmental entity is responsible for maintaining a road.
Determining Liability in a Motorcycle Accident
Liability relating to a motor vehicle accident does not need to be overly complicated. Still, insurance companies usually go out of their way to penalize motorcyclists simply based on the type of vehicle they are driving. The result is that motorcyclists often have their actions called into question, leading investigators to incorrectly assume that a particular action was taken for no good reason.
Founded by Arash Khorsandi, Esq., Arash Law knows how hard it can be for motorcyclists to get a fair deal after a motorcycle accident. This is why we also work closely with our clients to ensure they understand our progress on their cases. Our Glendale motorcycle accidents law firm will significantly emphasize the initial police report, but we also know how flawed these initial assessments can be. We know how to work with experts to get real answers when they prove to be elusive.
Most of our work will be time spent convincing an insurance company that its client was at fault for a motorcycle accident, and we can accomplish this goal through relentless work that effectively proves how another driver was to blame for a collision. We are so effective at handling these claims because of the real threat of us taking your case to court.
Make no mistake, when a person says they are moving toward a trial, an insurance company will become much more willing to negotiate a more lucrative settlement for an injured person. The idea of comparative negligence in California complicates calculations in these situations because an insurance company might think that it has sufficient evidence to allocate a sizable percentage to a motorcycle accident victim. However, a judge or jury usually makes the ultimate determination.
Most motorcycle accident cases involve only one wrong decision by other drivers, and that one choice can be enough to cause an entire crash. You will want to be sure you are working with a well-known Glendale motorcycle accident lawyer who will take the time to get to the bottom of what truly happened in your accident and know how to prove that another party was at fault should your case end up in court.
Speak with Our Aggressive Glendale Motorcycle Accident Lawyers Today
Arash Law, led by Arash Khorsandi, Esq., knows that motorcycle accidents are never easy to recover from and can be even more difficult for people to recover compensation. Victims should not have to try as hard as they do to get the money they deserve to pay their bills. We work tirelessly to ensure that everyone we represent can achieve some measure of justice in their motorcycle accident case.
You can call (888) 488-1391 or contact us online right now to schedule your initial consultation to let us review your case and discuss everything you need to do. Our Glendale motorcycle accident lawyers will be sure to take the time to thoroughly review all the details of your case and help you understand all of the legal options that will be available to you.
Arash Law also serves many surrounding areas of Glendale, including La Canada Flintridge, Burbank, Los Angeles, South Pasadena, West Hollywood, Pasadena, Alhambra, Altadena, San Gabriel, San Marino, Beverly Hills, Monterey Park, Commerce, East Los Angeles, and Rosemead.