Known as the Golden State, California is the largest state in the country. With its high population, millions of drivers journey on its busy highways daily. One question that always pops up in the mind of commuters, given the crowded roads, is about safety. Unfortunately, California is home to some of the worst driving cities, making it one of the most terrible states to drive in. If you are in a car accident, you should speak to a car accident lawyer from Arash Law, founded by famous attorney Arash Khorsandi, Esq., as soon as possible.
What makes California unique is there are many different landscapes. You can encounter congested city traffic or beaten-down country roads. It can be easy for drivers to get frazzled and confused. The stress can sometimes lead to people driving recklessly. Traffic congestion is rampant in some major cities. It happens when there are more cars than the roadway. It is also prevalent during commutes when everyone goes to work or school. Generally, the worst cities to drive in are metropolitan areas, as they typically have over one million residents. This means they are highly populated, more than other cities nationwide.
The Worst Cities to Drive in California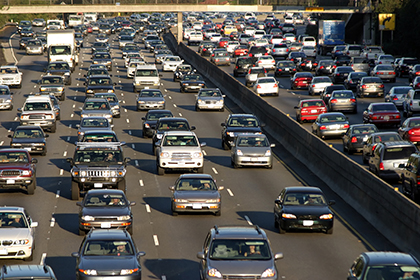 You might look around California and think you know what the worst cities are. However, Wallethub.com conducted an exhaustive survey regarding traffic congestion, driveability, and more. The team focused on several key factors, such as safety, traffic and infrastructure, cost of ownership, and access to vehicles. WalletHub also compared speeding tickets, running red lights, cell phone use while driving, DUIs, etc. They reviewed their results to list the best and worst cities to drive in.
Arash Law represents clients statewide. We have seen many car, truck, motorcycle, and pedestrian accidents in many of these cities. The worst cities to drive in California include:
20. Fullerton
Population: 144,541 (2022 US Census) or 6,406.0 population per square mile
You can find Fullerton in Northern Orange County. It is known for its agriculture and crops. Oranges and citrus crops are grown across the city. Sadly, it is also known for bad driving conditions. These horrible driving conditions often result in fatal consequences for residents and guests.
The city has earned a C- grade. This grade makes it a fatal town for the public. Based on OTS Crash Rankings in 2020, Fullerton saw 569 total injuries and fatalities, giving it a 26/61 ranking. It also ranks 50/61 for speed-related crashes and 15/61 for hit-and-run-related accidents, while DUI stands at 43/61.
19. Rancho Cucamonga
Population: 176,336 (2022 US Census) or 4,349.4 population per square mile
The scenery is a standout for Rancho Cucamonga. It is also known for wine preparation. It has Mediterranean climate conditions, which attracts the general public. The grape lands are another attractive feature. While the city has many attractive features, traffic collisions are not one.
Bad driving conditions are contributing factors to major accidents in Rancho Cucamonga. In 2020, the collision rate was 55/61, speeding 44/61, and DUI 28/61. The fatality rate is 10/50. The total count is 391, resulting in a C Grade for accidents.
18. Irvine
Population: 313,685 (2022 US Census) or 4,689.4 population per square mile
The city is nestled in Orange County and is known for museums and balloon rides. It is now also known for its horrid driving statistics. OTS reports for 2020 show 470 victim fatalities and injuries, giving Irvine a rank of 14/15. There were 63 speed-related crashes, while there were 20 hit-and-runs.
It was ranked 7th for speeding and 3rd for citations. The overall ranking is 34 out of 100.
17. Sacramento
Population: 528,001 (2022 US Census) or 5,323.4 population per square mile
Known as the capital of California and an awful place to drive, In 2014, it had a fatality rate of 7.6 per 1,000 drivers. A lot of traffic is pulled towards coastal cities. However, Sacramento brings people and traffic inland. That has led to people being stuck in traffic for an average of 64 hours. The ranking is 53 out of 100. In 2020, there were 3205 total crash-related fatalities and injuries in Sacramento.
16. Riverside
Population: 320,764 (2022 US Census) or 3,877.8 population per square mile
Found right outside Los Angeles, Riverside is home to a vibrant life. It houses many professionals who need to drive to and from work daily. According to OTS reports, in 2020, Riverside had 1,495 victims killed and injured in crash-related accidents. There were 167 hit-and-runs and 247 speed-related collisions that year. It's ranked 54 out of 100 nationwide.
15. Fresno
Population: 545,567 (2022 US Census) or 4,706.8 population per square mile
As California's 5th largest city by land mass, there are many reasons why it is a horrible place to drive. It is ranked among the worst cities because it lacks highway navigation and maintenance shops. It also has many vehicle-related crimes. Fresno has actually become known for its high percentage of car-related crimes. In 2021, the city was ranked 6th for worst drivers and 5th for DUIs. It ranks 55 out of 100 cities nationwide.
14. Chula Vista
While California tries to work on the poor road conditions and continues to study car accidents, people are suffering an injury. Arash Law, spearheaded by Arash Khorsandi, knows the struggles that many of our clients face after a car accident. When a negligent driver causes a collision and you suffer injuries, you have legal options. 
Population: 279,170 (2022 US Census) or 4,914.6 population per square mile
Heading slightly south of San Diego, you will find Chula Vista. It is known for its breweries, which might contribute to the horrible driving. The road systems are also poorly made. Chula Vista is ranked 61 out of 100 cities in the survey. OTS reports for 2020 states that 776 victims suffered from injuries or fatalities.
13. Fremont
Population: 223,871 (2022 US Census) or 2,943.3 population per square mile
Found in the Bay Area, Fremont has gorgeous docks. It brings in sailors and ship crews. These parties are more familiar with maneuvering at sea than driving on land. It is ranked 64 out of 100.
Ranking 54/61 for 506 victims killed and injured from crash-related accidents in 2020, Fremont is quite dangerous for driving. Speed-related collisions reached 89 in the same year. On the other hand, there were 33 hit-and-runs.
12. Bakersfield
Population: 410,647 (2022 US Census) or 2,693.7 population per square mile
The city is north of Los Angeles and straddles the Kern River. Traffic is atrocious and unbearable. Driving through Bakersfield has often been compared to driving in a parking lot. The traffic does not move. Ranking 65 out of 100 cities.
In 2020, over 1600 people were injured or killed in traffic accidents in the area – 112 were pedestrians, while 103 were motorcycle riders.
11. Anaheim
Population: 344,461 (2022 US Census) or 6,898.8 population per square mile
Anaheim City is a major tourist destination because of Disneyland. This major tourist attraction is why there is such horrendous traffic. These tourists are also unfamiliar with the roads and traffic laws, leading to mayhem amid family fun. Anaheim may not be so high on this list without this major tourist destination. It is ranked 69 out of 100.
In 2020, the OTS reported traffic-related injuries or fatalities involving 1763 individuals. Of this number, 103 were pedestrians, and 61 rode motorcycles
10. San Diego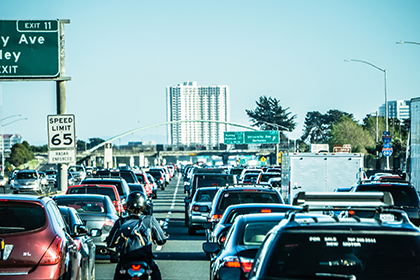 Population: 1,381,162 (2022 US Census) or 4,255.9 population per square mile
There are three million permanent residents in San Diego. They are attracted to the perfect weather, laid-back vibes, and beautiful beaches. With so many residents, it's no wonder there are major traffic concerns. Residents are said to spend 70 hours stuck in traffic. It is a large city found in the southernmost metropolis of California.
Being such a large city also means a higher percentage of accidents. Even the surrounding areas are impacted by the traffic, infrastructure, bumper-to-bumper traffic, and public transportation. Interstate 5, commonly called the 5, is a significant factor in traffic collisions. A treacherous area, The Merge, reduces the number of lanes. This quick reduction in lanes leads to traffic congestion and fast stopping.
There can be close to a million drivers using the five daily. The freeway runs north to south. It connects to many other freeways through a labyrinth, which can lead to frustration and collisions. San Diego is ranked 71 out of 100 cities.
9. Santa Ana
Population: 308,189 (2022 US Census) or 11,347.4 population per square mile
Santa Ana is the second city on this list from Orange County. It is known for its high crime rate. There aren't many places to drive to in Santa Ana. Narrow streets and occasional inadequate signage can make navigation especially tricky for newcomers. The city's frequent accident rates highlight potential road conditions and driver behavior issues.
Furthermore, limited parking spaces often lead to drivers searching for extended periods, increasing congestion. The mix of heavy pedestrian activity and regular public transportation stops further complicates the area's driving experience. It is ranked 73 out of 100 cities.
8. Stockton
Population: 321,819 (2022 US Census) or 5,157.0 population per square mile
While Stockton is known as a quiet area, you cannot escape the sounds of honking or yelling. Drivers become annoyed and aggressive when maneuvering around the area. Another standout in the city is its museums. Stockton boasts a range of museums that offer cultural and historical insights, making it a destination of interest for many visitors. The city is ranked 80 out of 100 nationally.
7. Long Beach
Population: 451,307 (2022 US Census) or 9,203.6 population per square mile
The city name may have come from the amount of time people are stuck in traffic trying to get to the beach. It is a coastal city with lots of beaches. Visitors enjoy going to the beach to soak up the sun. On the downside, many people will become exhausted from traffic jams.
When it comes to driving, it is a dangerous city. Long Beach has a collision rate of one for every 78.33 residents. Additionally, collision rates overall are 46/50, ranking the city as 46 out of 50 for car crashes. Many of these crashes are from DUI or speeding. Speeding crash rates are 7/50, DUIs 7/50, and fatality rate 12/50. The total rate for Long Beach is 72, resulting in an A Grade. This grade makes the collisions less risky compared to other crashes.
6. San Bernardino
Population: 220,328 (2022 US Census) or 3,574.7 population per square mile
If you go a few miles east of Los Angeles, you will find San Bernardino. It is a vibrant town with breathtaking mountain views. You may take in these views from your car during gridlock traffic. The city is ranked 87 out of 100 nationally. San Bernardino's congestion intensifies during peak hours due to its expanding population and infrastructure needs.
5. San Jose
Population: 971,233 (2022 US Census) or 5,684.1 population per square mile
The city is focused on catering to Silicon Valley and is surrounded by hills. It is not a vehicle-centered town. However, it is known for its challenging driving conditions. Rapid growth has increased congestion, making navigation stressful, especially during rush hours. Downtown parking is limited, complicating the experience further. As a result, many opt for alternative transportation. It is ranked 88 out of 100 as the worst cities nationwide.
4. Los Angeles
Population: 3,822,238 (2022 US Census) or 8,304.2 population per square mile
It is no surprise that Los Angeles is on this list. The only surprise is that it isn't number one on the list. They have one of the biggest populations statewide, which is what has led to so many accidents. Another significant factor is Interstate 15, with 18 million drivers annually. The 180 miles of the road allow residents and visitors to get almost everywhere. This highway has also led to mechanics putting it in their top 10 most dangerous roads on America's list.
Studies on I-15 show that over 14 years, there were 466 fatalities. Many reasons for crashes are lack of seatbelts, impaired driving, and distracted driving. LA is infamous nationwide for traffic congestion. It is also a city where walking is faster than driving. The city is also known for traffic crashes.
Road accidents are prevalent for many reasons. Factors that lead to crashes in LA are speeding and DUI. Other risk factors can make it challenging to get around. Drivers unfamiliar with the tricky roads across Los Angeles should try to avoid driving in the city. The best idea is only to drive when you have experience on these roads or are aware of specific rules and public safety.
Overall, Los Angeles has a D Grade. This designation means the city has the highest rate of accidents. It also means you should stay alert at all times. The collision rate is 38/50 for Los Angeles. Speeding crash rates are 32/50, and DUIs 27/50. The fatality rate is 23/50, making the total count 120. Our California car accident lawyers have helped many clients obtain compensation after collisions in L.A. and are ready to help you, too.
3. Berkeley
Population: 118,950 (2022 US Census) or 11,917.3 population per square mile
Among the most dangerous roads in Berkeley is I-80, with 23 fatalities annually. For every 100,000 residents, there were 5.4 traffic fatalities in 2019. Known to have some risky roads for drivers, the city's layout is not really made for safe driving. As lots of people are walking on its busy streets, this can make driving tricky. So, drivers should be careful and watchful when driving in the city.
2. Oakland
Population: 430,553 (2022 US Census) or 7,878.4 population per square mile
Based on the studies from OTS, Oakland received a low ranking of 98 in cost of ownership and maintenance, 85 in safety, 92 in traffic infrastructure, and 44 in access. Driving around Oakland can be a mistake. Many of the roads lack maintenance. That has also led to bruised highways connecting the city. These factors have earned Oakland the number two spot as the worst city to drive in the Golden State.
1. San Francisco
Population: 808,437 (2022 US Census) or 18,629.1 population per square mile
Taking the lead as the worst city in California to drive in is San Francisco. It has the biggest bridge in the country. Many of the issues that led to San Francisco being the worst are angry drivers, poor road conditions, and broken-down vehicles on highways. The California Office of Traffic Safety (OTS) conducted a study in 2009 showing that San Francisco had the highest number of injuries and deaths among all cities statewide, with populations over 250,000.
The study also found that San Francisco had 2777 deaths and injuries from car accidents in 2020. The city also ranked first for other accidents overall per the OTS. Additionally, the city ranked first for deaths and injuries in the following accidents:
Pedestrians (65 and older): 86
Motorcycles: 353
Bicyclists: 413
Pedestrians (all ages): 572
Accidents Caused by San Francisco's Distracted Drivers The Centers for Disease Control and Prevention reports eight drivers are killed in crashes daily involving a distracted driver. Silicon Valley is located in the San Francisco Bay Area. The valley is home to companies like Apple, Facebook, Google, and others. Leading technology is born here. While the technology is beneficial to the world, it can be harmful to drivers.
San Francisco drivers have access to new technology before anyone else. That means they are likely to use their cell phones and other new tech behind the wheel. Using your cell phone or other technology while driving is illegal in California. If distracted driving is the cause of a collision, you may be entitled to compensation for the damages they cause. This negligent behavior is unacceptable. Liable parties should be accountable for their actions.
Drivers are not the only ones at risk of being in an accident. The Bay Area also has a high concentration of pedestrians getting around. You can be involved in a collision as a pedestrian as well. In either situation, you should speak to a car accident lawyer from Arash Law in California as soon as you can.
Upland California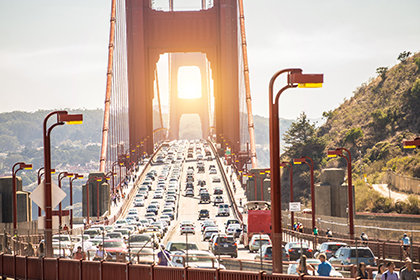 While we promised 20 cities, there is one more that is notable. It has a major Interstate that spans 150 miles. Interstate 10 is the most dangerous in the area, between the California border and Phoenix. This stretch of road is known to be very harrowing for drivers.
Another section that stands out is the stretch that runs through Los Angeles, San Bernardino, and Santa Monica. Accidents in these areas are usually due to high traffic volume. However, speeding and distracted driving are other significant contributors to collisions.
The California Department of Transportation acknowledged these stretches of roadway are so dangerous they have established investigation sites. More must be done to prevent collisions. However, if you are in a crash in Upland, a California car accident attorney from Arash Law can help you pursue compensation.
Your Options After a Traffic Crash in California
While California tries to work on the poor road conditions and continues to study car accidents, people are suffering an injury. Arash Law, spearheaded by Arash Khorsandi, knows the struggles that many of our clients face after a car accident. When a negligent driver causes a collision and you suffer injuries, you have legal options.
You may be eligible to recover compensation for damages such as:
Medical bills
Lost income
Future medical expenses
Loss of enjoyment of life
Lowered earning capacity
Permanent disfigurement or disability
Property damage
You cannot avoid all the cities on this list when commuting. What you can do is stay alert and call us if you are in a collision. Many car accidents are preventable and due to negligence. The parties responsible for your injuries must be held accountable for their actions. Speak to a California car accident attorney today.
Call a California Car Accident Lawyer Today
Insurance companies are notorious for denying valid claims. That's where Arash Law's car accident attorneys come in. We have a reputation for fighting back and winning compensation for our clients. With a deep understanding of personal injury law and California's highways and local roads, they are your best bet to secure the compensation you deserve.
Arash Law is dedicated to helping car accident victims seek financial compensation. We have decades of experience handling personal injury cases and have recovered over $500 million on behalf of injured victims. We service all locations in California – from Los Angeles, San Diego, San Francisco, Irvine, Alameda, Oakland, Riverside, and everywhere in between.
Don't go it alone; let our California car accident lawyers guide you every step of the way. Contact our office at (888) 488-1391 to schedule an initial consultation.