Our Van Nuys Injury Law Firm

Doesn't Just Win,


We Win Big!
You May Be Entitled to Compensation

Earn Your Claims With Our

Experienced Van Nuys Personal Injury Law Firm
Have you or a loved one been in an accident resulting from someone else's negligence in Van Nuys? The at-fault party may compensate for your pain, suffering, medical bills, and other expenses, and the personal injury law firm of Arash Law, led by Arash Khorsandi, Esq., is here to make sure it happens. Get more information about your case by calling (888) 488-1391 or filling out our online form.
The estimated population by the end of 2023 in Van Nuys is expected to reach 136,443, according to the
World Population Review
. With such a large and growing number of residents in a humble neighborhood, the rate of accidents also grows.
It is common to feel alone and helpless after suffering an injury. Whether these accidents were vehicle-related, happened in a work setting, or resulted from dangerous living conditions or premises. It is already stressful enough that you are hurt, and it feels much worse when the insurance companies, employers, landlords, and others responsible for your hardship stand in the way of your recovery to limit your compensation for the damages committed against you. In these instances, a Van Nuys personal injury law firm is what you need to ensure you get everything you are entitled to.
Reaching a settlement is essential, but the true goal is obtaining the proper compensation you deserve, and we'll make sure of it. The personal injury law firm of
Arash Law
can help you understand your rights and how the law may apply to your case. As a team, we will design a legal strategy tailored to your needs and negotiate for your settlement. If no settlements are agreed upon, we will bring your case to court and fight for your rights accordingly.
2019: $27M confidential settlement in a case involving multiple plaintiffs.
– 
BRIAN BEECHER
IF YES, You may be able to recover financial compensation. TELL US MORE: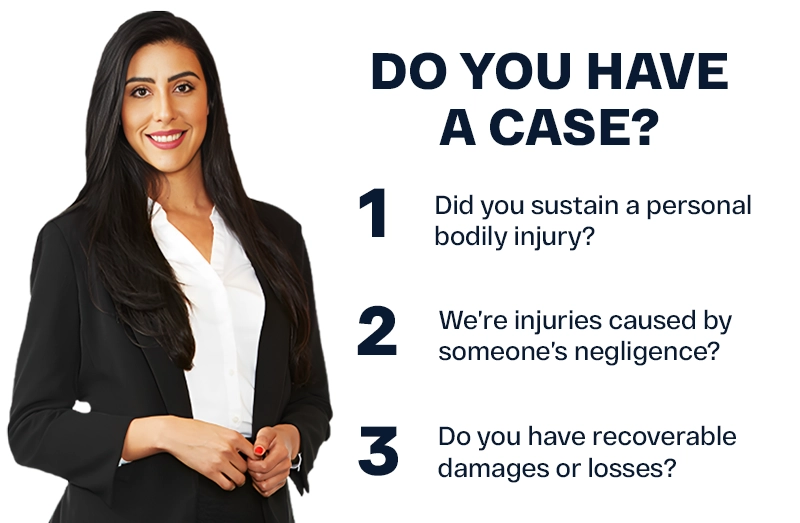 IF YES

, You may be able to recover financial compensation.

TELL US MORE:
Frequent Accidents In Van Nuys, CA
It may not come as a surprise that accidents occur frequently in Van Nuys, given the population in the neighborhood and in Los Angeles County itself. Vehicle collisions are among the most common accidents in the county. According to the
California Office of Traffic Safety
(OTS), over 65,377 people were injured or killed in 2020, with reckless driving and speeding as the leading causes. As of 2022, the county recorded 793 fatalities, with an average fatality count of 739.2 spanning the last four years since 2018, according to the
Transportation Injury Mapping System
.
Due to the high number of vehicles on countless roadways, staying alert while driving is especially important. Unfortunately, even the best circumstances can't prevent accidents from happening. Whenever you find yourself in such a situation, contacting an experienced Van Nuys personal injury law firm is crucial.
Claims We Handle In Our Van Nuys Personal Injury Law Firm
Working with a seasoned personal injury law firm is important when filing personal injury claims in Van Nuys. Having handled hundreds of cases for clients for more than ten years, Arash Law can help you earn what you deserve in a variety of cases.
How Our Personal Injury Law Firm In Van Nuys Can Help You After An Accident
Working with us, you will not have to be concerned about receiving compensation for all of the harm you have endured. The personal injury law firm of Arash Law will work hard in your stead while we ensure you can focus on recovery. With the assistance of our Van Nuys lawyers, you will be able to:
Protect yourself from insurance companies taking advantage of you.
Examine the reason behind your injury and gather information to support your claim.
Reach a favorable settlement with the defendants and their insurance provider and negotiate with them.
Bring your case to trial if the claims were rejected and negotiations failed.
Obtain expert testimony on your behalf by hiring experts such as doctors, investigators, and police officers.
Proving The Defendant's Negligence In Your Van Nuys Case
Duty
To fulfill this obligation, the defendant owes the plaintiff a duty of care, and the defendant has the legal duty to act reasonably and refrain from causing unnecessary harm to others. Was the defendant in a proper state and condition to drive when the accident occurred?
Breach of duty
This component proves that the other party has failed to uphold the duty of care. For example, the defendant was intoxicated following the accident that injured the plaintiff.
Causation
Two types of causation must be proven: actual and proximate. It must establish that the defendant was genuinely responsible for the accident. For example, tests showed that the defendant's alcohol level in their blood was above the legal limit after colliding with the plaintiff's car.
Damages
This final component entails proving that you were harmed due to the defendant's actions.
Recoverable Damages Our Personal Injury Law Firm Can Get You In Van Nuys
Van Nuys personal injury victims may be able to recover three types of damage compensation. The court can award the victims economic, non-economic, and punitive damages once a verdict has been established.
Economic damages represent your monetary or financial losses resulting from the accident, including medical expenses, wages lost due to incapacity, and property damage.
Non-economic damage is compensation for the intangible and difficult-to-quantify consequences of your injury. A few examples would be the pain and suffering you've gone through, psychological trauma, emotional distress, loss of relationship, decreased quality of life, and so on.
Punitive damages, however, are only awarded when the circumstances warrant them, such as when the defendant's actions are extraordinarily reckless or involve willful misconduct. The goal of punitive damages is to penalize the at-fault party and deter society from repeating the same behavior in the future.
The Value Of A Van Nuys Injury Case - How Much Can We Claim?
Despite accidents being categorized, every personal injury case is unique, and estimating the worth of a case requires knowing its particular circumstances.
A case's value depends on several factors; these include the amount and quality of evidence you have to support your claim, the types of injuries you have suffered, how severe these injuries are, whether or not you hold some responsibility for the accident, and who you are filing a complaint against, be it an individual, a privately owned business, or a government entity. Overall, the value of your case increases when more damages and its impact on your life is presented and proven.
Partial Liability In Van Nuys Litigations
The defendants will likely try to claim some partial liability on your end for the accident. If ever partial negligence was proven on your part, you can still receive compensation under the California
pure comparative negligence law
. You may, however, be subject to a reduction in your awards if you are found to have a certain percentage of the fault handed down by the court.
The Cost Of Hiring A Personal Injury Law Firm In Van Nuys
The Van Nuys personal injury law firm of Arash Law provides a free initial consultation and works based on a
contingency fee
; you only pay us once you receive compensation. Payments will instead be based on your overall settlement.
Since we only make money if you do, this payment method encourages us to maximize your claim's value. It also protects a client from being exploited by a personal injury law firm since firms cannot charge victims based on the hours of service provided under this approach and waste time.
During your free consultation, we can provide more information on how this arrangement will work in your case and will be negotiated.
Winning Is The Only Way: Bring Your Case To The Best Van Nuys Personal Injury Law Firm
The Van Nuys personal injury law firm of Arash Law knows what it takes to win a personal injury case. We recognize that you have gone through a lot following a personal injury, so from here on out, we'll take it from here. Healing from your injuries is more important than worrying about medical expenses and how to deal with the insurance company that refuses to give you a favorable settlement.
We also offer our services in cities near Van Nuys, including
Agoura Hills
,
Beverly Hills
,
Burbank
,
Calabasas
,
Culver City
,
Glendale
,
Inglewood
, La Canada Flintridge,
Los Angeles
,
Santa Clarita
, San Fernando,
Santa Monica
, South Pasadena,
Pasadena
, and
West Hollywood
.
Record-Breaking Verdicts in the Following Areas of Practice
Get The Latest News from

The Best California Accident Law Firm Today