Kern County

Big Rig Accident Lawyers
with over $500 Million Recovered in Compensation for Injury Clients.
You May Be Entitled to Compensation

Justice within your reach with our

Kern County Big Rig Accident Lawyers
With the number of commercial trucks using Kern County highways, big rig accidents will certainly happen. These massive vehicles can leave devastation in their wake. The Kern County big rig accident lawyers at Arash Law, founded by famous attorney Arash Khorsandi, Esq., have decades of experience helping injured Californians get the compensation they need after a truck accident. Contact us today at (888) 488-1391 or via online chat to schedule a free no-obligation case evaluation.
Kern County, California, is one of the fastest-growing places in California, with its county seat located in Bakersfield. The 2022 United States Census Bureau reported that the city had a large population of 916,108. Bakersfield spans across the southern end of the Central Valley, which spans 8,161.42 square miles. Many Californians have made Kern County their home.
Kern County's economy heavily relies on agriculture and petroleum. This area is also known as the "Golden Empire" because of its rich history of gold, oil, and agricultural production. These industries rely heavily on commercial trucking to deliver goods. Many truck drivers use California's major freeways, including Interstate 5 and Route 99.
We all must share the road, so there are big rigs that get into accidents with much smaller vehicles. The force of these mammoth-size machines can cause any passenger vehicle that collides with one to suffer property damage and physical ailments. If you or a loved one has suffered an injury in a big rig accident, call the Kern County big rig accident lawyers at Arash Law. We look forward to speaking with you!
Settlement in a case where a client was injured while unloading commercial truck; client sustained crush injuries to legs
– JUDD ROSS ALLEN
Big Rig Accident Statistics
Big rig accidents happen every day in California. It is important to know how often these types of accidents occur to protect yourself and your legal rights after a crash. Continue reading to learn about national and state commercial truck accident statistics.
Commercial accidents are dangerous. These types of traffic crashes regularly happen throughout the country. The number of these types of accidents has risen over the past decade. In 2020, the country saw a setback in the number of dangerous big rig accidents, which was likely the result of the COVID-19 protocols for traffic throughout the year. Commercial truck accidents are expected to rise past normal levels as COVID-19 traffic protocols relax.
According to the National Safety Council (NSC), 2020 saw nearly 5,000 deaths across the country in accidents involving big rigs. Moreover, nearly 150,000 people suffered injury.
Commercial truck drivers can become the victim of distracted driving or fatigued driving like any other driver, but the weight of their vehicles makes distracted or fatigued driving much more dangerous than passenger vehicles. Big rigs can weigh more than 80,000 pounds and stretch over 70 feet. That means even the smallest mistakes can lead to devastating accidents with life-threatening injuries.
Unfortunately, the number of deaths seen in California in 2020 is not abnormal. Our Kern County big rig accident lawyers can attest to that. The trend of the number of fatalities has steadily increased and caused predictably devastating consequences. According to the Federal Motor Carrier Safety Administration (FMCSA), big rigs remain a significant threat to passenger vehicles and other travelers across California.
California is second among the states with the most truck crash deaths. In 2021, 5,700 trucks were involved in fatal crashes in the United States, according to the
National Safety Council Injury Facts
.
There were 5,788 deaths in total, where:
Seventy-two percent were occupants of other vehicles.
Seventeen percent were truck occupants.
One percent were non-occupants, primarily pedestrians and bicyclists.
On the other hand, there were 117,300 trucks involved in injury crashes, where:
Seventy-one percent were occupants of other vehicles.
Twenty-seven percent were truck occupants.
Two percent were non-occupants, primarily pedestrians and bicyclists.
800+ Real Client Reviews Verified by Google
What Causes a Big Rig Accident in Kern County?
Accidents happen for a variety of reasons. A commercial truck driver may get into an accident for reasons that begin an ample amount of time before the accident. Some reasons for accidents that occur for days or weeks before the accident may include insufficient driver training and experience and poor vehicle manufacturing. Some of the most common reasons our Kern County big rig accident lawyers have observed are listed below:
Commercial truck drivers are forced to meet hectic schedules. Because of the expectation to meet somewhat unreasonable deadlines, some drivers may be tempted to misuse prescriptions to stay awake. Some drugs cause increased sleepiness and decreased concentration.
Examples of prescription drugs that truck drivers may use include the following:
Cough, cold, and flu medications
Cholesterol medication
Stimulants and narcotics
Antidepressant and anxiety medication
Sleep-aids
Allergy medications and antihistamines
Diet pills and weight loss supplements
Sedatives
Energy drinks
Traffic congestion can lead to serious traffic accidents. Kern County has nearly 1 million residents, and with so many people darting around, bumper-to-bumper traffic happens often. Drivers tend to make mistakes while on the road, too. With so many drivers, unsafe lane changes, speeding, tailgating, and other issues are bound to happen.
Commercial truck drivers are responsible for maintaining their vehicles. They must check their brakes before beginning a trip. Brake systems should be changed every few years, and trucking companies and owners should ensure that this maintenance happens. Both truck drivers and companies and owners should look out for the following issues:
A soft pedal defect happens when the big rig brake is not braking as much as a fully functional brake pedal. Soft pedal defects happen because of the following reasons:
Bad wheel bearings
Boiled brake fluid
Fluid leak in the system
Bad residual valve
Blown brake line
Bad caliper or wheel cylinder
Bad master cylinder
Air in the brake fluid
Low brake fluid
A hard pedal defect happens when it takes too much pressure to get proper braking force. A hard pedal defect is caused by the following conditions:
Badly-worn brake pads
A seized caliper
Bad check valve
Collapsed vacuum hose
Vacuum hose leak
Bad power booster
Squealing brakes can indicate a serious brake issue for a big rig. A loud squeal from the brake can indicate that less than 25 percent of the brake pad is left, and it needs to be immediately replaced.
Shudder or Pulsing Brakes
A warped rotor blade can indicate a serious problem in the brake system. Broken rotors keep the rig from stopping quickly.
Dragging brakes can cause a burning smell in the big rig. Brakes then may disengage completely. Driving while your brakes are dragging is unsafe and will lead to further damage unless repaired.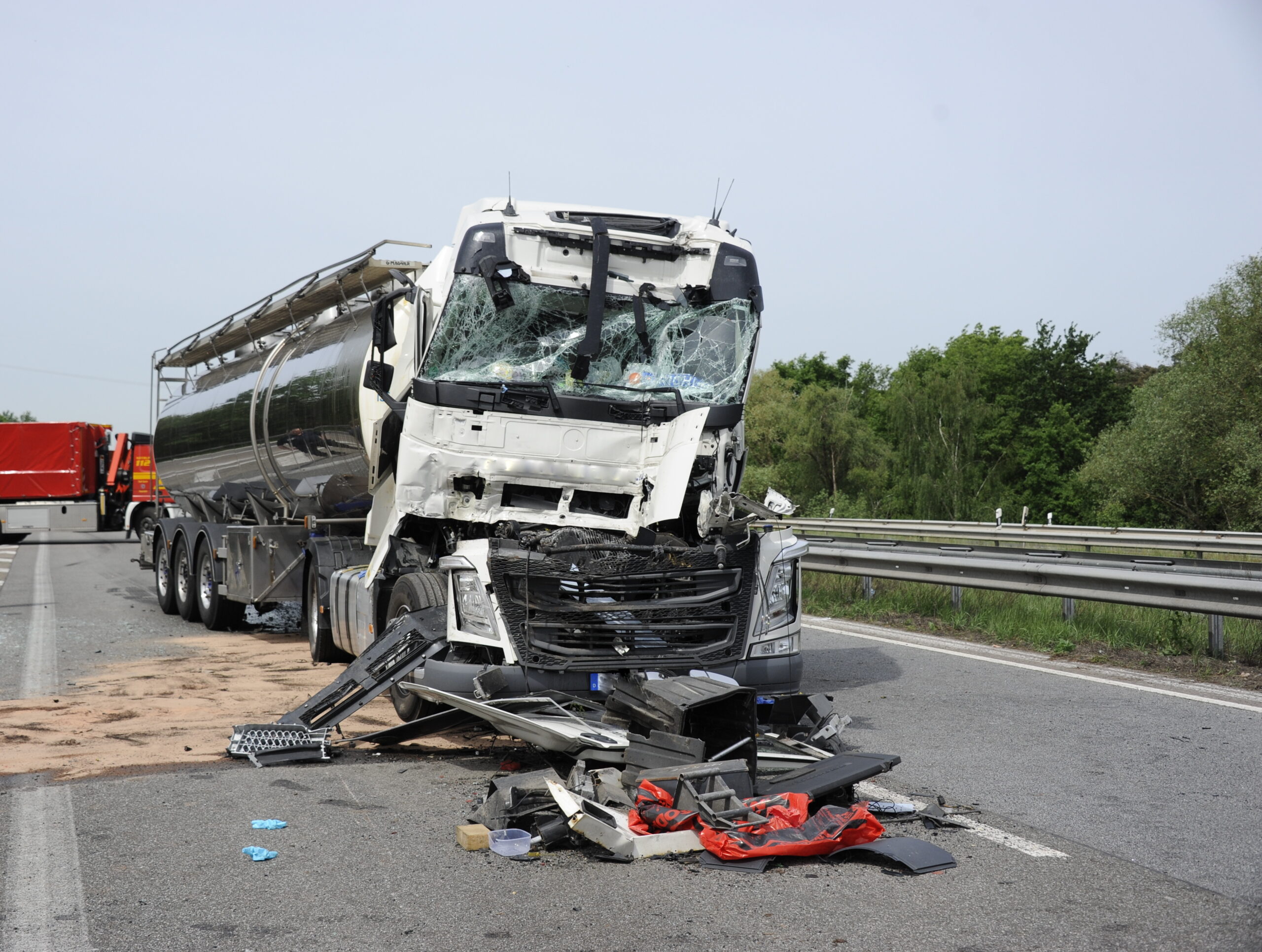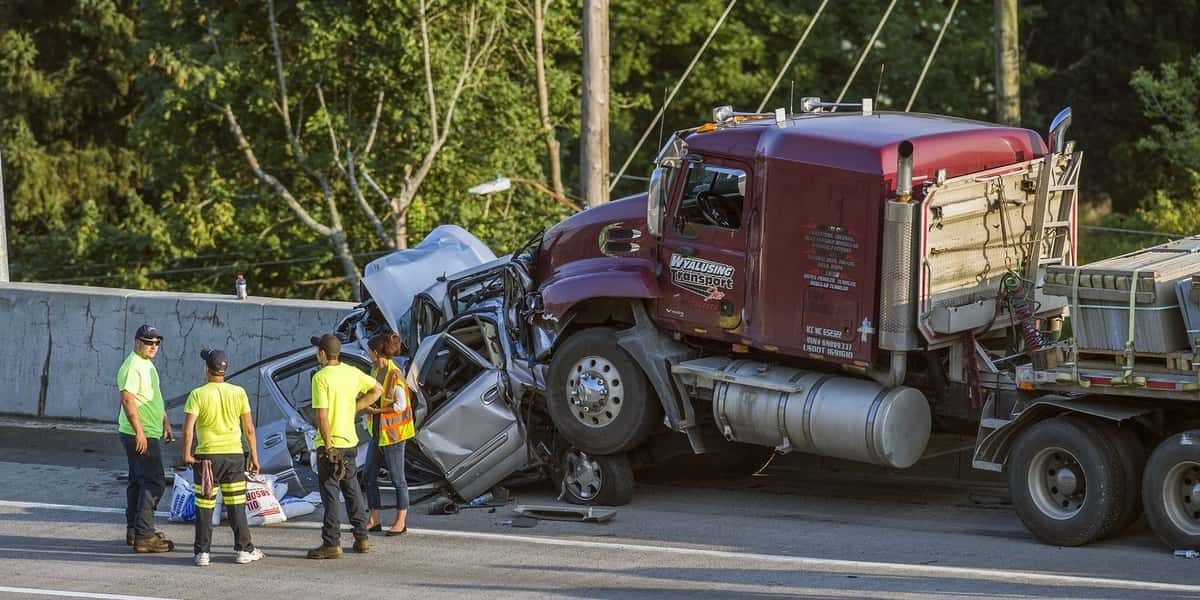 Common Types of Kern County Big Rig Accidents
Big rig accidents happen for a variety of reasons, and there are several common types of commercial truck accidents. These vehicles are usually nearly 15,000 pounds, and some big rigs can be close to 35,000 pounds by themselves. Weight can lead to devastating results.
Common types of Kern County big rig accidents our lawyers see include the following:
Blind spot accidents are a type of traffic crash that happens when a vehicle is in an area where another driver cannot see them. Typically, a driver's blind spot is located on its side or behind the vehicle.
Big rigs have massive blind spots. A passenger car, being much smaller than a commercial vehicle, can find itself in the blind spot for a long time before it can pass the rig. Passenger vehicles remain vulnerable to an accident until they leave the commercial vehicle driver's blind spot.
Everything is bigger in a commercial vehicle, including the tires. When a tire blows out on a big rig, it can cause a serious multi-car accident. A blown big rig tire can also lead to a car rollover accident or even worse.
A rollover accident happens when a vehicle loses balance on the road and tips over on its roof. A big rig can roll over just like any passenger vehicle. However, unlike passenger vehicles, if a big rig is involved in a rollover accident, the results are much more likely to end in a deadly accident.
An underside accident happens when a commercial truck driver stops without warning and a passenger vehicle, or a vehicle that is much smaller than the big rig, slides underneath the commercial truck. If an underside accident happens, the big rig can drag the smaller vehicle for miles, causing damage.
A jackknife accident happens when a commercial truck suddenly stops, and the trailer of the truck swings out and hits another vehicle. A jackknife accident can cause the other vehicle a lot of damage. Jackknife accidents are typically caused by equipment failure, bad road conditions, or improper braking.
Types of Injuries in Kern County Big Rig Accidents
Each accident is unique, and while there is no way to predict what injuries you will sustain in a big rig accident, some injuries are seen more than others in commercial vehicle crashes. If you or a loved one has suffered an injury in a big rig accident, you need a lawyer to get the compensation that you need. Contact acclaimed Kern County big rig accident attorneys to protect your legal right to fair compensation after an accident.
Common injuries in Kern County big rig accidents typically include the following:
Back and neck injuries
Broken bones
Cuts and bruises
Seat belt injuries
Internal bleeding and organ damage
Rib and torso injuries
Common Types of Compensation After a Kern County Big Rig Accident
The type and amount of compensation you may be entitled to after a big rig accident depends on the details of your losses, injuries, and other accident-related damages. Experienced Kern County truck accident attorneys understand your legal rights after an accident.
Examples of compensation after a big rig accident include the following:
Vehicle repair costs
Current and future medical bills
Current and future lost income and lost earning capacity
Loss of companionship of a spouse or domestic partner
Emotional distress
Pain and suffering
Other accident-related damages
In extraordinary cases, you can receive punitive damages. Punitive damages are not compensable losses like the above examples. Punitive damages are available if the defendant's actions are taken out of duress, malice, or oppression. An experienced accident attorney in Kern County understands the availability of punitive damages in your case.
It is important to keep insurance policy limits in mind. Typically, the most that an accident victim will receive in compensation is the amount stated in the defendant's insurance policy. For example, if the defendant has an insurance policy limit of $25,000 per accident per person, then the money available is usually limited to $25,000. That is why naming every responsible defendant in the lawsuit to ensure that your damages are covered. Trucking companies usually have large insurance policies, but adjusters fight victims to avoid paying claims. Having trusted Kern County big rig accident lawyers can help you avoid this issue.
Who Is Liable for My Injuries?
Naming every potentially responsible defendant in your case is important. Failure to properly investigate and find who is responsible can cause you to leave money on the table during negotiations, and you risk not getting the compensation you deserve that will cover your losses.
In a commercial truck accident, there are many possible defendants. Your attorney can determine who to name in your lawsuit. Potentially responsible defendants in a California big rig accident include the following:
The truck driver
The owner of the tractor-trailer
The trucking company
The rig manufacturer and dealer
The employees who are responsible for loading the truck
The truck owner
Another driver or passenger
Federal, state, or local government entities that are responsible for maintaining the road
California Comparative Negligence Laws
Comparative negligence is an important part of California accident law. Having Kern County big rig accident lawyers who are well-versed in the law of comparative negligence will help protect you from any blame-shifting tactics the other side of the case may employ. The Kern County attorneys for truck accidents at Arash Law have the experience and knowledge you need to protect yourself from under-handed defense strategies.
Comparative negligence means that the law allows a reduction of the final settlement amount or jury award if there is a finding that the plaintiff's actions contributed to their injuries. If the plaintiff is found to have contributed to their injuries, their award will be reduced based on a percentage of fault assigned to them by the court.
Fortunately, California law protects accident victims under comparative negligence law. Under state law, if the negligent truck driver is found to be even 1 percent at fault for causing the accident, the driver is still responsible for 100 percent of your economic losses and 1 percent of your injuries.
What to Do After A Big Rig Accident in Kern County?
Call 911 right away.


When a truck accident occurs, you must wait for authorities and medical personnel to arrive. According to the California Vehicle Code, drivers must report accidents with deaths or injuries within 24 hours. Cooperate fully with the police but don't admit fault or guilt. When emergency responders are on the scene, follow their instructions. Stay at the scene until you're allowed to leave.

Move vehicles to the road shoulder if possible.


Truck accidents almost always cause traffic congestion due to obstructions on the road. After taking pictures and videos of the scene, move your vehicle to the shoulder and turn on your hazard lights to alert other motorists if possible. This will prevent further accidents. However, if there is severe damage or injury or when law enforcement instructs otherwise, do not touch the vehicle.

Seek urgent care.


Let emergency personnel examine you even if you feel unharmed. A rush of adrenaline and shock may make it difficult for you to determine the extent of your injuries. Injury symptoms may even appear days later. An examination by a medical professional is the only way to detect health problems before they become serious.

Keep records and documentation.


Medical records, diagnosis, treatment, medications, and related expenditures are valuable evidence in court. A court or insurance company could assume the victims weren't injured if they didn't seek medical attention immediately. This can result in a lowball settlement offer.

Hire big rig accident lawyers in Kern County.


After ensuring your safety, documenting the accident, and reporting it to the authorities, the next step is to find trusted Kern County truck accident lawyers. Your attorneys can help you file a claim that can cover lost wages, medical bills, physical rehabilitation, and other expenses that are a direct outcome of the big rig collision caused by another party.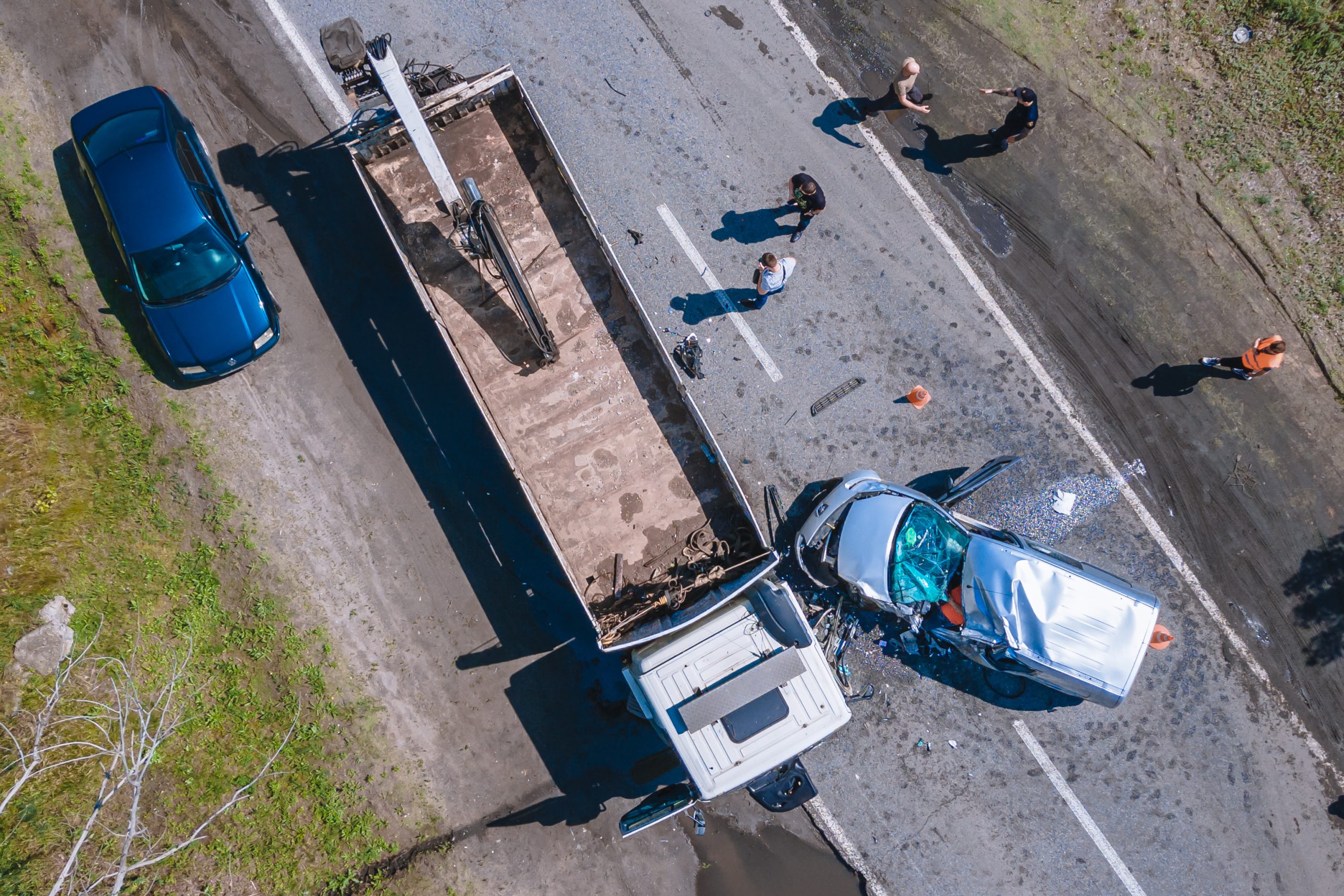 Settlement in a motor vehicle accident; client suffered internal injuries.
– 
JUDD ROSS ALLEN
How Long Do I Have to Sue After a Kern County Big Rig Accident?
You do not have an unlimited amount of time to file a personal injury lawsuit. Time is of the essence, so you should contact an attorney immediately after the accident. Our big rig accident lawyers in Kern County will begin investigating your case as soon as we become a part of your legal team.
After a crash, you must comply with the applicable statute of limitations. The statute of limitations is a deadline that the law sets to file a personal injury lawsuit. California gives accident victims two years from the date of the crash to file a complaint. Though this length of time may seem long, you should not wait until the last minute to get legal representation or begin pursuing a personal injury lawsuit. Evidence can immediately begin to degrade. Contact qualified Kern County
personal injury lawyers
 to learn your options as soon as possible.
How Much Does Hiring Kern County Big Rig Accident Lawyers Cost?
The Kern County big rig accident attorneys at Arash Law, headed by Arash Khorsandi, Esq., take commercial vehicle crash cases on a contingency fee basis. A contingency fee is a payment agreement that allows you to defer payment for legal services until the end of the case. You do not pay us unless we get a settlement for you.
Contact Our Top-Rated Kern County Big Rig Accident Lawyers Today!
Our Kern County big rig accident lawyers at Arash Law have the experience that you need to ensure your access to fair compensation after a big rig accident. We have decades of success getting our clients the money that they need to pay for medical bills, lost income, property damage, and additional accident-related losses. Over the years, we secured over $500 Million for our clients all over California.
We aggressively go after trucking companies, insurance providers, and other potential defendants in a way that most personal injury law firms are afraid of. We pursue justice. Insurance companies tend to fight harder with big rig cases, but we are here for you, and we fight even harder to ensure you get the full and fair compensation that you deserve.
Our lawyers service Kern County and nearby locations, including Wasco, Shafter, Delano, Bakersfield, Taft, Tulare, Porterville, Arvin, Farmersville, Exeter, Visalia, and more. We also cater to other areas in California, such as Irvine, Fresno, Los Angeles, Sacramento, San Diego, San Jose, Long Beach, and beyond 24/7!
Contact us today at (888) 488-1391 or chat with us online to schedule a free no-obligation case evaluation. We look forward to speaking with you!